Bush steps up support of Islam
In the wake of television host Pat Robertson comments that Muslims are "worse than the Nazis," President George Bush has taken a more direct defense of Islam.
"Some of the comments that have been uttered about Islam do not reflect the sentiments of my government or the sentiments of most Americans. Islam, as practiced by the vast majority of people, is a peaceful religion, a religion that respects others," Bush said during a meeting with United Nations Secretary-General Kofi Annan. "Ours is a country based upon tolerance, Mr. Secretary General, and we respect the faith, and we welcome people of all faiths in America. And we're not going to let the war on terror or terrorists cause us to change our values."
Bush did not name those who made the comments he disagreed with, but administration officials told news outlets that he was talking about Robertson and Jerry Falwell.
"He wanted a clear statement," one unnamed senior White House official told Reuters.
Previous statements from Bush have said that Islam is a religion of peace, but he has been reluctant to criticize those who disagree with that statement. He has also usually made his statements about Islam in response to reporters' questions. This time, he took the initiative.
The president's remarks come two days after Robertson told his 700 Club television audience, "Somehow I wish the Jews in America would wake up, open their eyes, and read what is being said about them. This is worse than the Nazis. Adolf Hitler was bad, but what the Muslims want to do to the Jews is worse." (Click here for video; Robertson's remarks are ten minutes into the broadcast.)
Robertson's remarks were quickly denounced by the Council on American-Islamic Relations (CAIR) and spread throughout the Muslim world.
But CAIR spokesman Ibrahim Hooper welcomed Bush's statements. "Obviously, we'd like to hear him repudiate these people by name, but we appreciate that he's moving in that direction," he told Reuters.
Also of interest in that Reuters story is word from Franklin Graham spokesman Mark DeMoss that the evangelist has stopped commenting on Islam. "He has not added to any comment he's made on the subject in months, because he's getting tired of getting asked about it, and any time he answers about it, he gives the impression he's crusading on this issue, and he's not," DeMoss said.
Baptist college rejects convention's trustees
A battle between Shorter College and the Georgia Baptist Convention is coming to a boil. On Tuesday, the convention rejected all 16 possible names submitted by the college to fill eight openings on the college's 30-member board of trustees.
Shorter College president Ed Schrader responded by saying the college will refuse to approve the convention's eight nominees. "They selected what appear to be eight good people, but they selected people they know full well are not in compliance with Shorter's legally adopted bylaws," he told The Rome News-Tribune.
Such an action, Georgia Baptist Convention executive director J. Robert White, would mean that Shorter College could no longer call itself a Baptist school.
The convention, which gives about $1.5 million a year to Shorter College, has been withholding money from an endowment fund since January.
The Georgia Baptist Convention has picked the trustees since 1960, but an accreditation team from the Southern Association of Colleges and Schools earlier this year mandated more independence, reports The Chronicle of Higher Education (subscription required). That led to a compromise measure in which the college would submit names to the convention for approval.
Oops!
Yesterday's Weblog was titled "Confusion Over Promoting Marriage Among the Poor." It turns out the confusion was all Weblog's.
"With the Republican victory last week, Congress now appears likely to set aside funding for programs that promote marriage among the poor," Alex Kotlowitz wrote in The New York Times.  Weblog misread that "set aside" as "leave alone" rather than "reserve." Kotlowitz, whose Frontlinedocumentary "Let's Get Married" airs on PBS tonight, was saying that the GOP will fund marriage.
To quote Emily Litella, "Oh. Never mind."
More articles
Bishops approve sex abuse policy:
Catholicism:
French church standoff:
War:
Church and state:
Republican majority in Congress:
Related Elsewhere
Suggest links and stories by sending e-mail to weblog@christianitytoday.com
See our past Weblog updates:
November 14 | 13 | 12
November 8 | 7 | 6 | 5 | 4
November 1 | October 31 | 30 | 29 | 28
October 25 | 24 | 23 | 22 | 21
October 18 | 17 | 16 | 15 | 14
October 11 | 10 | 9 | 8 | 7
October 4 | 3 | 2 | 1 | September 30
September 27 | 26 | 25 | 24 | 23
September 19 | 18 | 17 | 16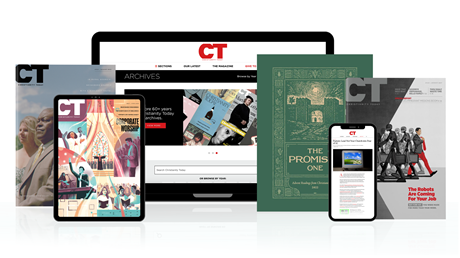 Annual & Monthly subscriptions available.
Print & Digital Issues of CT magazine
Complete access to every article on ChristianityToday.com
Unlimited access to 65+ years of CT's online archives
Member-only special issues
Subscribe
Bush Indirectly Criticizes Pat Robertson on Islam
Bush Indirectly Criticizes Pat Robertson on Islam