Two separate legal actions in the narco-trafficking case of Peruvian evangelical David de Vinatea have in effect ended his chances of gaining justice through Peru's legal system, say advocates for the imprisoned army colonel.
A coalition of Christian groups—who believe de Vinatea is an innocent victim of corruption—plans to take de Vinatea's case to the Inter-American Human Rights Court in Costa Rica and to the United Nations. They will also ask government officials in the United States and Europe, as well as other human rights groups, to join in supporting the case, said Richard Luna, director of Open Doors Latin America.
Peru's Supreme Court declared de Vinatea's complaint "unfounded" that he had been sentenced on the testimony of a single witness. The witness, convicted narco-trafficker Abelardo Cachique Rivera, later recanted his statements, saying that an official of the national terrorism police, or Dincote, had threatened him with a stiff prison sentence if he didn't implicate de Vinatea.
De Vinatea's lawyer, Juan Arturo Moscoso Alvarino, received the Supreme Court's decision January 17, but the ruling was dated January 10, the day he argued the case.
The court's written ruling gave no reasons for upholding de Vinatea's conviction. Luna said he suspects it was because Cachique Rivera's retraction had already been presented in lower courts during former President Alberto Fujimori's administration. For the Supreme Court to rule against a lower court decision, its judges must agree that the evidence presented is new—even though legal and human rights observers widely agree that the National Intelligence Service, influenced by drug-trafficking interests, largely controlled the courts under the now-disgraced and exiled Fujimori-Montesinos regime.
"The court did the Pontius Pilate thing—washed its hands from truth and justice in this case, which is why we're going to proceed," Luna said. "The Peruvian justice system will need to respond and be held accountable."
In a separate action, de Vinatea received an eight-year reduction of his 16-year prison sentence offered by Peru's justice minister, according to a Peruvian congressman who brokered the commutation. Minister of Justice Fernando Olivera's deal would mean de Vinatea would have to accept guilt for crimes he says he didn't commit and spend another year and a half in prison.
"Colonel de Vinatea called me saying he was in disagreement with the offer, saying he is innocent and [time yet to serve] was excessive and that it should be less," said Congressman Walter Alejos, an evangelical Christian and member of President Alejandro Toledo's Peru Possible party. Alejos, who is also vice-president of Peru's congressional Human Rights Commission, had pushed Olivera to consider granting the commutation, which, according to Alejos, Toledo signed on January 14.
"Such a commutation, I believe, is made in goodwill as a favor to him from by the government, which has made a good decision to commute his sentence," Alejos said. "The previous government was totally adverse to Colonel de Vinatea. We don't have room to suggest less time for the [remaining] sentence."
The family is eagerly awaiting the recording and publication of the commutation according to Peruvian law, so they can choose their best legal option in their six-year struggle for justice.
"I believe that before God, he is innocent," Alejos said. "But unfortunately, the laws and how they have been manipulated in Peru still haven't changed. We can't hope for quick, just answers. The process of moralizing in Peru isn't fast. It's slow."
Luna said that he is grateful for Alejos' help and support of de Vinatea, which has resulted in a "step in the right direction." However, despite the best efforts of Toledo and Olivera, the government is choosing politics over justice in not freeing him immediately, Luna said.
De Vinatea's plight has been the subject of international prayer, awareness, and letter-writing campaigns by Open Doors and other Christian organizations since he was sentenced to 16 years in prison in 1995. Christian legal experts cite irregularities in the charges against de Vinatea and evidence against his superiors linked to Fujimori's former spy chief Vladimiro Montesinos, who is now also in prison. Advocates are convinced de Vinatea is innocent.
"Truth and justice are absolute and should not be subject to negotiation," Luna said. "It makes one wonder if there is a hidden pressure related to the case against Montesinos, who interestingly enough has rejected every connection with drug trafficking. Apparently part of his proof is that de Vinatea is in prison."
Open Doors is preparing what Luna called a "worldwide mobilization" of thousands of Christians and human rights advocates to support de Vinatea's case.
"The government has a great opportunity to fully implement its slogans of moralization and anti-corruption in this test case, as it has recently done in terrorism cases," Luna added.
Evert Schut, vice president of the Netherlands-based SALT Foundation, said the terms of the commutation were a letdown, especially after he met with Olivera in Lima in September to plead de Vinatea's case. Schut also was part of a delegation of Christians from the United States and Europe that traveled to Lima in December to appeal to government officials in de Vinatea's behalf.
"Despite all the previous promises by President Toledo, I am not impressed by this offer of commutation," Schut said. "It reflects the attitude that the main concern is politics and not justice. And justice is what this country needs."
When asked whether her husband was despondent at the news of his case, de Vinatea's wife Chely said, "We are very disappointed but not despondent. No, on the contrary. He wants this case to keep going forward. We still have to put all our force in this and keep fighting."
Related Elsewhere
More on David de Vinatea and information on how to help is available from Open Doors.
Previous Christianity Today coverage of the case includes:
Imprisoned Peruvian Army Colonel Denied Parole Evangelical convicted of drug trafficking continues fight for justice as hope fades. (Sept. 1, 2000)
WorthyNews.com recently reported, "An added complication is that the state is currently more focused on those wrongly accused of terrorism, and less concerned with those convicted of narco-trafficking."
Visit the homepage of the Embassy of Peru.
The U.S. Library of Congress offers a country study of Peru.
For more Christianity Today articles on Peru, see World Report.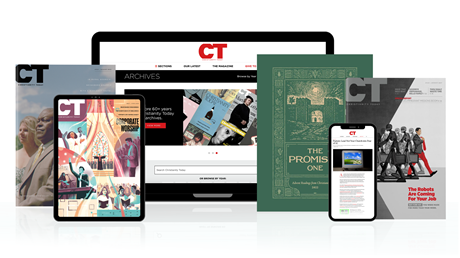 Annual & Monthly subscriptions available.
Print & Digital Issues of CT magazine
Complete access to every article on ChristianityToday.com
Unlimited access to 65+ years of CT's online archives
Member-only special issues
Subscribe
Peru's Supreme Court Rules Against de Vinate
Peru's Supreme Court Rules Against de Vinate