true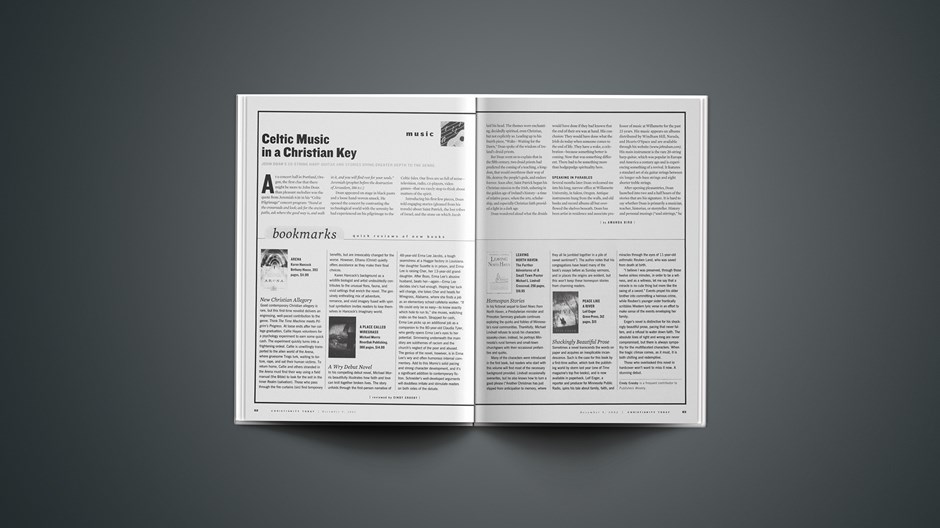 At a concert hall in Portland, Oregon, the first clue that there might be more to John Doan than pleasant melodies was the quote from Jeremiah 6:16 in his "Celtic Pilgrimage" concert program: "Stand at the crossroads and look; ask for the ancient paths, ask where the good way is, and walk in it, and you will find rest for your souls." Jeremiah (prophet before the destruction of Jerusalem, 586 B.C.)
Doan appeared on stage in black pants and a loose hand-woven smock. He opened the concert by contrasting the technological world with the serenity he had experienced on his pilgrimage to the Celtic Isles. Our lives are so full of noise—television, radio, cd players, video games—that we rarely stop to think about matters of the spirit.
Introducing his first few pieces, Doan told engaging stories (gleaned from his travels) about Saint Patrick, the lost tribes of Israel, and the stone on which Jacob laid his head. The themes were enchanting, decidedly spiritual, even Christian, but not explicitly so. Leading up to his fourth piece, "Wake—Waiting for the Dawn," Doan spoke of the wisdom of Ireland's druid priests.
But Doan went on to explain that in the fifth century, two druid priests had predicted the coming of a teaching, a kingdom, that would overthrow their way of life, destroy the people's gods, and endure forever. Soon after, Saint Patrick began his Christian mission to the Irish, ushering in the golden age of Ireland's history—a time of relative peace, when the arts, scholarship, and especially Christian faith provided a light in a dark age.
Doan wondered aloud what the druids would have done if they had known that the end of their era was at hand. His conclusion: They would have done what the Irish do today when someone comes to the end of life. They have a wake, a celebration—because something better is coming. Now that was something different. There had to be something more than hodgepodge spirituality here.
Speaking in Parables
Several months later Doan welcomed me into his long, narrow office at Willamette University, in Salem, Oregon. Antique instruments hung from the walls, and old books and record albums all but overflowed the shelves beneath. Doan has been artist in residence and associate professor of music at Willamette for the past 23 years. His music appears on albums distributed by Windham Hill, Narada, and Hearts O'Space and are available through his website (www.johndoan.com). His main instrument is the rare 20-string harp-guitar, which was popular in Europe and America a century ago and is experiencing something of a revival. It features a standard set of six guitar strings between six longer sub-bass strings and eight shorter treble strings.
After opening pleasantries, Doan launched into two and a half hours of the stories that are his signature. It is hard to say whether Doan is primarily a musician, teacher, historian, or storyteller. History and personal musings ("soul stirrings," he calls them) provide much of the inspiration for Doan's instrumental pieces. But the teacher in him wants his listeners to grasp the meaning behind the music. Doan says most of us are oriented toward language because we use it all the time, but instrumental music is harder to enjoy and understand. He bridges the gap with stories similar to those he tells in concert.
"I'd like to tell the story and help people enter into the heart of the music," Doan says. Through these parables, Doan conveys spiritual truths that audiences might not accept from a more direct delivery. "Those that have ears to hear it will hear."
Many of these stories appear on the inside of Doan's Eire—Isle of the Saints and Wayfarer—Ancient Paths to Sacred Places album covers. Among them is one legend of Columba. One of Columba's companions had claimed the right of refuge in a church and was killed by the High King. Columba avenged his death and was exiled to the Isle of Iona, off the coast of Ireland. On Iona, Columba founded a religious community that went on to establish missions throughout Scotland, England, and Europe.
Doan writes of sitting on a promontory of the Isle of Iona and looking out to sea: "Music welled up in my thoughts as my imagination glimpsed Columba the man grieving the loss of his earthly home that now lay just beneath the horizon." But Columba had a deeper vision. "I saw, too, Columba the saint, whose great faith in God filled him with commitment to teach about another Home that resides just beyond this world."
Doan had few Christian influences growing up. In college he dabbled in various kinds of Eastern spirituality. It was "kind of like the '60s thing," says his wife, Deirdra. "You didn't search [for truth] in the Bible, you searched in Eastern mysticism . …It certainly couldn't be in the Baptist church."
When Doan and Deirdra were dating, she was returning to the faith of her childhood and urged him to investigate Christianity. "I started reading the Bible and I couldn't put it down," Doan said. The turning point came when he was reading a passage in Leviticus. It struck him that God instructed the Israelites not to consult sorcerers and mediums because to do so precluded complete reliance on God. Doan says the insight available from other supernatural means is real but insufficient. Deirdra says that because of Doan's experiences, he can relate to New Agers. "He can speak to them profoundly and without guile," she says, "because he is them, only he has the blessedness of Christ in his life."
Perhaps Doan's greatest potential appeal to New Agers is the absence of an overt agenda. He simply shares what he has received, be it an insight about materialism in the modern world, the effects of Christianity on Ireland, or the temporality of individuals and empires. Doan says, "I think that if I can do something honest and sincere and truthful, and if it is something that is a revelation, it's my duty to be there and express it openly."
MacLaine's workout music
A few years ago, Doan was trying to depict in music Christ's welcoming embrace of the individual at death. Shirley MacLaine's Out on a Limb was on tv at that time, and Doan watched it, guitar in hand. The first portion, he said, recounted her experiences as an actress, her divorce and subsequent affair with a married man, and his severance of the relationship. Then, Doan says, the account shifted from big-city streets to the jungles of Peru, where MacLaine was searching for the meaning of her life. At that point, Doan had a revelation: Shirley, you have a broken heart. This is why you're doing this.
With that in mind, Doan cast his composition as a waltz. It portrays the image of a dance with Christ, "as if he knew your step and you knew his, and a glance said it all," he says. "It was that love that I wanted to capture in this music."
He called the piece "Beloved." A week after its release, he received a call from a video producer who said one of his clients had listened to hundreds of tracks of music. When she heard Doan's "Beloved," she stopped and said, "What is that? I want that on my video." The woman was Shirley MacLaine.
Doan asked for time to think about it. He didn't necessarily want to identify himself with the repackaging of old druid thinking. He and Deirdra prayed and concluded that if God created the arts for communication, perhaps the Holy Spirit could speak through "Beloved" in MacLaine's video, Inner Workout. They gave their assent, and it became the theme for the entire production.
Doan says New Agers are looking for love, but in all the wrong places. He wants to direct their search toward God. He cites Jesus' statement that those who ask will receive. "If you can get a person, no matter what their background, to call upon the Lord and say, 'Who are you? I want to know,' I'm just assuming that God will make good on what he's promised."
Amanda Bird is a freelance writer from Oregon currently living in Central Asia.
Related Elsewhere:
John Doan's website includes reviews, a biography, and a concert list.
Eire: Isle of the Saints and Wayfarer: Ancient Paths to Sacred Places are available at Amazon.com.
For more music articles, see the Christianity Todaymusic archive or the online Music Channel.
Have something to add about this? See something we missed? Share your feedback here.
Browse All Music Reviews By: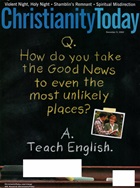 This article is from the December 9 2002 issue.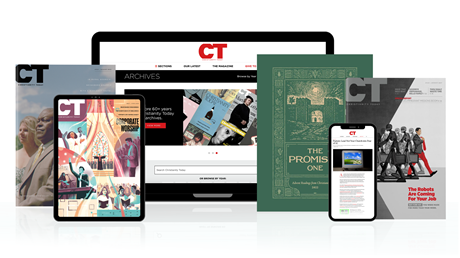 Annual & Monthly subscriptions available.
Print & Digital Issues of CT magazine
Complete access to every article on ChristianityToday.com
Unlimited access to 65+ years of CT's online archives
Member-only special issues
Subscribe
Celtic Music in a Christian Key
Celtic Music in a Christian Key