This Christmas, is there increasingly "no room" for Jesus?
Every year one hears complaints that people are taking Christ out of Christmas and that the holiday is becoming increasingly secular. This year, however, the cries seem particularly frequent and strong.
Most notably, a family in Queens has filed a lawsuit over school holiday policies. "The display of secular holiday symbol decorations is permitted. Such symbols include, but are not limited to, Christmas trees, Menorahs, and the Star and Crescent," says a memo from the lawyer of the schools chancellor. A menorah and star and crescent are secular?
""I'm offended that we're some sort of second-class religion that would be satisfied with a tree," said William Donohue, president of the Catholic League, which is representing the Queens family. "All we're asking for the city of New York to do is to treat Catholics the same way they do Jews and Muslims. This is nothing but pure, unadulterated religious discrimination."
In nearby Yonkers, interim Superintendent Angelo Petrone is treating all religions equally—everything from trees to menorahs, and "all ornamentation with a message stronger than a generic 'happy holidays' or 'season's greetings' has been banned," reports The Journal News. Teachers weren't even allowed to teach students about Hannukah, Christmas, or other religious holidays.
"Anybody who heard it thought it was a joke at first; they couldn't believe it," said parent Amanda Pendleton. "Then they had to literally tear everything off the walls."
Students were allowed to decorate two Christmas trees, but afterwards they were hauled away.
"Unfortunately, these actions are overreactions that come out of confusion about what the First Amendment requires and the refusal by schools to address religion properly throughout the school year," the Freedom Forum's Charles Haynes told The Journal News. "Focusing on December is a losing game. Whatever they do is going to cause controversy."
It's not just a U.S. issue, either. A school superintendent in British Columbia told schools not to refer to Christmas in their winter concert promotions, reports The National Post. Even clothing store The Gap has ordered its employees not to greet its patrons with "Merry Christmas."
"The stripping away of America's heritage continues as certain legal and cultural relativists pursue their goal of transforming us into moral and spiritual 'Stepford wives' when we will see all ideas as mattering, or not mattering, and it not mattering whether that matters," complains syndicated columnist Cal Thomas.
World's Gene Edward Veith says such watering down misses the point. "Today, it is widely assumed that all religions are essentially the same," he writes. "Those who believe that way are looking at the forms of religion, while neglecting their content. All the religions of the world are indeed religions, which means that they all have ways of worship, a sense of the sacred, and some sense of right and wrong. From the outside, some of these practices may appear similar. The issue, though, is not what the various religions look like—or when their holidays fall—but what they mean. The purpose of Christian evangelism is to bring people into everlasting life. The purpose of Islamic evangelism is to bring more people and nations under Islamic law."
More commentary is available from National Review Online's Rod Dreher and The Rutherford Institute's John Whitehead.
Boston's Cardinal Law resigns
"I am profoundly grateful to the Holy Father for having accepted my resignation as Archbishop of Boston," Archbishop Bernard Law of Boston said in a statement from the Vatican today. "It is my fervent prayer that this action may help the Archdiocese of Boston to experience the healing, reconciliation and unity which are so desperately needed. To all those who have suffered from my shortcomings and mistakes I both apologize and from them beg forgiveness."
In April, Pope John Paul II had rejected an offer to resign by Law, one of his closest American advisers. But ongoing—and increasingly disturbing—revelations since then have led even Law's supporters to call for his resignation.
"The 71-year-old Law will remain a cardinal, which means he could move into another church post and retains the right to vote in a papal election, until he turns 80," notes the Associated Press. "He also will not be freed from the litigation in Boston, and was subpoenaed last week to appear before a grand jury."
The Associated Press, Boston Globe, and others have reaction stories.
Law will be replaced, at least temporarily, by Bishop Richard Lennon.
More on the clergy sex abuse scandal:
More articles
Trent Lott:
Bush's faith-based plan:
Crime:
Persecution and religious violence:
Religious freedom:
Evangelism:
Politics and law:
William Jewell College proposes homosexual discrimination bill:
Education:
Family and children:
Life ethics:
Television:
Music:
Media:
Missions and ministry:
Prayer and spirituality:
Church life:
Other religions:
India conversion:
Philip Berrigan:
Virgin of Guadalupe:
Other stories of interest:
Related Elsewhere
Suggest links and stories by sending e-mail to weblog@christianitytoday.com
See our past Weblog updates:
December 12 | 11 | 10 | 9
December 6 | 5 | 4 | 3 | 2
November 27 | 26 | 25
November 22 | 21 | 20 | 19 | 18
November 15 | 14 | 13 | 12 | 11
November 8 | 7 | 6 | 5 | 4
November 1 | October 31 | 30 | 29 | 28
October 25 | 24 | 23 | 22 | 21
October 18 | 17 | 16 | 15 | 14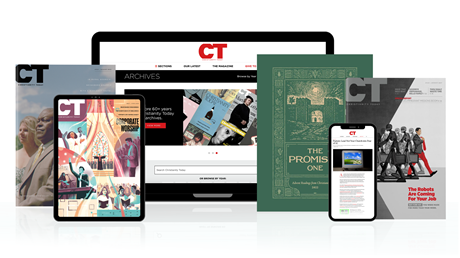 Annual & Monthly subscriptions available.
Print & Digital Issues of CT magazine
Complete access to every article on ChristianityToday.com
Unlimited access to 65+ years of CT's online archives
Member-only special issues
Subscribe
'Taking Christ Out of Christmas' Leads to Lawsuit
'Taking Christ Out of Christmas' Leads to Lawsuit