Faith-based initiative gets major push, puts hiring decisions in organizations' hands, and goes international
Critics of President Bush's faith-based initiative painted an apocalyptic picture of Talibanization and funding of religious hatred. "In essence, the government is going to be funding religious discrimination," says Americans United for Separation of Church and State spokesman Joe Conn.
The White House not only denies such scenarios, of course, but says some faith-based organizations are already facing nightmares of their own. The Victory Center Rescue Mission in Iowa was told it would lose $100,000 in federal funds because its board wasn't secular enough, the Associated Press reports. And officials told the Metropolitan Council on Jewish Poverty in New York that it was forbidden from even applying for funds because it has the word Jewish in its name. Religious nonprofits, including soup kitchens and relief organizations, were even denied Federal Emergency Management Agency funds after natural disasters.
Faith-based organizations help the poor—and are usually better at it than organizations that aren't faith-based. So if we really want to help the poor with government funds, why not allow faith-based organizations to use them too? That has always been the basic principle behind Bush's initiative. "The president believes the federal government can remove barriers that prevent faith-based and grassroots groups from doing more to help Americans in need," an unnamed administration official told Reuters.
And since the Senate couldn't even pass a bad version of the bill Bush requested, let alone a good one, Bush has decided to leave Congress to its own devices and expand religious organizations' options through executive orders.
From early press reports, it looks like everything faith-based social service organizations were looking for. The fiat orders federal agencies to treat religious groups as they would any other. Faith-based organizations can't be denied funds even if they have religious titles or display religious images like icons, crosses, or menorahs, but such ministries can't use the federal funds for "inherently religious" activities.
And here's the big one: they also can't be denied funds if they make employment decisions on the basis of religion. That was the issue most responsible for stalling the bill in the Senate. Democrats wanted to mandate that any religious organization receiving funds would have to follow all anti-discrimination laws. Several faith-based organizations said such requirements would undermine their religious identity, and thus undercut the very social service work they were seeking funds for.
Here's another big development in Bush's plan: along with adding a faith-based office to the Department of Agriculture to help religious groups compete for federal grants, he's also creating one in the U.S. Agency for International Development. (Five other Cabinet departments, Justice, Labor, Health and Human Services, Housing and Urban Development, and Education, already have such offices.) Taking the faith-based initiative international may have tremendous implications. After all, most of the largest Christian nonprofit organizations are involved in overseas aid work (World Vision, Feed the Children, World Relief, Samaritan's Purse). USAID has worked with such religious organizations, but should smooth out any rough edges.
The disadvantage to Bush's order, of course, is that it's only an executive order. The next president can just as easily revoke it with the stroke of a pen, and any faith-based organizations that have increased their programs as a result of federal funds may find themselves hung out to dry. For that reason alone, some of the organizations may be skittish about seeking the funds. And that's why Bush initially sought to have the initiative installed as law through Congress.
More articles
Christmas and Advent:
Church and state:
Education:
Life ethics:
Sexual ethics:
Clergy sex abuse:
Interfaith relations:
What Would Jesus Drive? campaign:
Books:
Related Elsewhere
Suggest links and stories by sending e-mail to weblog@christianitytoday.com
See our past Weblog updates:
December 11 | 10 | 9
December 6 | 5 | 4 | 3 | 2
November 27 | 26 | 25
November 22 | 21 | 20 | 19 | 18
November 15 | 14 | 13 | 12 | 11
November 8 | 7 | 6 | 5 | 4
November 1 | October 31 | 30 | 29 | 28
October 25 | 24 | 23 | 22 | 21
October 18 | 17 | 16 | 15 | 14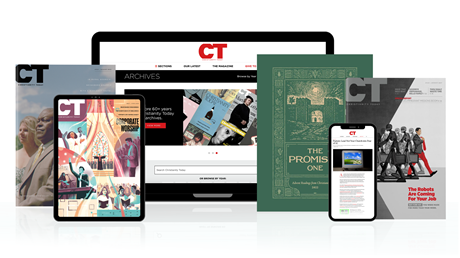 Annual & Monthly subscriptions available.
Print & Digital Issues of CT magazine
Complete access to every article on ChristianityToday.com
Unlimited access to 65+ years of CT's online archives
Member-only special issues
Subscribe
Stymied by Congress, Bush Expands Faith-Based Initiative By Executive Order
Stymied by Congress, Bush Expands Faith-Based ...