Salvation Army: We don't want lottery bucks
Last week, the winner of the $314 million Powerball lottery promised to tithe his winnings, rekindling the debate over whether churches should accept gambling money.
This week, the Salvation Army of Naples, Florida, made its costly stand on the issue by rejecting $100,000 from a local man who won $14.3 million in the state Lotto.
"There are times where Major [Cleo] Damon [head of the local office] is counseling families who are about to become homeless because of gambling," Army spokeswoman Maribeth Shanahan told the Associated Press. "He really believes that if he had accepted the money, he would be talking out of both sides of his mouth."
"Everybody has a right to be sanctimonious if they want to be," responded David Rush, who says he has given to the Army for 40 years. "I respect the Salvation Army's decision. I do not agree with it, but that is their prerogative."
University of North Carolina chancellor supports InterVarsity chapter
James Moeser, chancellor of the University of North Carolina at Chapel Hill, has ordered the school to allow InterVarsity Christian Fellowship to continue as an officially recognized organization. Last month, the school's assistant director for student activities and organizations told the group that InterVarsity's requirement that its leaders be Christians violated the school's anti-discrimination codes.
"The University of North Carolina at Chapel Hill values its long relationship with the InterVarsity Christian Fellowship and the valuable contributions to student life and campus leadership that the IVCF has made in its many years here," Moeser said in a statement. "I want to preserve that relationship, and I pledge to do all I can to support the IVCF and its values. … This is not a simple matter. While the university continues to seek to ensure that our facilities and resources are not used in any way that fosters illegal discrimination, we also wish to uphold the principles of freedom of expression. On balance, given that general membership in IVCF is open to all students, I believe that in this matter, preserving freedom of expression is the more crucial consideration."
Earlier reports said that two other Christian groups also received an ultimatum demanding that they allow non-Christians as leaders, but there's no mention of them in the new stories. They're hinted at in Moeser's statement ("The fact is, university officials made the same request of a number of student groups that wanted to use university facilities or funds generated from student fees but excluded persons from membership and full participation based on race, gender, or religious belief"), but he doesn't give any indication about whether they are still in danger of losing their status.
Yemeni newspaper ties missionaries' killer to Al Qaeda
According to the Reuters news service, a state-run Yemeni newspaper says that confessed missionary killer Abed Abdel Razzak Kamel met with Al Qaeda members before his attack on the Jibla Baptist Hospital Monday. Among the al Qaeda members he met with was the suicide bomber who attacked the USS Cole in 2000.
"Kamel also admitted to knowing other suspected Al Qaeda members," said the paper. "He also told interrogators to kill him since he was going to go to heaven anyway."
Meanwhile, Yemeni officials are convinced that Kamel, though the lone shooter, did not act alone. Yemeni officials have arrested at least 30 Muslim militants in connection with the attack, and say they were planning to kill more foreigners and secular political leaders.
Meanwhile, Muslims in Jibla, Yemen, mourned the deaths of the three missionaries. "Every day [Martha Myers] looked after me, she used to come to my house, until I was able to stand and walk without endangering my pregnancy," said Samira Abdullah about her troubled pregnancy two years ago. "Without her, I wouldn't have Ali," Abdullah said. "She was a friend more than a doctor."
"All Jibla weeps for them," said Malka al-Hadhrami, who worked as a clerk in the hospital.
Other follow-up press reports say that missionaries remain undeterred in ministering in Yemen and other Islamic countries.
More articles
Life ethics:
Church and state:
Persecution:
Missions and ministries:
Church life:
Clergy sex abuse:
Related Elsewhere
Suggest links and stories by sending e-mail to weblog@christianitytoday.com
See our past Weblog updates:
December 31 | 30
December 27 | 26
December 19 | 18 | 17 | 16
December 13 | 12 | 11 | 10 | 9
December 6 | 5 | 4 | 3 | 2
November 27 | 26 | 25
November 22 | 21 | 20 | 19 | 18
November 15 | 14 | 13 | 12 | 11
November 8 | 7 | 6 | 5 | 4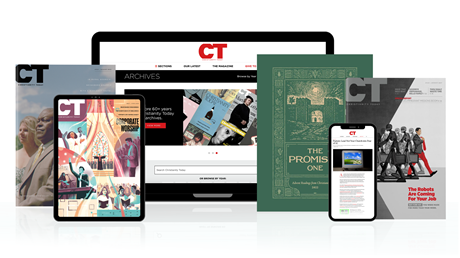 Annual & Monthly subscriptions available.
Print & Digital Issues of CT magazine
Complete access to every article on ChristianityToday.com
Unlimited access to 65+ years of CT's online archives
Member-only special issues
Subscribe
Salvation Army Rejects $100,000 From Lottery Winner
Salvation Army Rejects $100,000 From Lottery Winner