true
'Tis the season when every expert on any subject is offering lists of "The Year's Best This" and "The Year's Worst That." Mainstream critics are busy trying to out-shout each other with raves for their favorite films of 2002. Some choose films that were merely audacious or technically excellent, while others are more concerned with films that meant something.
Next week, I'll provide links to the favorites lists of religious press critics, and then I'll suggest ten titles that I found particularly edifying this year. I'm interested: What films from 2002 meant something to you? Let me know. I'll post some of the replies in an upcoming installment.
***
Antwone Fisher penned his autobiography, turned it into a screenplay, and finds himself now the subject of Denzel Washington's directorial debut, Antwone Fisher. Fisher's story is a painful testimony of childhood abuse, anger, forgiveness, and liberation. The film focuses on Fisher's relationships with two key individuals—his counselor and his girlfriend—who were instrumental in his healing.
For the first time, Washington is working on both sides of the camera. He draws strong performances from his talented cast, and turns in admirable work himself as Dr. Davenport, the naval psychiatrist who helps Fisher face his painful past. Newcomer Derek Luke makes a striking impression in the lead role. We come to care about this young naval officer who, prone to violent temper tantrums, needs redemption. Joy Bryant brings radiance and intelligence to the role of Cheryl, whose love for Fisher endures through breakdowns, challenges, and setbacks. They work together, sticking to the business of storytelling, avoiding clichés and cheap sentimentality. In a year full of stories about broken families and empty lives, Washington is to be commended for including scenes that place such importance on family relationships and prayer. In spite of the film's similarities to other recent stories of troubled boys—Good Will Hunting, for example—it becomes one of this year's most inspiring films.
Critics in the religious press are impressed. Michael Elliott (Movie Parables) says, "Many of the same qualities which we appreciate in [Washington's] acting we see in his directorial approach. There's an undercurrent of intelligence and humor which helps ground the film and a considerable amount of restraint in dealing with sensitive matters." Phil Boatwright (Movie Reporter) says "Washington … manages to explore the human psyche without resorting to exploitation or soapy contrivances. It's a good character study with an exceptional performance." Bruce Donaldson (Movieguide) says, "The acting … is excellent and the story is emotionally charged. The climax to the film is powerful and emotionally satisfying."
Darrel Manson (Hollywood Jesus) highlights one of the film's themes: "I'm glad that Antwone's story is not just about someone who pulled himself up by the bootstraps. It teaches us that we all have to rely on others. And we all have responsibilities to others who may well be relying on us."
***
Writer/director Alexander Payne's About Schmidt is among a handful of films predicted to compete in a close Oscar race this year. This is primarily due to the performance of Jack Nicholson, who plays a retiree coping with the realization that his life has been wasted and trying to salvage what is left of the time he has.
Some critics describe Schmidt as uplifting and inspirational. Indeed, moviegoers around me at the theatre dabbed at their eyes and sighed deeply at its various emotional peaks. But other critics argue are that the film undercuts the usual sentimental epiphanies with an undertow of negativism and cynicism. That is closer to my experience of the film. Schmidt seems to fail at every attempt to connect with others. His climactic speech at his daughter's wedding is well intended, but it is also dishonest. What seems at first to be a breakthrough in the final scenes could also be interpreted as a breakdown, a realization of isolation and failure to communicate. Thus, while Schmidt is clearly crafted by an artist, I found it to be bleak, frustrating, discouraging, and even confused.
Gerri Pare (Catholic News Service) calls it "wonderfully moving. The film locates genuine human emotion and the cast delivers the goods in sharply drawn portrayals. But it is overwhelmingly Nicholson's artistry that drives the film from a simple story of an Everyman at a crossroads to an affecting portrait of grief and self-discovery."
Doug Cummings (Chiaroscuro) found it inspiring. "It's to Payne's credit that he never inserts the sort of easy sentimental scene of tearful reconciliation which plagues other family dramas. As in real life, these clumsy characters must learn to embrace unfamiliar juxtapositions and compromise if they hope to remain in relationship. And the final image is one of tremendous, unexpected uplift."
Ted Baehr (Movieguide) takes a starkly different stance: "About Schmidt is a Christian movie with a Lutheran flavor. The movie is so pre-evangelistically Christian that it should have been made to be accessible to all ages. About Schmidt is the best movie ever made about being 'born again.'"
J. Robert Parks (Phantom Tollbooth) disagrees: "I'm not sure the hurrahs being flung at the film are completely earned. I found [Payne's portrait of the Midwest] a little too harsh, a little bit smug. Payne is no longer laughing with us, he's laughing at us. Your view of the movie will probably depend on whether the final, cathartic shot is earned or just an illegitimate attempt to bring some emotion to an otherwise empty landscape."
Mainstream critics are similarly divided. Stephen Holden (The New York Times) says, "Nicholson brings to his role … a sorrowful awareness of human complexity whose emotional depth matches anything he has done in the movies before." But Charles Taylor (Salon.com), while praising Nicholson, attacks the film itself: "How can critics fall for this movie's rank sentimentality? How can they fail to notice its hypocrisy? Payne's specialty, only three movies into his career, has become making the audience feel superior to his characters. How can critics laud About Schmidt with phrases like 'profoundly moving' without noticing that the sense of humanity they claim the movie celebrates doesn't extend to 95 percent of the people on-screen?"
Mike LaSalle (San Fransisco Chronicle) focuses on the film's spiritual emptiness: "The movie … dares to say it's all a lie, that the truisms that movies and mass culture live by are reassuring myths but lead nowhere. Here, old age is a time not of insight but of confusion. Love doesn't grow but grows stale, evolving into a vague contempt. Having a child is no comfort, and even taking off down the road—the great American standby—offers nothing in the way of self-discovery. It's all empty. About Schmidt is a spiritually lost film about a man who's spiritually lost."
***
If dramas about coping with abuse and emptiness sound too heavy for you, Catch Me If You Can offers more whimsical entertainment. It is certainly a change of pace from director Steven Spielberg. There's no war or life-threatening crisis, no dinosaurs on the loose—just a clever con man on the run, trying to earn enough money to buy back the peace and happiness he had before his parents' divorce.
Leonardo Dicaprio plays real-life con Frank Abagnale Jr., whose memoirs inspired this loose—and I stress loose — interpretation of his late-'60s antics. Abagnale successfully evaded capture while posing as various professionals, including an airline pilot, a lawyer, a doctor, a teacher, and a professor, all at the age that most young men are finishing high school.
While it's not one of Spielberg's most ambitious works, Catch Me may be the most restrained and unsentimental film of his career. Never once does he turn on the onslaught of music, tears, and close-ups. Yet this comical crime caper explores profound questions about family, responsibility, the influence of parents on their children, judgment, and grace. Dicaprio turns in his best performance since What's Eating Gilbert Grape?, a complex balancing act between melodrama and comedy. He's a joy to watch. The laugh-out-loud-funny Tom Hanks returns (at last!) as Carl Hanratty, a humorless F.B.I. agent hunting the elusive imposter. Christopher Walken delivers Oscar-worthy work as Frank's father. And Nathalie Baye (An Affair of Love) plays Frank's mother, whose pursuit of the American dream requires compromises that are mirrored in Frank's own dishonest pursuit of happiness.
Holly McClure (Crosswalk) raves, "I enjoyed every minute of this fascinating story, and I encourage mature older teens to adults to see it for the valuable lessons it holds."
J. Robert Parks (Phantom Tollbooth) says, "Spielberg is back with straight, good-time entertainment. And let's be honest: few do that better. The production design is beautifully slick, and the acting is, as you might expect, top notch." Likewise, Zach Baliva (Relevant) raves, "Spielberg has finally done it. A blockbuster, yes, but with substance replacing pretension. Excitement, humor, emotion, theme and heart."
Loren Eaton (Focus on the Family) calls the film "a stunning piece of cinematography. Spielberg's understated and nuanced style holds moviegoers' attention from titles to credits." She also points out the differences between this film and the true story. "Best think of this movie as a fable. It is certainly not going to introduce you to Frank Abagnale Jr." (The film focuses on Frank's relationship with his father over the span of his run from he law, while in real life Frank saw his father for the last time in the courtroom where his parents divorced, before his illegal maneuvers.)
David Bruce (Hollywood Jesus) lists twelve major spiritual issues addressed in the film, and then three affirmations offered by the its conclusion: " 1. There is a hound of heaven who cares. 2. Although each of us sins, there is grace. 3. There is new life."
Phil Boatwright (Movie Reporter) raises a question that troubles several Christian press critics. He wonders about his own enjoyment of films about thieves. "There's just something fun about rogues on the run. Why is that? I despise the crime of thievery. So why is it fun watching Paul Newman do it? Or Frank Sinatra, or Ryan O'Neil? Rooting for the suave criminal must be some vicarious pleasure."
Many are in fact criticizing the film because they believe it glorifies Abagnale's life of crime. Denny Wayman and Hal Conklin (Cinema in Focus) caution viewers, saying, "Viewers can be so impressed with the genius with which Frank Jr. broke the law … that they will miss the pain of his soul." Halyna Barannik (Christian Spotlight) remains conflicted about the same issue: "The morally unclear ending left me somewhat dissatisfied. My Christian perspective on the moral of the story is frustrated and unresolved." Dick Staub (Culture Watch) is also concerned: "The fact that Abagnale turns his expertise to the good is portrayed not as redemptive so much as the just result for such a good con." Similarly, Ted Baehr (Movieguide) complains, "The soft ending to the movie almost seems to condone Frank's adolescent behavior." Michael Elliott (Movie Parables) concludes that it "sends a skewed moral message."
I didn't get that impression at all. We learn early on that Abagnale pays for his crimes. Further, we see the damage that his indulgences have on others, especially a vulnerably and insecure young girl named Brenda (Amy Adams). Fortunately, Spielberg's film includes both justice and grace, making it not just an adventure, but a parable about the wages of sin and God's offer of forgiveness. We can sympathize with Abagnale's motives: all of us have at one time or another tried to achieve happiness by taking shortcuts. Thus we laugh in recognition at his antics, the same way a grownup might chuckle while watching a child try to sneak cookies from the cookie jar. Haven't we all enjoyed the story of a certain prophet who ran from his responsibility and landed in rather deep trouble?
Steven J. Greydanus (Decent Films) argues, "It celebrates [Frank's] cleverness and panache rather than his dishonesty, and ends on a satisfyingly redemptive note." Bob Nusser (Preview) concludes, "It also shows that an individual's behavior has consequences and that a depraved individual is capable of heart change."
***
The Wild Thornberries Movie, an animated film based on the Nickelodeon television series, is drawing family audiences for its kid-friendly fare. But religious press critics disagree over whether the film is rewarding enough to make the trip.
Geri Pare (Catholic News) calls it "a tame adventure that is family friendly to all but the tiniest of tots. However, the animation seldom reaches beyond standard TV quality." James Akin (Decent Films) is more positive about the movie: "It starts off slow—in fact, too slow—but it begins to involve the audience more as the plot develops. In the end the movie pulls off a genuinely heartwarming finale. The humor is subdued and sometimes clever." Even more impressed, Holly McClure (Crosswalk) says, "Kids will be entertained and mesmerized by this movie because of the colorful animation, great songs, and loud characters."
Jesse Florea (Focus on the Family) cautions parents about several elements, but concludes, "Families … will find quality things to enjoy as well. Humor and action are interspersed with strong family bonds and moral life lessons."
***
Two Weeks Notice is another romantic comedy starring Hugh Grant: an event that seems to happen two or three times a year. This time he's matched with Sandra Bullock. Bullock plays a liberal activist lawyer who is hired to work for Grant's insensitive character. When his mistreatment of her prompts her submittal of "two weeks' notice," she finds herself helping him look for a replacement. During this close-quarters teamwork, sparks start flying and the two are drawn together in that oh-so-Hollywood way.
Gerri Pare (Catholic News Service) writes, "The romantic triangle crawls along to its assured outcome without delivering much entertainment." Bob Smithouser (Focus on the Family) is also disappointed: "The likable Grant and Bullock share good chemistry, making the tired formula more bearable. If only the movie's sweet and funny moments weren't marred by sexual repartee and a preachy, left-leaning social agenda." Phil Boatwright (Movie Reporter) turns in a soul-baring review: "I have two hopes. First, that Sandra will some day find me. Second, and nearly as important, that she will star in a great movie. Alas, she knows me not, and Two Weeks Notice has all the charm and humor of a pink slip."
Michael Elliott (Movie Parables) had a better time at the movie. "Utterly predictable, utterly unbelievable, but undeniably charming. The premise, formulaic as it is, works largely due to the impeccable comic timing of the film's two stars. … Central to the film's romance is the idea that people can change. Nobody is beyond redemption."
Lisa A. Rice (Movieguide) says, "There are lots of very funny parts to this movie." But she concludes by listing the things that offended her: "The worldview is politically correct, with generally light elements of feminism, environmentalism, homosexuality, and anti-wealth/anti-capitalism." (Clearly, only a certain number of Christian critics find "environmentalism" to be an offensive element.)
***
The 25th Hour is the latest film from the controversial director Spike Lee. Edward Norton stars as Monty, a reforming drug dealer trying to re-evaluate his life during his 24-hour countdown to incarceration. The film is drawing rave reviews and loud condemnations alike from mainstream critics. Religious press critics have specific complaints about Lee's storytelling.
Michael Elliott (Movie Parables) writes, "Lee expects us to overlook Monty's drug dealing history to sympathize with his plight." He adds, "25th Hour is the first major production to use post 9/11 images as part of its narrative. If only Lee had something more profound to say. A scene that overlooked the recovery operation at Ground Zero was a wasted opportunity. It is only one of many elements to be mishandled."
But a critic at Movieguide says, "Christian hope is offered in contrast to the vileness of Monty's environment. Thus, 25th Hour offers a morality tale with some Christian elements set in a broken pagan world where the ugliness of life is exposed in all its horror."
***
Evelyn is another holiday film "loosely based on a true story." This time, the story focuses on Desmond Doyle, the unemployed father of three children, who struggles with drunkenness. His wife has abandoned him to single parenthood. As he tries to meet the challenge, the government and the Roman Catholic Church, fulfilling Irish law, take his children away.
Pierce Brosnan turns in a confident and sincere performance as Doyle, and young Sophie Vavasseur is charming as his willful daughter Evelyn, but their supporting cast is so comical and talented that they steal the show. Stephen Rea (The Crying Game) and Aidan Quinn (Songcatcher) play two lawyers willing enough to take on the government and the church, and they join forces with a retiree (Alan Bates) who specializes in David-versus-Goliath cases. Bates brings complexity and delightful humor to his role as the cantankerous, reluctant professional.
Steve Lansingh (The Film Forum) says, "The amount of enjoyment one gets from Evelyn will depend on how one approaches the movies: Do you sift through the work of art to find moments and lines of resonance? If so, then there's enough here to get excited about. If, however, you want a work of art to come together as a cohesive whole, for its themes to interweave and support each other, then you'll want to look elsewhere. Evelyn is a grab-bag of a movie."
I agree with Lansingh. (My review is posted at Looking Closer.) While Doyle's story is told with humor and energy, the film's other focus on his daughter Evelyn stumbles into sentimentality of the sort often found on TV's Touched by an Angel. It makes for mixed results and an ultimately unsatisfying film.
Nevertheless, Phil Boatwright (Movie Reporter) comes away saying that Beresford "avoids an abuse of sentiment or melodrama with his subject matter. Evelyn has energy, warmth and spirituality."
Ken James (Christian Spotlight) calls it "an enjoyable and comfortably predictable true story … that leaves you feeling all warm and fuzzy inside. … There are numerous references to prayer, Scripture passages, forgiveness, sobriety, and family. But Evelyn doesn't shy away from the ugly side of Catholicism in some respects."
Peter T. Chattaway (Vancouver Courier) calls it "safe … predictable … a feel-good, crowd-pleasing, Capra-esque dramatization of a landmark Irish court case. To his credit, Beresford … knows that we know how this story will end, and he doesn't try to inflate his film with fake dramatic tension. Instead, he fills the movie with so much comic relief that it almost becomes a comedy." Chattaway also highlights the film's avoidance of villainizing the Catholic Church." However, he concludes, "The film has a saccharine quality that undermines whatever lessons it's trying to teach us about history and family."
***
Charles Dickens' Nicholas Nickleby is back in a new adaptation by director Douglas McGrath (Emma). Critics are debating the merits of the film, which boasts an effective cast but a leading man that some find insufficient and even annoying.
Andrea Rock (Movieguide) says, "The acting from the 'big names' … is predictably superb, as is that of most of the younger newcomers. Charlie Hunnam … probably suffers more from script limitations than from insufficient talent. His Nicholas as written is so relentlessly moral that he's almost … too good to be true. As a result, his performance sometimes pales next to the heavy-hitters who carry the movie."
J. Robert Parks (Phantom Tollbooth) is harsher on Hunnam: "Your mom and grandma might like this one, but leave me out. Nicholas Nickleby … is a costume drama with a great cast, great possibilities, and a great hole in the middle. That empty void where a leading man should be is Charlie Hunnam, the star and titular hero of our movie. He's a pretty boy who looks like he'd be more comfortable in Dawson's Creek, and he strides through the movie with a blank stare and an insipid smile. I am not exaggerating when I state that I was so bored in certain places that I started counting the ceiling tiles in the screening room. This is a shame as the rest of the cast is absolutely top-notch."
Cliff Vaughn (Ethics Daily) argues to the contrary: "Nicholas Nickleby is a character, and story, for generations to come. It's a family film, in more ways than one." Likewise, Phil Boatwright (Movie Reporter) raves, "Missing this version of the Charles Dickens classic would be cheating yourself out of a spirited, uplifting drama, and one of most delightful films of the year." Chris Monroe (Christian Spotlight) says, "Overall, this film is an entertaining and excellent source of edification. The quality of the production, the acting, and, of course, the rich source they are working from provide for a very wholesome, well-spent time at the movies."
Still Cooking
Gangs of New York, which Film Forum covered in detail two weeks ago, continues to irritate and infuriate religious press critics with its graphic violence. Further, some were not pleased to see American history portrayed with such rough edges.
Michael Elliott (Movie Parables) is one of the few praising its achievement: "While DiCaprio does a fine job playing the conflicted Amsterdam, this film belongs to Daniel Day-Lewis who presents one of the most complex and richly shaded villains in recent memory. [The filmmakers'] vision of what Manhattan might have looked like over 150 years ago is magnificently realized."
Simon Remark (Hollywood Jesus) also raves: "No other filmmaker has looked at the human condition and the inner struggle between flesh and spirit quite like Martin Scorsese. … Scorsese again looks at the human condition and the strongest of human emotions: love and hate. Scorsese again proves to be one of the most significant, profound filmmakers of our time."
Others are too battered by the film's violent subject matter. Gerri Pare (Catholic News Service) "With all the characters so vicious, the story has little emotional resonance. Despite the film's belabored ultra-realism, it fails to be dramatically stirring. Instead of a story about the immigrant experience in 19th-century New York, it seems more about butchery for its own sake and the love of slaughter." Movieguide's critic says the film is "a bloody, dark, depressing, hopeless depiction of 'eye-for-an-eye' violence, torture, and cruelty, plus graphic sexual immorality and nudity. It is not an American History film, but a revisionist political treatment that attacks faith, God, and America. This movie reaches new lows in bloodletting." Phil Boatwright (Movie Reporter) "Scorsese somewhat informs us, but then he beats the crud out of us." Holly McClure (Crosswalk) says simply, "If you don't want to see a bloody, violent movie, then don't go see Gangs."
Will Johnson (Relevant) says, "Beautifully shot, wonderfully orchestrated, and skillfully pieced together, Gangs … is an awe-inspiring film. However, before the three hours pass, you can't help but feel betrayed and cheapened." He calls it "gratuitous, lengthy and unbelievable. To say that this movie's conclusion was one of the most disappointing endings of all time is an understatement. I was angry and sad simultaneously." Steven J. Greydanus (Decent Films) also calls it "perhaps the most impressive and ambitious disappointment in this year of ambitious cinematic disappointments. Shakespearean in aspiration, operatic in scope, spectacularly mounted, Gangs … is a remarkable cinematic effort. If only it were about something."
But Steven Isaac (Focus on the Family) says, "I walked away more grateful than ever for my cushy 21st century life. Today we thrive in a society governed by law and order to be envied by all other countries, and this movie makes one immensely grateful for that."
Isaac's sentiments seem to contradict the film's conclusion, which suggests that the rich in America continue to thrive even as they continue to ignore the needs of the poor, both here and abroad. Thus we are forced to consider that the violent struggle between the rich and the poor is not over, and has in fact expanded, causing those beyond U.S. borders to rise up against the wealthy and powerful of this nation.
***
The Lord of the Rings: The Two Towers continues to inspire religious press critics as it continues to dominate the box office. Bob Smithouser (Focus on the Family) says, "Towers is just as powerful … and even more eye-popping than its predecessor. It's an epic achievement. What stuck were poignant lines and unique situations that challenged me to think more deeply about human nature, morality, world events, and biblical truth. With the proper parental input, mature teens may have a similar experience."
Denny Wayman and Hal Conklin post a review at Cinema in Focus, saying, "The symbolism of this quest is clear. Writing from a Christian worldview, Tolkien presents the nature of the spiritual struggle. Evil is a destroyer of life. It not only creates inhuman creatures from deep within the fires of the soul, but it also corrupts pastors and priests (wizards) and darkens the minds of kings and leaders. To be free from such a force, good people must stand together and fight the evil that resides both within each of our souls as well as in the towering powers around us."
Peter T. Chattaway (Vancouver Courier) raves, "Jackson is as good a director in … intimate character moments as he is in the film's more spectacular scenes, and despite its length, The Two Towers is over in no time at all. It will leave you itching for more." He is, however, bothered by one aspect of the film: "There is something about the simple moral dimensions of this battle—humans good, orcs bad—that perhaps should give us pause in these war-on-terror times. Apart from the multicultural friction between humans, dwarves, and elves, the heroes in this story are pure and noble to a fault, and if they have any dark tendencies, these can usually be blamed on someone else:  the Ring, Saruman, Wormtongue, whoever."
Want a very different opinion from a Christian press reviewer? Cameron Strang (Relevant) is unimpressed. The reviewer writes, "From a spiritual standpoint, Lord of the Rings is supposedly full of rich allegory and subtext. I guess some people think 'good vs. evil, and good is better' makes for a compelling storyline. Personally, I don't see how it's any different from Adam Sandler's Little Nicky. I was intently looking … and it's impossible for the layman to clearly see any biblical parallels, no matter how visible the hardcore fans say they are."
***
Star Trek: Nemesis also drew more attention this week. Denny Wayman and Hal Conklin find a lot of stimulating questions raised by the film, and they explore those in a new review at Cinema in Focus. But Phil Boatwright (Movie Reporter) says, "Both crew and series seem to be running out of steam. It's an okay action adventure, but doesn't have the spark of earlier installments."
***
Amanda Caldwell (The Film Forum) has just posted a review of Punch-drunk Love that beautifully expresses some of the same things that made me include the film in my ten-best of 2002, which I'll include here next week.
So what's on your year-end list, and why?
Next week: The most meaningful films of 2002, The Pianist, Narc, Pinocchio and The Hours.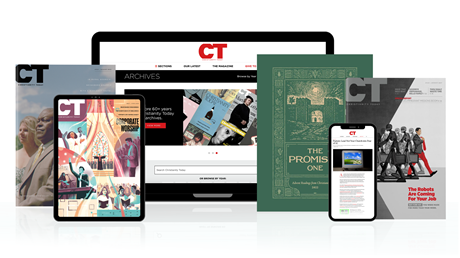 Annual & Monthly subscriptions available.
Print & Digital Issues of CT magazine
Complete access to every article on ChristianityToday.com
Unlimited access to 65+ years of CT's online archives
Member-only special issues
Subscribe
Antwone Fisher Faces Fears, Schmidt Despairs
Antwone Fisher Faces Fears, Schmidt Despairs