What Dying People Want: Practical Wisdom for the End of Life
By David Kuhl, M.D.
Public Affairs, 317 pages, $25.00
After my mother's memorial service in November, one family friend reminded me of a dear acquaintance we shared from more than 20 years ago. "Linda," she said, "told me how very helpful you were when you visited her in the hospital. Of all the visits she had, yours was the most meaningful."
The long-faded incident came back to me. I was an associate pastor in a multiple staff ministry. Linda, the senior pastor's wife, had cancer, and we were all frightened for her.
When I saw her in the hospital, I was overcome by her fragile situation. Few words passed between us. I sat at her bedside and tried to just give her my time and my attention. I went away discouraged that I hadn't been able to bring her some apt word or insight. As it turned out, silent companionship was just what she needed.
Linda turned out to be survivor, and decades later, the grace of that shared silence lives in her memory—and mine.
What do dying people want? What do they need? Insofar as social research can answer that question, Dr. David Kuhl can enlighten us. With funding from the Soros Faculty Scholar Program, he conducted a ten-year study of dying persons in British Columbia. As a palliative care physician (a doctor who specializes in managing pain and other symptoms of the terminally ill), Kuhl was in a special position to carry out the research. His book, What Dying People Want is subtitled Practical Wisdom for the End of Life. Although the book is formally addressed to people whose physicians have told them they are dying, it is easy for pastors, health-care workers, and family and friends to feel it is written for them as well.
Ten years ago, near the beginning of his research, Kuhl had an aha moment as he sat by a patient's bedside. Alice had cancer, and she was in a lot of persistent pain. The medications Dr. Kuhl had been giving Alice should have alleviated her aches and discomfort, but she kept complaining about chest pain. Kuhl floated an observation: "I wonder whether … the pain in your chest isn't … coming from your cancer."
"Yes," Alice said, "the pain is in my heart." And she told him about her sorrow and worry about her daughter's ill-considered marriage. That conversation revolutionized Kuhl's understanding of what dying people need.
Still living
In the book's introduction Kuhl writes about the regrets he and his wife have about all the unfinished emotional and relational business that remained after his father-in-law died. He then summarizes what he has learned since that death: "The most important thing I know now that I didn't know then is this: People who are dying are still living."
This is his "primary message." When we feel helpless in the face of death, we surrender to the inevitable and begin to think of the dying as already dead. But this is far from the case: dying people who are still living, and who have their symptoms ameliorated by good medical care and their channels of communication are open, can have final months that are emotionally rich and honest in a way that the rest of their lives has not been. Dying can sharpen our focus and free us from our addiction to triviality. With guidance and analgesia, the time can be strangely rewarding.
Kuhl has not written a how to book in the usual sense: guidebooks packed with numbered steps, their mnemonic slogans, and their confident promises. Instead of slinging slogans, Kuhl tells stories. In the place of most self-help authors' hyperconfidence, Kuhl displays humility. Nevertheless, the book is very practical, precisely because we live best by paradigmatic narratives, by stories that show us the patterns for good living and good dying.
Time, truth, touch, and transcendence
Kuhl groups what he heard from the participants in his study into nine themes (summarized in these chapter titles): time and anxiety; bad news; physical pain; being touched, being in touch; life review; speaking the truth; longing to belong; self-realization: who am I?; and transcendence.
Most CT readers will see will see the final chapters as the book's soft (indeed, squishy) spot. Because Kuhl is writing generically about spirituality for readers of all religious backgrounds, he is unable to deliver the specific insights about human nature and destiny that believers inside the Christian tradition want in the time of death. Even in their generic mode, however, these final chapters are worth close consideration, for they tell us what our contemporaries think, feel, and believe in extremis. (Christians should read Margaret Kim Peterson's summary of wisdom for dying from classic Christian writers such as Jeremy Taylor in our May 22, 2000 issue.
Despite his generic intentions, Kuhl avoids some typical contemporary confusions: he maintains the distinction between guilt feelings and genuine guilt, and he doesn't think that "forgiving yourself" is all that's required. He sees forgiving others and being forgiven by them as crucial for release from guilt. He gently presses people forward through the stages of remembering, recognition, recompense (restitution), remorse, and release. (An erstwhile homiletics teacher, I couldn't help noticing the alliteration. That'll preach.)
One editorial colleague at CT tells of a family member who explained why she didn't visit his dying father: "I just didn't think I could handle it." That paralysis isn't unusual. And even among those who do come to the bedside, conversation is often superficial. How do we break through those barriers in order to discuss the vital issues and speak the important things that every family needs to say and hear?
If you want help with this, go directly to page 188. Kuhl provides a masterful guide for a family meeting. He stresses the importance of a quiet, uninterrupted setting. Then he offers an emotionally sensitive outline of prompt lines to get the communication flowing. These four pages justify the book's $25 price tag all by themselves.
Pro-living
Kuhl's insights are not just for patients and families. They are also for society. I find it passing strange that as a culture we are more willing to resort to euthanasia and physician-assisted suicide than we are to spread the news about palliative care and making it available in every community. Without the kind of attention and technical know-how that physicians like Kuhl bring, our hearts are naturally moved to want to end suffering, and we too easily envision death as the way to achieve that.
A particularly telling anecdote illustrates the importance of palliative care:
Ken, a young man with testicular cancer was suffering acute pain. paged him. "David," he said, "please just kill me, just kill me. I can't take it anymore." Fortunately, David Kuhl was able to treat Ken's pain, and a day or two later, he asked Ken, Did you really want me to kill you?
No. I just wanted you to kill the pain, Ken said.
Kuhl's message ("People who are dying are still living") affirms life. His professional activity (symptom management and emotional guidance) enables living. Palliative care is prolife activity, and Christians ought to be at the forefront of fostering it.
Related Elsewhere
What Dying People Want: Practical Wisdom for the End of Life is this month's selection for the Christianity Today Editor's Bookshelf. Elsewhere on our site, you can:
DoctorKuhl.com offers contact information as well as a speaking schedule
Public Affairs has an excerpt from What Dying People Want.
Oprah Winfrey talked about the book on her television show.
Editor's Bookshelf
David Neff was editor in chief of Christianity Today, where he worked from 1985 until his retirement in 2013. He is also the former editor in chief of Christian History magazine, and continues to explore the intersection of history and current events in his bimonthly column, "Past Imperfect." His earlier column, "Editor's Bookshelf," ran from 2002 to 2004 and paired Neff's reviews of thought-provoking books and interviews with the authors.
Previous Editor's Bookshelf Columns: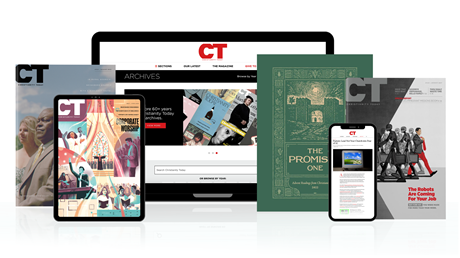 Annual & Monthly subscriptions available.
Print & Digital Issues of CT magazine
Complete access to every article on ChristianityToday.com
Unlimited access to 65+ years of CT's online archives
Member-only special issues
Subscribe
'I Just Wanted You to Kill the Pain'
'I Just Wanted You to Kill the Pain'