More universities say InterVarsity must allow non-Christian leaders
Less than two weeks ago, Weblog noted that Harvard University was withholding a grant to the Harvard-Radcliffe Christian Fellowship because the group required that its leaders be Christians. Such a policy, the school's Undergraduate Council said, violated anti-discrimination policies. At the time, Weblog said the case was odd. It's already time to rescind that.
Papers today report that Rutgers University and the University of North Carolina have also taken steps to remove official recognition and funding from their InterVarsity Christian Fellowship chapters for the same reason—only Christians may lead the Christian organization.
"Your group does not allow full participation 'without regard to … religion  … ' as mandated by our Application for Official University Recognition," Jonathan E. Curtis, UNC-Chapel Hill's assistant director for student activities and organizations wrote to the InterVarsity Christian Fellowship in a December 10 letter. "Consequently I am writing to notify you that you will need to modify the wording of your charter, or I will have no choice but to revoke your University recognition." Curtis gave the group until January 31 to do so, and reportedly gave the same ultimatum to two other Christian groups on campus
Rutgers University removed official recognition from the InterVarsity Multi-Ethnic Christian Fellowship as a "registered student organization" in September. Yesterday, the group sued the school.
"How can we ensure the group has a Christian mission without some assurance the leaders are Christian?" said David French, attorney for the Foundation for Individual Rights in Education (FIRE), which filed the lawsuit (with support from the Alliance Defense Fund) on the group's behalf. FIRE is also threatening to sue UNC-Chapel Hill.
Mark Stern, attorney for the American Jewish Congress, says Rutgers' actions are clearly illegal. "The notion, for example, that I [as a Jew] would have a right to be the head of a Christian group is absurd," he said. "After the Boy Scout decision, this is a total no-brainer."
The issue, says InterVarsity area director Laura Vellenga, is freedom of speech. "It is in our best interest to throw open our membership to anybody in the community, but our leadership is a different matter," she told the Newark Star-Ledger.
Scott Vermillion, staff director for the four UNC InterVarsity chapters, told the Raleigh News & Observer the same thing. "We're saying, 'If you're going to be a leader of this organization, you need to believe in what this organization stands for.' We're not trying to keep anybody out. We're just trying to keep InterVarsity InterVarsity." "We're not a belligerent group, but we do want access to campus and to funding," Vermillion said.
But FIRE's press release is clearly belligerent. "For years now, American universities have engaged in a ferocious assault on the American principles and basic human rights of freedom of conscience, religious liberty, and the First Amendment," FIRE president Alan Charles Kors says in it. "These universities … seem to think they have the power to demand allegiance to the values and beliefs of current academic administrators. It is an intolerant and intolerable outrage."
The Star-Ledger couldn't reach anyone at Rutgers for comment, but the News & Observer heard from Dean L. Bresciani, UNC-Chapel Hill's interim vice chancellor for student affairs. "We have no intention of kicking the group off campus, and we're prepared to work very hard to avoid that scenario," he said. "We're feeling confident we can find some solution. We just have to find a way to get around the legal hurdle."
Yemeni attacker attempted to kill a fifth worker
There's little news from Yemen since the arrest of Abed Abdul-Razak al-Kamil, but The Washington Post reports today that there were nearly five victims instead of four. After wounding pharmacist Donald W. Caswell, Kamil "aimed his gun at a Filipino hospital employee, but the weapon did not fire."
The Times of London reports that Yemeni authorities believe Kamil "is a former member of the country's Islamic opposition party, Islah, but deserted it because he thought it too soft in its war against the West and America."
Other than that, most new stories focus on the victims and the growing threat against missionaries around the world.
"With the rise of religious politics, missionaries come into the cross hairs of Muslim and Hindu fundamentalists," Bernard Haykel, assistant professor of Middle Eastern studies and history at New York University, tells The New York Times. "Certainly as the Arab and Muslim world has become more radicalized Islamically, people have become more aware of missionaries and more irritated by them."
In another development, Associated Baptist Press reports that the hospital was already in turmoil:
The attack came one day before the hospital was scheduled either to close or be turned over to another entity. … Last July the People's Charitable Society, a local Muslim charity, offered to assume control of the hospital, which IMB officials called "an answer to prayer." As the Dec. 31 deadline for the transfer approached, however, no plans were announced and the transfer appeared unlikely. Hospital administrators made plans to close the facility. But in a Dec. 22 memo, administrator Koehn told staff members the transfer to the People's Charitable Society would indeed take place "on or about [the] 28th or 29th of December."
The IMB planned to continue to pay the salary of hospital personnel, including IMB representatives, who wanted to work under the new ownership, but only until the end of their current contracts and only if the new Muslim charity approved, according to the memo.
Most IMB personnel were making plans to leave Yemen or transfer to new jobs elsewhere in the country. But four of the 13—including the three killed—planned to stay. IMB spokeswoman Anita Bowden said the IMB is not commenting on the status of the transfer.
Baptist Press, the official news service of the Southern Baptist Convention, will be posting several articles on the fallout throughout the rest of the week.
Happy New Year
No Weblog tomorrow. No new article postings, either. We'll be back Thursday.
More articles
Missions and ministry:
Other religions and interfaith relations:
Atheist Boy Scout appeals expulsion:
Courts:
Politics and law:
Faith-based funding:
Crime and violence:
Human cloning:
Christmas:
Film:
Catholicism:
Related Elsewhere
Suggest links and stories by sending e-mail to weblog@christianitytoday.com
See our past Weblog updates:
December 30
December 27 | 26
December 19 | 18 | 17 | 16
December 13 | 12 | 11 | 10 | 9
December 6 | 5 | 4 | 3 | 2
November 27 | 26 | 25
November 22 | 21 | 20 | 19 | 18
November 15 | 14 | 13 | 12 | 11
November 8 | 7 | 6 | 5 | 4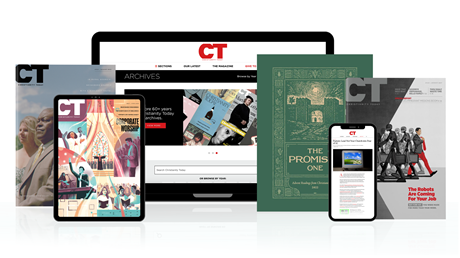 Annual & Monthly subscriptions available.
Print & Digital Issues of CT magazine
Complete access to every article on ChristianityToday.com
Unlimited access to 65+ years of CT's online archives
Member-only special issues
Subscribe
Rutgers, UNC-Chapel Hill Join Attack Against InterVarsity
Rutgers, UNC-Chapel Hill Join Attack Against InterVarsity