Raëlians oversee first cloned birth
A religious sect announced today that a woman has given birth to her own clone. The Raëlians, followers of a French journalist who believe space aliens formed the Earth, say the cloned baby girl was born yesterday and is named Eve.
Earlier this year, Clonaid, a cloning lab formed by the Raëlians, announced that it was overseeing five cloned pregnancies. Clonaid director Dr. Brigitte Boisselier said today at a news conference that the baby, born in an unspecified foreign country, will go home in three days. At that time, an independent investigator will use DNA tests to prove that Eve is a clone.
At today's press conference however, Boisselier gave no evidence that Eve is a clone or even exists. She did however say that the girl looks just like her mother.
Former CU quarterback left partly for religious reasons
In September, the former starting quarterback for the University of Colorado football team walked away from the game and the school. This week, he told the Rocky Mountain News that a series of disagreements over playing time and game decisions led to him leaving the program but "the last straw" was the head coach's interference in a team prayer.
"Things went from a football level to a personal level," Ochs told the Rocky Mountain News. "You can overlook some of the things in football, but I think it's obvious to anybody who knows me how serious I take my faith. [The coach] mocked me and my faith in God in front of the team."
The former junior co-captain said the prayer incident occurred at an August 18 practice. He said that as he was praying for the team, coach Gary Barnett interrupted and finished the prayer himself in an "inappropriate and obnoxious" manner.
In reaction to the claim, Barnett told the paper, "I felt we needed a little more pep in our prayer."
Benny Hinn on Dateline
Tonight's Dateline, at 7:00 p.m. central standard time on NBC, will air an investigation of faith healer and televangelist Benny Hinn. According to the network's site, "[Hinn] claims he can call on God to heal the sick. But Dateline's hidden cameras reveal another side of the Hinn ministry, and some former followers raise troubling questions."
Religious weblog RelaspedCatholic.com posted a letter this week from the Trinity Foundation, an organization that monitors religious programming. The group said that it had been working with Dateline for the last two years in its investigation of Hinn.
Hinn has already spoken out against the program. This week on Trinity Broadcasting Network's "Behind the Scenes" he said the Dateline investigation contained "demonic lies."
$17 million of Powerball jackpot donated to churches
The Christmas Powerball winner of $315 million says he is not lucky. He is blessed. "I just want to thank God for letting me pick the right numbers, or letting the machine pick the right numbers for me," Andrew J. Whittaker Jr., a member of the Church of God, told The New York Times. "I'm getting really excited because of the good works I can do with this."
Whittaker, who owns three construction businesses, chose to take his winnings in on lump sum of $170.5 million instead of 30 annual payments.
Whittaker said he still plans to tithe his winnings. "The very first thing I'm going to do is, I'm going to go home, I'm going to sit down and make out three checks to three pastors for 10 percent of this check."
The three clergymen—his home pastor, another near his hometown, and one in California—will be given a total of $17 million. Whittaker has no set plans on what should be done with that money as long as it helps "people who want to better themselves to have a better life."
More articles:
War with Iraq:
Jesus:
Clergy sex abuse scandal:
The New York Times Ten Commandments series:
Missions and ministry:
Education:
Bioethics:
Church and state:
Politics and law:
Christmas:
Internet and technology:
Catholicism:
Interfaith relations:
Sex and marriage:
Persecution and violence:
Television:
Church life:
Sexual ethics:
Other stories of interest:
Related Elsewhere
Suggest links and stories by sending e-mail to weblog@christianitytoday.com
See our past Weblog updates:
December 26
December 19 | 18 | 17 | 16
December 13 | 12 | 11 | 10 | 9
December 6 | 5 | 4 | 3 | 2
November 27 | 26 | 25
November 22 | 21 | 20 | 19 | 18
November 15 | 14 | 13 | 12 | 11
November 8 | 7 | 6 | 5 | 4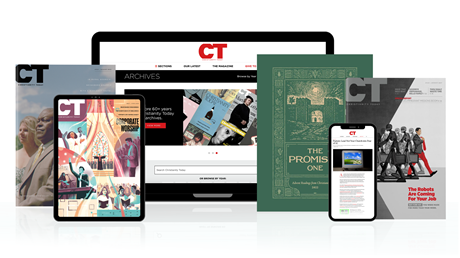 Annual & Monthly subscriptions available.
Print & Digital Issues of CT magazine
Complete access to every article on ChristianityToday.com
Unlimited access to 65+ years of CT's online archives
Member-only special issues
Subscribe
Cult Announces Birth of First Human Clone
Cult Announces Birth of First Human Clone