Protestants pay a lot of attention to Jesus' mother at Christmas but she is largely forgotten the rest of the year. How has the church historically viewed her? And has that changed?
Christianity Today assistant online editor Todd Hertz sat down with CT executive editors and theologians J.I. Packer and Tom Oden to discuss the role of Mary throughout history and why she remains important to all Christians today.
J.I. Packer is Board of Governors' Professor of Theology at Regent College, Vancouver, British Columbia. Tom Oden is Henry Anson Buttz Professor of Theology and Ethics at Drew University in Madison, New Jersey and general editor of the Ancient Christian Commentary on Scripture.
***
What were early church impressions of Mary?
Oden: It is very speculative, but my own view is that the mother of Jesus was quite important to the earliest church—the church during the writing of the gospel of Luke. It was probably written in Ephesus during the middle part of the first century, and there is a very good chance that Mary was living there at that time.
Now if you take that as a premise, which is uncertain historically, you then have a very important figure in the whole world church who is still alive. She has stored these memories in her heart. She is highly revered. After she died, [the church] was facing much persecution, and there was a great emphasis on the memory of holy lives. She was certainly at the center of that.
From the outset she was remembered as a virgin in whom the Holy Spirit conceived the incarnate Lord. In my view, the incarnation was an early recognition of the church. There's good textual evidence [to support that] in the earliest documents we have. Luke supported this view, as did other documents such as Paul's writings.
How did official church thinking about Mary change?
Oden: In 431 A.D., there was the ecumenical Council of Ephesus, which raised the question as to whether the liturgy is right or wrong in calling Mary, theotokos. That Greek word means "Bearer of God." There was a certain party that said, "We should not say theotokos, we should say only christotokos." They were saying, "No, Mary didn't bear God, she just bore Jesus Christ."
The council affirmed that the liturgy is right—not that Mary is the source of God but rather that Mary is the bearer of the Incarnation. She is the one through whom the fleshly incarnate Lord becomes living history for us. That was a key point of doctrine that Protestants later took. Both Calvin and Luther affirmed the term theotokos.
As Catholic piety began to develop, you see Mary viewed as an intercessor. It is hard to say when that begins to develop, but it is evident in the early second century. So then Marian piety becomes increasingly important. In almost every decade of the church's life in the first four or five centuries it seems to accelerate.
How did the Reformation change Protestant impressions of Mary?
Packer: At the time of the Reformation, Anglican Archbishop Thomas Cranmer produced a prayer book to be used in evening prayer. It included Mary's song, the Magnificat, from Luke chapter one. The effect of its use was to celebrate Mary as the model, the pioneer, and the archetype of the saved sinner. The shift [this represented] was from Mary as a focus of devotion to Mary as the first beneficiary from the incarnation. So straightaway you have a changed perspective on Mary.
What has happened in recent decades is that since evening prayer has ceased to be a reality in nearly all Anglican churches everywhere in the last 50 years, Anglicans simply do not think of Mary, and many don't know the Magnificat by heart.
When you say, "What about Mary?" to Anglicans, the question is met with a sort of blank answer of "Well, I have never thought about Mary. I have never been taught about Mary." I think that has been the story in other Protestant denominations ever since they came into existence in the 17th century.
Oden: There were important reforms in Marian theology right at the beginning of the Reformation. [The Reformation] cleaned up some of the abuses. [Before this] Mary was overly sentimentalized and took on an intercessory role for the saints. For the most part, the Reformation accepted the ecumenical doctrine established [at the Council of Ephesus] in 431. But it did not accept all of the accumulation of piety and merit that Catholics believed can be acquired through prayers to Mary, like the rosary.
Why should evangelicals pay attention to Mary?
Oden: I think it is important that evangelicals clearly affirm that Jesus was born of the Virgin Mary. But there is nothing unusual with that: it is a consensual, classical teaching. What is more controversial is the notion of Mary as intercessor. That is very controversial between Catholics and Protestants because in the 16th century [that teaching] had been abused. Luther never revolted against the Virgin Mary. There is no hint of that. But he did revolt or protest against abuses of Mary as intercessor.
Packer: I think we lose by not focusing on Mary. On the one hand, she is a magnificent model of total trustful devotion. She's being told she is to fulfill the public role of an unmarried mother. Yet she says, "Be it to me according to your will." We evangelicals ought to remember Mary for that.
Secondly, we ought to take the theology of the Magnificat seriously and celebrate Mary, the mother of the Lord, as head of the line of those who are blessed to be saved sinners.
Todd Hertz is assistant online editor for Christianity Today.
Related Elsewhere
Articles also appearing on our site today include:
The Serene Contradiction of the Mother of Jesus | In an excerpt from Blessed One: Protestant Perspectives on Mary, author Kathleen Norris explains why she reclaimed the virgin mother as a significant figure in her faith.
Previous CT articles on Mary include:
What Does James Ossuary Say About Mary? |  Does James's bone box destroy Roman Catholic teaching of Mary's perpetual virginity? (Oct. 23, 2000)
Mary, Mother of Darth Vader | NBC's "Mary, Mother of Jesus" tries to make Mary more noble, but only by making everyone else worse. (Nov. 8, 1999)
Let Mary Be | Why the pope shouldn't give Mary that which belongs to her Son. (Dec. 8, 1997)
CT Classic: Whose Child Is This? | The early church's opponents claimed Jesus was illegitimate. Its heretical fringe said he wasn't human. The doctrine of the Virgin Birth set them both straight. (Dec. 17, 1990)
Books and Culture, our sister publication, had a two part look at "The Evolution of Mary" in May 1997 (print only).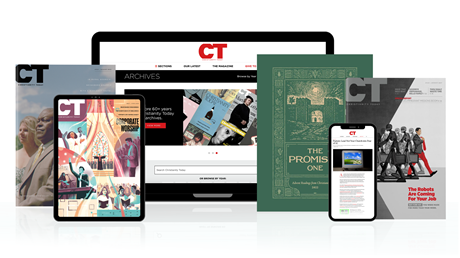 Annual & Monthly subscriptions available.
Print & Digital Issues of CT magazine
Complete access to every article on ChristianityToday.com
Unlimited access to 65+ years of CT's online archives
Member-only special issues
Subscribe
There's Something About Mary
There's Something About Mary