Are antiabortion activists essentially gangsters?
The Supreme Court heard arguments Wednesday in a long-simmering case over antiabortion demonstrations (a transcript will be available in a few weeks). But both inside and outside the courtroom, everyone is arguing over what the case is really about.
Is it about abortion?
"It may have real consequences for free speech in this country but will impact abortion law not at all," writes Slate.com senior editor Dahlia Lithwick. "It's a testament to how utterly bonkers both sides in this debate have become, that they alone can't see that."
But Joseph Scheidler, the main protester involved in the suit, counters, "As hard as people try to say this case isn't about abortion, it is about abortion."
Is it about free speech?
"The First Amendment is not an issue in this case," U.S. Solicitor General Ted Olson told the court, noting that the Supreme Court had rejected the free speech part of the protesters' appeal.
"There's always a First Amendment implication in a protest case," Justice Anthony Kennedy responded.
The justices are supposedly trying to rule on narrow issues of federal statutory law. Can private parties (such as abortion clinics) sue under anti-racketeering laws themselves, or is action left to the government? And do political protesters' coercion and blockades amount to "obtaining property through wrongful use of force" (whether it's threatened or actual), and are thus acts of extortion?
The protesters admit breaking the law, but argued in earlier courts that they were nonviolent, just coercive. A Chicago jury found them guilty of violating racketeering and extortion laws, essentially putting them in the same category as Al Capone. Other courts upheld the verdict.
If the Supreme Court also sides against the protesters, says their lawyer, "classic protest actions venerated in American history would be crimes." That's one of the reasons that other protesters are siding with the prolifers.
And it's one of the reasons that several justices brought free speech back into the case. "This threatens to bring us constantly into the difficult situation where we have to figure out whether the definition sails too close to the wind for First Amendment purposes," said Justice Antonin Scalia.
Justice Stephen G. Breyer agreed. "I'm rather concerned about this problem," he said.
But Justice Sandra Day O'Connor isn't convinced. "In some cases there were assaults," she said. "To paint a picture that what we're talking about is pure speech … that is not the case. We're not talking about conduct that is lawful."
Scalia disagrees somewhat. "It wasn't smacking people around. It was just not letting people in [to the clinics]," he said.
But World magazine says O'Connor has been duped. "Justice O'Connor's information on 'assaults' is included in a brief NOW filed in September that alleged a series of violent acts perpetrated by the Scheidler defendants," writes Lynn Vincent. But World says many of those assertions are based on false testimony.
Allegations of false testimony? Comparisons to the most wicked men of history? Apocalyptic scenarios? Don't kid yourselves: this case is all about abortion.
Head of Parents Television Council fired, allegedly for prayer
After just three months as executive director of the watchdog group Parents Television Council, Dennis Mansfield has been fired. He tells The Idaho Statesman it was because of "Jesus."
At a November 14 fundraiser and awards ceremony, Mansfield had asked Ted Baehr, head of the Christian Film and Television Commission and Movieguide, to offer a prayer.
"It was a normal, ordinary prayer," Baehr told conservative news website WorldNetDaily. "I was praying for [PTC president] Brent Bozell to be healed. He'd had a heart attack the Friday before. … Whenever I pray, I pray in the name of Jesus. … I would expect people of other faiths to pray in the name of the one they believe in."
"It was like a prayer you pray over the dinner table," Mansfield, former head of the Idaho Focus on the Family affiliate, told the Statesman. "That's nice in Idaho. It's just not nice in Hollywood."
He says the prayer cost the organization several large donations: one donor withdrew a $100,000 gift, and another withdrew $10,000.
"PTC doesn't want to be perceived as a right-wing religious group," Mansfield told WorldNetDaily. "They're trying to pander to non-Christian donors. … I would caution Americans against giving to PTC. There are a lot of organizations people can give to and I'm not sure one that's being more PC than J.C. [Jesus Christ] is the one to choose. You can't play to the Christian community—the mom and pops who give $5 and $10—and at the same time appeal to non-Christian donors. The name of Jesus divides those two groups."
This may not be a flash in the pan. Bozell—the man prayed for and the man who fired Mansfield—also runs CNSNews.com, a conservative news service that has become very popular among many Christian websites like Charles Colson's Breakpoint.org and Salem Communications's Crosswalk.com. Will any of these organizations protest? Stay tuned.
More articles
Family:
Sexual ethics:
Education:
Islam:
Missions and ministry:
Clergy sex abuse:
Bobbleheads:
Books:
Television and film:
Music:
Mormonism:
Charities and giving:
War with Iraq:
Life ethics:
Internet and technology:
Catholicism:
Prayer and spirituality:
Other stories of interest:
Related Elsewhere
Suggest links and stories by sending e-mail to weblog@christianitytoday.com
See our past Weblog updates:
December 5 | 4 | 3 | 2
November 27 | 26 | 25
November 22 | 21 | 20 | 19 | 18
November 15 | 14 | 13 | 12 | 11
November 8 | 7 | 6 | 5 | 4
November 1 | October 31 | 30 | 29 | 28
October 25 | 24 | 23 | 22 | 21
October 18 | 17 | 16 | 15 | 14
October 11 | 10 | 9 | 8 | 7
October 4 | 3 | 2 | 1 | September 30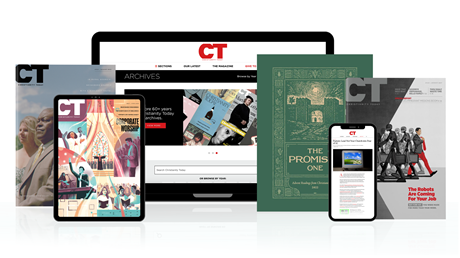 Annual & Monthly subscriptions available.
Print & Digital Issues of CT magazine
Complete access to every article on ChristianityToday.com
Unlimited access to 65+ years of CT's online archives
Member-only special issues
Subscribe
Supreme Court Considers Antiabortion Activism
Supreme Court Considers Antiabortion Activism