U.S. 9th Circuit Court of Appeals says atheist father was right to sue over "under God"
After the 9th U.S. Circuit Court of Appeals famously declared the Pledge of Allegiance an unconstitutional violation of the First Amendment, the country reacted with outrage. But few seemed more upset than Sandra Banning, the ex-partner of the atheist who brought the suit, and mother of the child in whose name he sued. "I just stood there with my mouth open and thought, 'Oh my gosh, the President of the United States thinks my child's an atheist," Sandra Banning said back in July. "We are not atheists, and I need to communicate to the American people that my daughter's not being harmed by reciting the Pledge of Allegiance."
Banning has sole custody of their daughter, and asked the court to either dismiss the case or take her daughter out of it. "I do not wish for my daughter, for the rest of her life, to be known as 'the atheist child who hated the Pledge,'" she told the court. "It is therefore imperative that the court allow the (case) to go forward, if at all, without my daughter as a party."
Michael Newdow, the atheist who brought the case on behalf of his daughter, opposed the motion. "I'm still a parent, and still have a right to keep the government from indoctrinating my child," he said.
In September, a California Superior Court ruled that Newdow couldn't include his daughter in the suit, but said the 9th Circuit should decide whether it could continue anyway.
Yesterday, the same three-judge panel that voted 2-to-1 against the Pledge ruled unanimously. "California state courts have recognized that noncustodial parents maintain the right to expose and educate their children to their individual religious views, even if those religious views contradict those of the custodial parent or offend her," wrote Judge Alfred T. Goodwin. "We hold that Banning has no power, even as sole legal custodian, to insist that her child be subjected to unconstitutional state action. … Further, Ms. Banning may not consent to unconstitutional government action in derogation of Newdow's rights or waive Newdow's right to enforce his constitutional interests. Neither Banning's personal opinion regarding the Constitution nor her state court award of legal custody is determinative of Newdow's legal rights to protect his own interests."
Conservatives have criticized the 9th U.S. Circuit Court of Appeals for judicial activism, and they'll surely add this one to the list. The Recorder, a Northern California legal newspaper, notes that this order "breaks new legal ground in its own right."
Newdow of course celebrated the decision, but surprisingly so did Banning. "All she wanted was to make sure that the child was not a party to the case, and the court recognized that when it said Newdow is no longer claiming to represent the child," her lawyer told the Los Angeles Times. "In that respect, Sandra Banning has accomplished what she wanted, which is to get her child out of the case."
The Times and other observers note that the court went much further than it had to. Rather than just ruling on the legal merits of Banning's motion, the court reiterated its earlier decision. "When school teachers lead a recitation of the Pledge of Allegiance according to school district policy, they present a message by the state endorsing not just religion generally, but a monotheistic religion organized 'under God,'" Goodwin wrote.
While Newdow cannot expect the entire community surrounding his daughter to participate in, let alone agree with, his choice of atheism and his daughter's exposure to his views, he can expect to be free from the government's endorsing a particular view of religion and unconstitutionally indoctrinating his impressionable young daughter on a daily basis in that official view. The pledge to a nation "under God," with its imprimatur of governmental sanction, provides the message to Newdow's young daughter not only that non-believers, or believers in non-Judeo-Christian religions, are outsiders, but more specifically that her father's beliefs are those of an outsider, and necessarily inferior to what she is exposed to in the classroom.
The judge who dissented in the earlier decision didn't sign off on this argument, but instead wrote a concurring opinion narrowly focusing on the Newdow-Banning dispute.
So even though Goodwin had stayed his initial decision, it's clear that he's not backing down. "I was struck by the majority remaining quite unrepentant on the merits," UCLA constitutional law professor Eugene Volokh told the Times. "It is an interesting indication that they were not at all persuaded by the firestorm of opposition to the decision."
More articles
Bono goes to Wheaton:
Youth polls:
Education:
Church and state:
Politics and law:
Money and business:
Sexual ethics:
Church abuse:
What Would Jesus Drive campaign:
Islam:
Related Elsewhere
Suggest links and stories by sending e-mail to weblog@christianitytoday.com
See our past Weblog updates:
December 4 | 3 | 2
November 27 | 26 | 25
November 22 | 21 | 20 | 19 | 18
November 15 | 14 | 13 | 12 | 11
November 8 | 7 | 6 | 5 | 4
November 1 | October 31 | 30 | 29 | 28
October 25 | 24 | 23 | 22 | 21
October 18 | 17 | 16 | 15 | 14
October 11 | 10 | 9 | 8 | 7
October 4 | 3 | 2 | 1 | September 30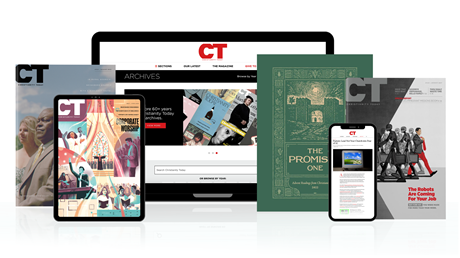 Annual & Monthly subscriptions available.
Print & Digital Issues of CT magazine
Complete access to every article on ChristianityToday.com
Unlimited access to 65+ years of CT's online archives
Member-only special issues
Subscribe
Court Reaffirms Decision Against Pledge's 'Under God'
Court Reaffirms Decision Against Pledge's 'Under God'