In today's Washington Times, National Review senior writer Rod Dreher makes a point that Weblog has been meaning to write about all week: "Last week in Nigeria … Muslims destroyed churches and beat and murdered Christians. Yet in many of the press accounts, there was no mention of who started the violence (Muslims), and who the victims were (Christians). Typical of the nonjudgmental approach was a report I heard last Monday from CNN correspondent Nancy Curnow, who mentioned 'religious violence between Muslims and Christians.'"
Likewise, The New York Times referred to "religious zealotry," and emphasized that Christians fought back. That's a common thread in media reports coming out of Nigeria—not that Christians are being attacked for no reason, but that they say they'll fight back if necessary. "No group of people should be allowed to invade the city of Abuja and molest law-abiding citizens," said Archbishop John Olorunfemi Onaiyekan. "It is a Christian duty to protect yourselves."
This steams columnist Dennis Prager. "The Times assures us [that] what happened in Kaduna is merely another example of Africa's 'difficulty in reconciling people who worship separately.' Nigeria's and Africa's Christians are just as guilty … Fanatical Muslims are not the killers—'devoutly religious people' are."
This isn't terribly new. After all, Christians were blamed equally with Muslims for Indonesia's religious violence as well. Not to excuse the Christians who fought back, but let's not forget that the instigation is radically one-sided.
But at least the Times only spins the facts. Others dispense with the facts altogether, and make it seem like Nigeria's Christians used turmoil over the Miss World pageant to go kill some Muslims. "Many Nigerians, Muslims and Christians are mostly poor, fervently religious, protective of their heritage and distinct cultural principals. Such passion, however, can turn bloody in Nigeria, and it has, repeatedly, as each group feels threatened by the other, desperately trying to preserve what it perceives as sacred and holy," writes Ramzy Baroud, editor-in-chief of Palestine Chronicle.
Wale Abiru, a new High Court justice in Ikeja, Lagos state and president of the Movement for Islam Culture and Awareness in Nigeria, told ThisDay that he blames Christians—especially Christians in the Nigerian government—for the riots.
"I do not believe any Christian leader has come out to support the Miss World Beauty Contest in terms of it being acceptable to the Christian faith, but they have not come out to condemn it either," he told the newspaper that the Muslims originally rioted against before turning on Christians. "While the Christians kept quiet, the Muslims chose to voice their opposition. … You bring that kind of thing to the country at a time when a certain section of the population was to be in a state of religious piety and the tendency is not the contest itself but the insensitivity of the leadership to the feelings of those people without regard to the sensibilities of the people."
As a counterpoint, listen to Zakka Bonnet, leader of the Nigerian evangelical denomination Solid Foundation: "The Miss World contest is not being organized by Christians, so why should Christians suffer?" he tells the Associated Press. "Before we knew it, churches were being burned down and Christians were being slaughtered. And nobody has apologized to Christians. We are disturbed."
And they continue to be in danger—while they get blamed.
More reaction to the riots:
More articles
Islam and Christianity:
Other religions and interfaith relations:
Persecution and discrimination:
Crime and violence:
Bono's Heart of America tour:
James ossuary:
Church life:
Archbishop of Canterbury:
Clergy sexual abuse:
Related Elsewhere
Suggest links and stories by sending e-mail to weblog@christianitytoday.com
See our past Weblog updates:
December 3 | 2
November 27 | 26 | 25
November 22 | 21 | 20 | 19 | 18
November 15 | 14 | 13 | 12 | 11
November 8 | 7 | 6 | 5 | 4
November 1 | October 31 | 30 | 29 | 28
October 25 | 24 | 23 | 22 | 21
October 18 | 17 | 16 | 15 | 14
October 11 | 10 | 9 | 8 | 7
October 4 | 3 | 2 | 1 | September 30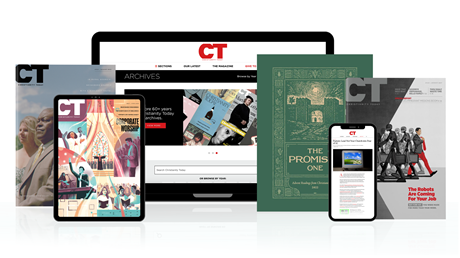 Annual & Monthly subscriptions available.
Print & Digital Issues of CT magazine
Complete access to every article on ChristianityToday.com
Unlimited access to 65+ years of CT's online archives
Member-only special issues
Subscribe
Are Christians to Blame for Deadly Nigerian Riots?
Are Christians to Blame for Deadly Nigerian Riots?