Fewer teens are having sex. Newsweek finds a few who aren't doing it
Teen sex sells—but will teen abstinence? Newsweek will find out as it puts "The New Virginity: Why More Teens Are Choosing Not to Have Sex" on its cover. "Rejecting the get-down-make-love ethos of their parents' generation, this wave of young adults represents a new counterculture, one clearly at odds with the mainstream media and their routine use of sex to boost ratings and peddle product," write Lorraine Ali and Julie Scelfo.
The Centers for Disease Control says about 60 percent of high school seniors have had sex, but the number of high school students who said they've had sex has dropped precipitously, from 54 percent in 1991 to 46 percent in 2001.
"It's clear that religion plays a critical role in this extraordinarily private decision," says Newsweek, "But there are other factors as well: caring parents, a sense of their own unreadiness, the desire to gain some semblance of control over their own destinies." The magazine profiles six teens who have decided to wait, and gives each of them respect.
"Most of them didn't feel like outcasts, and I was a little surprised at that," Ali says on Newsweek On Air. "Most of them were not [outcasts] because they were willing to speak about it. They weren't shy about it, they weren't embarrassed by it. And I really don't think they see themselves as trendsetters either. It's such a personal choice for them. It's not a political move."
Indeed, one thread that appears in the cover piece is that abstinence is not necessarily tied to modesty (something at odds with the recent thesis by author Wendy Shalit). One of the women profiled is a Miss Hawaiian Tropic beauty queen who poses in bikinis and models at Harley-Davidson fashion shows. "What does a virgin look like?" asks Daniela Aranda, an evangelical influenced by Josh Harris's books. "Someone who wears white and likes to look at flowers?"
Another thread that emerges is that most of the profilees were encouraged in their abstinence by formal peer support programs. A second article examines these programs and how they tie into the political side of abstinence. "To the White House, abstinence seems like an easy win: it resonates with conservative voters, but doesn't upset pro-choice moderates," writes Debra Rosenberg (who drops the ball when she takes the Sexuality Information and Education Council's stated agenda at face value). But she says there's a problem: "Although Bush has said he wants to fund only "scientifically proven" education programs, there's so far little evidence to show abstinence works."
Clearly, however, something is working for the teens profiled in this cover package. Let's find out what it is.
John DiIulio apologizes for "Mayberry Machiavellis" comment. Twice.
Weblog yesterday noted the comments of John DiIulio, former head of the White House Office of Faith-Based and Community Initiatives, in the January issue of Esquire. "There is a virtual absence as yet of any policy accomplishments that might, to a fair-minded nonpartisan, count as the flesh on the bones of so-called compassionate conservatism," he said. "There is no precedent in any modern White House for what is going on in this one: a complete lack of a policy apparatus. What you've got is everything, and I mean everything, being run by the political arm. It's the reign of the Mayberry Machiavellis."
The comments set off a firestorm in Washington, and DiIulio issued a statement saying the article was "unjustly hard on [White House senior adviser Karl] Rove and over-the-top complimentary to me, thereby creating a too-pat contrast that is, I feel, most unfair to Mr. Rove."
That apparently wasn't apologetic enough for DiIulio's former employer. By the end of the day he'd issued a second apology: "My criticisms were groundless and baseless due to poorly chosen words and examples. I sincerely apologize and I am deeply remorseful. I will not be offering any further comment, or speaking or writing further on any aspect of my limited and unrepresentative White House experience or any matters or persons related thereto. I regret any and all misimpressions. In this season of fellowship and forgiveness, I pray the same."
Meanwhile, Esquire has posted a four-page memo from DiIulio to writer Ron Suskind on its website, along with a press release about the article—but not the article itself.
And as this story has very much exited the realm of religion, Weblog will leave the rest of the fallout to the political bloggers.
More articles
Christmas and Advent:
Pop culture:
Politics and law:
Education:
Evolution:
Missions and ministry:
What Would Jesus Drive campaign:
Mother Teresa:
Jerry Falwell:
Sex abuse scandal:
Related Elsewhere
Suggest links and stories by sending e-mail to weblog@christianitytoday.com
See our past Weblog updates:
December 2
November 27 | 26 | 25
November 22 | 21 | 20 | 19 | 18
November 15 | 14 | 13 | 12 | 11
November 8 | 7 | 6 | 5 | 4
November 1 | October 31 | 30 | 29 | 28
October 25 | 24 | 23 | 22 | 21
October 18 | 17 | 16 | 15 | 14
October 11 | 10 | 9 | 8 | 7
October 4 | 3 | 2 | 1 | September 30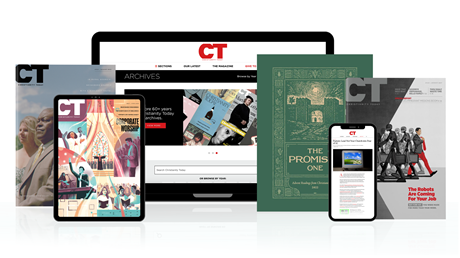 Annual & Monthly subscriptions available.
Print & Digital Issues of CT magazine
Complete access to every article on ChristianityToday.com
Unlimited access to 65+ years of CT's online archives
Member-only special issues
Subscribe
New Dignity for the 'New Virginity'
New Dignity for the 'New Virginity'