DiIulio: Bush governs by politics rather than principle
John J. DiIulio Jr, former head of the White House Office of Faith-Based and Community Initiatives, says his former boss has been ineffective and lacks principle. "There is a virtual absence as yet of any policy accomplishments that might, to a fair-minded nonpartisan, count as the flesh on the bones of so-called compassionate conservatism," he says in an interview with Esquire magazine (not available online). That, he says, is the result of governing by politics rather than policy. "There is no precedent in any modern White House for what is going on in this one: a complete lack of a policy apparatus," says the Democrat and University of Pennsylvania political science professor. "What you've got is everything, and I mean everything, being run by the political arm. It's the reign of the Mayberry Machiavellis."
But UPI reports that Bush's faith-based initiative will be back with renewed vigor next year. And in World magazine, editor Marvin Olasky blames DiIulio for the initiative's woes: "Under the leadership of John DiIulio last year, the attempt to solicit liberal allies appeared to drive the whole process," he wrote in the magazine's November 23 issue.
So far there's no response from the White House, though one unnamed senior administration official told The Washington Post,"The people who know how this president does business will be able to separate fact from fiction. The president and [senior adviser] Karl [Rove] have an operating premise that people often overlook, which is that good government is good politics, not the other way around."
Americans mourn murder of Bonnie Penner Witherall
A week after Lebanese Christians and Western expatriates held a memorial service for American missionary Bonnie Penner Witherall, friends and family held another in the border town of Lynden, Washington, where her parents live.
"The tomb's empty," her widower, Gary Witherall, yelled during Saturday's service at Sonlight Community Church. "Bonnie is dancing with Jesus."
Witherall said he was undeterred in his calling as a missionary despite his wife's murder. "I will take this message for as long as I live—with a vengeance," he said. "It takes a little bit of faith to bring a casket home on an airplane with your wife in it."
Grant Porter, who worked as a missionary with the couple (though it's unclear whether he worked with the Christian and Missionary Alliance or Operation Mobilization), emphasized that Bonnie Witherall did not get involved in local politics. When a conversation turned to politics, he said, she changed the subject. "That was Bonnie," Porter told The Bellingham Herald. "She would much rather talk about people and relationships. But she was caught in a world that distrusts pure motives."
Gracia Burnham releases video thanking supporters
Another missionary who lost a spouse to Islamic extremists is also telling stories of martyrdom. Gracia Burnham has avoided most public appearances since the June 7 rescue that resulted in the death of her husband, Martin. But she's slowly emerging, and her book, In the Presence of My Enemies, is due out in June. Her publisher, Tyndale, is now distributing a 12-minute video to thank her supporters.
"I just would like everyone to know that's watching this video, I want you to know that I send my thanks," she says. "I feel like it was your prayers that got me home. I think it's a miracle that I am home."
There are a few details of her life in the video, reports The Orlando Sentinel. Her leg, injured in the accident, is healing fine but she still has knee problems. She also isn't overcome with grief.
"I think I did my grieving in the jungle," Burnham says in the video. "I grieved for my children that were taken from me. I grieved for a life. I grieved because there was no food. My daughter asked if I was going to have a nervous breakdown because everyone is expecting one. And I told her I had my nervous breakdown in the jungle. There were down days, depression days, and I'm out now and I can't be sad. I'm going to live life to its fullest, and I'm going to enjoy every day."
A three-and-a-half minute excerpt from the $3.50 video is available online (Windows Media Player - alternate | QuickTime - alternate | Real Player - alternate), but there's no word why Tyndale isn't putting the whole thing online.
Related Elsewhere
Suggest links and stories by sending e-mail to weblog@christianitytoday.com
See our past Weblog updates:
November 27 | 26 | 25
November 22 | 21 | 20 | 19 | 18
November 15 | 14 | 13 | 12 | 11
November 8 | 7 | 6 | 5 | 4
November 1 | October 31 | 30 | 29 | 28
October 25 | 24 | 23 | 22 | 21
October 18 | 17 | 16 | 15 | 14
October 11 | 10 | 9 | 8 | 7
October 4 | 3 | 2 | 1 | September 30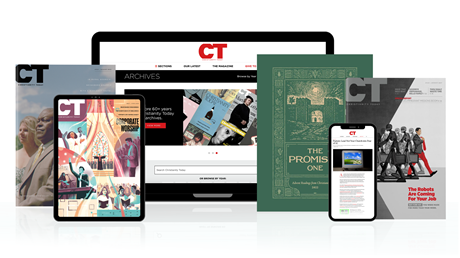 Annual & Monthly subscriptions available.
Print & Digital Issues of CT magazine
Complete access to every article on ChristianityToday.com
Unlimited access to 65+ years of CT's online archives
Member-only special issues
Subscribe
Former Faith-Based Initiative Head John DiIulio Blasts Bush
Former Faith-Based Initiative Head John DiIulio Blasts Bush