Walt Disney World drops weekly church services
Last Friday, in an article about the forgotten Disney Christmas special "The Small One," Disney archivist Dave Smith told The Orlando Sentinel that Disney cartoons avoid religion for the same reason that Walt Disney himself didn't put a church in Disneyland's Main Street, USA. "He didn't want to single out any one religion," Smith said.
Now, reports the Orlando Business Journal, not only won't there be a church on Walt Disney World's Main Street, but there won't be church services anywhere in the park. The theme park has previously made religious services available weekly; now they'll only be offered on Christmas and Easter.
"As we expanded the number of hotel rooms, it became difficult to provide a single space for all the guests who wanted to worship," Disney spokeswoman Rena Callahan explains. "It's not a question of it being the right thing to do," says Callahan. "We're not saying we don't care about this. It isn't a question of morality. It's a question of being able to accommodate the demand."
The demand mainly came from the Catholic side. There weren't enough priests to offer multiple masses, and too many people to offer only one mass. "We felt we couldn't accommodate it and felt the need to offer more than one type of opportunity to worship," says Callahan. "There are so many faiths, that it would be wrong to have just a Protestant service available."
The news is a bit old: Disney actually stopped offering the services back in August. But conservative Christian groups are angry about it now.
"The largest provider of family entertainment proves once again how out of touch it is with what is important to American families," says Focus on the Family spokeswoman Julie Neils. "We hope that families will consider Disney's policies when they make vacation plans this year. … Disney has made significant efforts to accommodate the gay community, but obviously does not consider families who hold religious convictions to be worth their effort."
"Kicking churches off of the property is exactly the opposite of what Disney needs to be doing," Wendy Wright, senior policy director for Concerned Women for America, tells the conservative news service CNSNews.com (which is run by an organization that reportedly fired one of its leaders for allowing someone to pray in Jesus' name at a fundraising event). "[Disney] is showing that religious families don't need to be accommodated. Disney's decision is very short-sighted because religious communities and activities help set a moral tone."
And Traditional Values Coalition head Lou Sheldon is his usual cheery self, charging, "I'm sure this decision is not based upon finance, but is based upon political correctness and their fear of a few radical people."
The Roman Catholic Diocese of Orlando favors the move, noting that there are plenty of churches nearby. "We believe it is truly the responsibility of the individual to seek out a church for services," says spokeswoman Carol Brinati. "Disney's business is in theme parks, and our business is ministering to people through God."
Catholic League President William Donohue, however, sides against the diocese. "The question here isn't whether Catholics should make the effort," he tells CNSNews.com "The question here is, 'Why is Disney discontinuing its service to Christians by now throwing up its arms and saying we have no more room?''
Shorter College standoff intensifies
The battle between Shorter College and the Georgia Baptist Convention for control of the school's board of trustees is going to court as the two institutions are suing each other.
Shorter first sued the convention, seeking $9 million in frozen assets and scholarship funds. The convention sued back, saying college president Ed Schrader is in a conspiracy with the board to "take over and steal Shorter from the GBC."
"The college owns itself," Schrader responded to The Atlanta Journal-Constitution, "You can't steal something from somebody who doesn't own it."
"We have sought to reach a peaceful resolution to this matter without resorting to legal action," Robert White, the convention's executive director, says on the GBC's website. "But it is now evident that Dr. Schrader and his followers on the Shorter board will not stop until they take away the school and create a crisis for the students, their parents and the faculty."
The Journal-Constitution notes that both institutions "were hesitant to publicize their legal actions — citing New Testament teaching that Christians should never take each other to court." Um, but that injunction is over the suit, not publicity, isn't it?
More articles
Christmas:
Christmas history:
Holy Land at Christmas:
Faith-based initiative:
New York Times series on The Ten Commandments:
Cardinal Law's resignation:
Clergy sex abuse:
Related Elsewhere
Suggest links and stories by sending e-mail to weblog@christianitytoday.com
See our past Weblog updates:
December 17 | 16
December 13 | 12 | 11 | 10 | 9
December 6 | 5 | 4 | 3 | 2
November 27 | 26 | 25
November 22 | 21 | 20 | 19 | 18
November 15 | 14 | 13 | 12 | 11
November 8 | 7 | 6 | 5 | 4
November 1 | October 31 | 30 | 29 | 28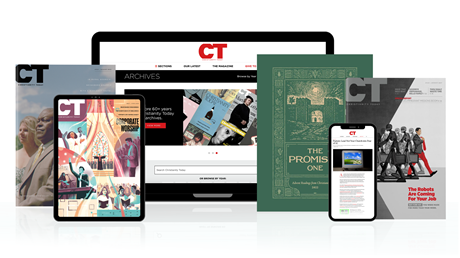 Annual & Monthly subscriptions available.
Print & Digital Issues of CT magazine
Complete access to every article on ChristianityToday.com
Unlimited access to 65+ years of CT's online archives
Member-only special issues
Subscribe
Focus on the Family, Others Oppose Disney World Decision to Cut Back Religious Services
Focus on the Family, Others Oppose Disney World ...