true
Busing to work one morning last January, I counted four commuters with their noses buried in copies of a book first published in 1954. J. R. R. Tolkien's perpetually popular epic The Lord of the Rings is more beloved than ever, thanks to director Peter Jackson's shock-inducing 2001 film The Fellowship of the Ring. Exhilarated by Fellowship's cliffhanger ending, newcomers and old fans alike rushed to the books for resolution.
As they line up for The Two Towers, some people may have an inkling that there is more to this mayhem than meets the eye. Tolkien the Mythmaker knew that stories rooted in truth will endure. In Middle Earth, a world stripped down to essentials — earth, fire, water, wood, metal, flesh, spirit — we see our own dying world mirrored and clarified. Further, we see reflections of God's grace, Christ's sacrifice, and the hope of resurrection. Such elemental plotting speaks to our longings, evoking both sorrow and joy.
Towers opens with a cliffhanger (literally), and when a hero falls, an adrenaline rush begins that never lets up. "It's getting heavier," Frodo says of the ring. As the temperature rises, fires of spiritual conflict that ignited in Fellowship eventually explode into war.
Journeying to destroy a weapon of mass destruction — the Ring of Power — our dysfunctional fellowship of heroes has scattered in desperate quests.
Hobbits Merry and Pippin, abducted by orcs, are pursued by three companions: Gimli the untossable dwarf, Legolas the elf, and Aragorn, reluctant heir to the kingdom of men. But these would-be rescuers are soon diverted to a different task: King Theoden needs help in saving his people before Saruman's orcs lay waste to his kingdom. Their victory depends upon Frodo the ring-bearer who, with Samwise at his side, wearily trudges across blasted Mordor miles.
The ring draws villains from all directions. Gollum creeps up behind, winged devils patrol the skies, and Sauron's watchful Eye never blinks. Dire straits indeed. If this were a video game, you'd just hit Start Over.
Filling Out Gollum
But for all its digital wizardry, this is no game. Towers falls just short of Fellowship as the finest film of its genre. The scenery alone justifies the high price of your ticket. Designers Alan Lee and John Howe continue to dazzle us with convincing creatures, castles, and environments. Battle scenes unsurpassed in scale and intensity inspire awe. The performances—most notably those of Ian McKellen and Viggo Mortensen — are as intense as in the first film. Actor Andy Serkis collaborates with animators, bringing vivid life to the vicious, hissing Gollum.
The film occasionally stumbles. Towers clearly posed a formidable challenge to its screenwriters. Fellowship followed a motley crew through trial and tribulation; Towers tracks three sets of characters—four, if you count Saruman's behind-the-scenes meddling. Some stories gallop, others only amble. Thus, Towers feels rushed and fragmented, channel-surfing from plot to plot.
Jackson complicates matters. In Fellowship, he wisely pruned branches of plot to emphasize the ring-bearer's quest, shoehorning enough story for a six-hour film into three. This time he replaces important episodes with unnecessary tangents. We lose our intimacy with major characters: Gandalf is too busy to chat, Merry and Pippin get stranded too long on Treebeard's shoulders, and Gimli is reduced to punchlines (fortunately, he's hilarious).
Treebeard's folk seem lazy and naïve, a far cry from Tolkien's magisterial Ents. New villains fail to frighten as the Cave Troll, Balrog, and Black Riders did in Fellowship. (Still, concerned parents should be wary: Towers is more violent and monster-filled than Fellowship.) And purists will grumblingly inquire why Jackson stopped short of such climactic scenes as Gandalf's visit to Isengard and Frodo in Shelob's Lair.
Enough quibbling. These flaws fail to blunt the impact of the story's resonant moral insights. Tolkien made every character's heart a battlefield between desire and selflessness, and Jackson underlines and boldfaces this theme. Call it Soul Wars, Episode Two. Villains give in to greed; heroes persevere through Christlike suffering. Gandalf returns from death's edge, a risen savior. His healing of the poisoned King Theoden, which Jackson gleefully exaggerates, stands as one of the great movie exorcisms. Arwen surrenders her immortality in the name of love. Aragorn wrestles personal demons, preparing to be a messianic king. Samwise, patient and forgiving, helps Frodo carry his cross.
The fiercest struggle takes place in the tortured soul of Gollum. Smeagol — Gollum's original, hobbit-like self — struggles feebly to overcome his ravenous, lustful alter ego like a timid child trying to slay a dragon. It is the filmmakers' most commendable triumph that he gains our sympathies. We come to hope that, by Frodo's stripes, this poor creature can be healed.
In a season when critical favorites (Adaptation, 8 Mile, Gangs of New York) tell fractured tales of heroes with broken moral compasses, it is encouraging to watch Tolkien's triumphs, tragedies, and consolations coalesce in the most compelling adventure film of 2002. If Jackson shows the same focus in The Return of the King (to be released in 2003), it could be the most meaningful of them all.
Jeffrey Overstreet'sFilm Forum column appears every Thursday on our website. His Looking Closer website features film and music reviews.
Related Elsewhere
See also our discussion between the authors of Tolkien's Ordinary Virtues and J. R. R. Tolkien's Sanctifying Myth.
Earlier articles on the Lord of the Rings movies include:
Books & Culture Corner: Saint Frodo and the Potter Demon | The Lord of the Rings and Harry Potter series spring from the same source (Feb. 18, 2002)
Film Forum: The Fellowship of the Raves | Critics grope for superlatives for The Fellowship of the Ring. (Dec. 21, 2001)
Film Forum: Gandalf and the Gamblers | As everyone talks about The Lord of the Rings: The Fellowship of the Ring, critics also get around to reviewing Ocean's Eleven, In the Bedroom, and The Business of Strangers. (Dec. 13, 2001)
Film Forum: First Looks at a Feature Fantasy | Early reviews for Fellowship of the Ring are in. (Dec. 6, 2001)
Lord of the Megaplex | The onscreen Fellowship of the Ring launches a new wave of Tolkienmania (Nov. 11, 2001)
Earlier articles on Tolkien include:
Christian History Corner: 9/11, History, and the True Story | Wartime authors J. R. R. Tolkien and C. S. Lewis help put 9/11 in perspective (Sept. 13, 2002)
Christian History Corner: Intro to the Inklings | C. S. Lewis's intellect was stimulated at one of the most fascinating extracurricular clubs ever (May 18, 2001)
Our sister publication Books & Culture asked in its January/February 2002 issue if Tolkien should be acknowledged as the foremost author of the twentieth century.
Browse All Movie Reviews By: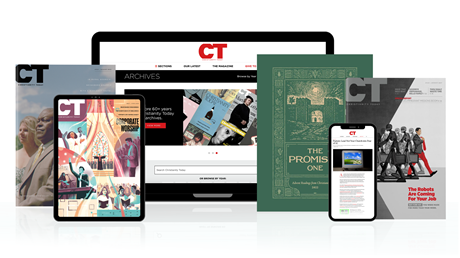 Annual & Monthly subscriptions available.
Print & Digital Issues of CT magazine
Complete access to every article on ChristianityToday.com
Unlimited access to 65+ years of CT's online archives
Member-only special issues
Subscribe
The Lord of the Rings: The Two Towers
The Lord of the Rings: The Two Towers