Calvin Miller is a professor in preaching and pastoral ministry at Samford University's Beeson Divinity School in Birmingham, Alabama. He previously served as pastor of Westside Baptist Church, Omaha, Nebraska. He is the author of more than 40 books and numerous articles on religion and preaching. His newest nonfiction book is called The Christ of Christmas: Readings for Advent.
What was Christmas like in your home growing up?
The Great Depression was over in most of the United States in 1931, but in Oklahoma it lasted until 1936, when I was born. So we were poor. One of the greatest attributes of my mother is that we never guessed we were poor.
I can remember at every Christmas, without fail, Mama read us a little book that she'd bought at a drugstore in Indian territory. It was A Christmas Carol. When she'd read it, she created such empathy as she read that story that we always felt sorry for the Cratchetts because they didn't have anything but a goose. We never even had a goose. That's a tribute to a great set of parents who created a sense of abundance at this time of year.
As you grew up, what Christmas traditions did you try to establish?
I moved to Omaha, Nebraska, in 1966, to begin a church. It was in a pocket of the country that's fairly non-evangelical. So I began by saying, "What are all the Lutherans and Catholics doing in Omaha? How do they do it?"
I've always believed that if you're starting a church, your neighborhood should to some degree determine the kind of church you start. Your programs should meet local needs. So I started studying Lutheran and Catholic catechisms.
Particularly at Christmas, I began to feel like they really had something going right at Advent. My children were little at the time, so we started Advent guides for Christmas.
Many times I had to write my own because Southern Baptists came very late to Advent. But now, since this new Advent book has come out, there must be a thousand Southern Baptist churches using it. The thing that's kind of amazing to me is that many of these churches probably could hardly spell "Advent" ten years ago.
What else has changed in the traditional Advent?
I constantly have to remind people that the 12 days of Christmas actually began on Christmas Eve. We're doing it all backwards now. Up until very recent times people celebrated Christmas from Christmas Eve through January 6. They didn't have this huge buildup until December 25, then it's all over.
In addition, Advent in the early centuries had a lot to do with the Second Coming. They talked about Jesus' first coming, but it was always with a view to remember he was coming again. We sort of lost that in Advent.
Are there any particular themes that you are going to spend some special time thinking about during this season?
I think we're on the brink of the feelings that we had in 1940 or 1941. Now, we may not go to war with Iraq, but there's something so beautiful about Christmas when a nation is in upheaval. I'm hoping that the struggle of this year, of this season, with all that faces us will call us, to a wonderful awareness that the Christ of Christmas is the Christ who is healer of the nations.
How did you set up the format of this book so that there would be different elements on each day of Advent?
I've always really rather agreed with Madeline L'Engle that in the New Testament there's only one really great miracle and that is the Incarnation. Once you believe that, everything else is duck soup.
I tried to focus on the passages that really look at this great miracle: Jesus coming as a baby, the Holy Spirit overshadowing Mary, the conflict and consolation between Mary and Elizabeth, the liberation of Zechariah in speaking the word John, and so forth.
Why do you say that joy is a timely message for this culture?
I experience this just almost daily in stores and particularly in airports. They're busy places. I'm sure that people who sell tickets, help you get on the plane, and announce that you need to board have to have a hassled life. But I've wished I could just set them down and teach them the elementary art of smiling again.
It's just a busy time. It's such a gift to try to be a human being. I've just come in today on the plane. I sat next to a little girl. She was reading and doing some algebra problems, which I'm not terribly good at. But nonetheless, she was little and she began to ask me questions. Before long I found her very charming. I'm the kind of guy that always tries to be remote on airplanes because I have plenty to do. But all of a sudden I find myself wanting to be a human being. Maybe that's the mark of the Holy Spirit in our lives.
But in the midst of this joyous occasion, are there signs that this is going to also bring some pain?
Absolutely. I actually mention the three gifts [of the magi] in one of these devotionals. One of those gifts was myrrh, which was a burial spice. Hidden [in the story] is this bit of discord. It's like the gargoyles on Notre Dame Cathedral. You have this wonderful, huge building in tribute to Jesus. But all of a sudden in the middle of it are these stone demons.
What is the most remarkable thing about the Christmas story?
I would always believe in Jesus if for only one reason, and that is because these little people who were absolutely rural and virtually prosaic suddenly become inflamed with the world on their minds. People like Simon Peter, once content to fish in a little lake called Galilee, died 1,500 miles away in Rome because they got to preach the gospel in a bigger context. I think that's remarkable.
Here's Mary, a hill girl, who suddenly is doing this beautiful sonnet we call "The Magnificat." She sings and the world is thrilled. Operas are written around it.
Nobody but God could put this together.
Related Elsewhere
Visit DickStaub.com for audio and video of his radio program (4-7 p.m. PST), media reviews, and news on "where belief meets real life."
Dick Staub earlier interviewed Miller on his book Jesus Loves Me: Celebrating the Profound Truths of a Simple Hymn.
Earlier Dick Staub Interviews include:
Phillip Johnson | Asking the right questions is at the heart of the evolution debate. (Dec. 3, 2002)
Connie Neal | The author of The Gospel According to Harry Potter talks about leading a friend to Christ through the wizard hero. (Nov. 19, 2002)
Chris Rice | The author of Grace Matters talks about his friendship with racial reconciliation leader Spencer Perkins, his former coauthor and best friend. (Nov. 12, 2002)
John Polkinghorne | The 2002 Templeton Prize winner sees the Bible as "the laboratory notebook" of the Holy Spirit. (Nov. 5, 2002)
Ruth Tucker | The professor and author of Walking Away from Faith talks about doubting God. (Oct. 29, 2002)
Vishal Mangalwadi | The author and lecturer talks about how the Bible shaped India, Western democracy, and his life. (Oct. 22, 2002)
Dave Alan Johnson | The creator of Doc talks about balancing entertainment with spiritual depth and TV shows with evil plumbers. (Oct. 15, 2002)
Chuck Palahniuk | The author of Fight Club talks about his new book and the need to see culture not on a TV set but by talking to neighbors. (Oct. 8, 2002)
Frederica Mathewes-Green | The author of Facing East and The Illumined Heart talks about her spiritual journey and transformation. (Oct. 1, 2002)
Chris Seay | The author of The Gospel According to Tony Soprano talks about men who want to be in the "Christian mafia." (Sept. 24, 2002)
Article continues below
John Sloan | The author of The Barnabas Way says Christians need to kiss more frogs and reconsider their prayers for blessings. (Sept. 17, 2002)
Nancy Guthrie | Two years after sharing her story of Hope with Christianity Today, the modern Job tells of losing another child to Zellweger Syndrome (Sept. 10, 2002)
Stephen L. Carter | The Yale University law professor and author of The Emperor of Ocean Park talks about the lack of religious characters in modern fiction (Sep. 3, 2002)
Francine Rivers | The fiction writer says she starts each book with a question that she doesn't know the answer to. God provides the ending. (Aug. 27, 2002)
The Dick Staub Interview
Dick Staub was host of a eponymous daily radio show on Seattle's KGNW and is the author of Too Christian, Too Pagan and The Culturally Savvy Christian. He currently runs The Kindlings, an effort to rekindle the creative, intellectual, and spiritual legacy of Christians in culture. His interviews appeared weekly on our site from 2002 to 2004.
Previous The Dick Staub Interview Columns: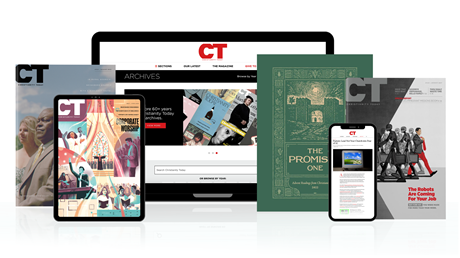 Annual & Monthly subscriptions available.
Print & Digital Issues of CT magazine
Complete access to every article on ChristianityToday.com
Unlimited access to 65+ years of CT's online archives
Member-only special issues
Subscribe
Calvin Miller on a Southern Baptist's View of Advent
Calvin Miller on a Southern Baptist's View of Advent