"The Secular Society Gets Religion," Felicia Lee reported in the top story in the Arts & Ideas section of Saturday's Times. "Experts Differ About the Re-Emergence of Faith in Politics." In the large, cartoonish illustration for the piece, religion is represented by a gaggle of Crusaders, anachronistically led by a priest who appears primed to perform an exorcism. The secular society is represented by people who are trying to find cures for cancer and Parkinson's Disease and exploring the distant reaches of the universe.
With this setup, you might expect a snide article to follow. Not a bit of it. Ms. Lee reports that, while "intellectual giants like John Dewey and Sigmund Freud dismissed religion as infantile and predicted an increasingly secular society, … lately a growing number of social scientists, philosophers, historians, and other scholars are trying to account for the energetic re-entry of religion into the public sphere."
She talked to many of the right people—Michael Novak, Richard John Neuhaus, Jean Bethke Elshtain, Michael Cromartie, and Wilfred McClay, among others, all of whom will be familiar to readers of Books & Culture. And she directs readers of the Times to what promises to be an interesting book, Religion Returns to the Public Square: Faith and Public Policy in America, a Woodrow Wilson Center publication coming this fall from the Johns Hopkins University Press, edited by McClay and Hugh Heclo, a professor of public affairs at George Mason University, who is also quoted in the article. (Wendy Kaminer, the winsome skeptic who was interviewed for Books & Culture by Cromartie, and Paul Kurtz, the tireless champion of secular humanism, are called upon to huff and puff, but their dissent is rather tepid: "Hark, hark back to the days of Galileo," Kurtz says, deploring "the intrusion of religion into science, with a ban on cloning.")
The puzzle is what this piece, published at this late date, presumes about the Times' readership—and the paper's editors. It's as if every time the subject of religion in America comes up, the editors feel the need to start at Square One. Not everyone in America is thoroughly secular! Not all those religious types are ignoramuses! Some of them even read books! (A few may even read the Times.) Some of them—brace yourself—write books! Some of them—I know this is incredible—are scholars, taken seriously by their scholarly peers! And so on.
And then there are passages like this, from the concluding paragraph of Lee's article:
A Gallup Poll last year, for instance, showed that 82 percent thought of themselves as Christians, 10 percent belonged to other faiths, and 8 percent were atheists or agnostics, Professor Heclo said. But they also said that no dogma, religious creed, or denominational commitment guided their beliefs.
What exactly this means—and what Professor Heclo actually said—is anyone's guess. Who are "they," for instance, in "they also said"? Are we supposed to be reassured that, although "they" think of themselves as Christians, "no dogma, religious creed, or denominational commitment guided their beliefs"? And what beliefs are those, anyway? Beliefs about the divinity of Christ? Beliefs about whether cloning should be permitted? Beliefs about whether the United States should invade Iraq? Would this kind of sloppiness be tolerated in the business pages or the science section?
The paper of record already has the resources to cover religion in America; what's lacking is the will. Isn't it time for the Times to move beyond Square One?
John Wilson is editor of Books & Culture and editor-at-large for Christianity Today.
Related Elsewhere
Visit Books & Culture online at BooksandCulture.com or subscribe here.
Books & Culture Corner appears Mondays at ChristianityToday.com. Earlier Books & Culture Corners include:
After the Quake | Bedside reading for the anniversary of 9/11. (August 19, 2002)
How to Avoid the Coming Disaster | "Imitate Japan." "No, don't imitate Japan." Time out. (August 12, 2002)
"Mind Control" and the Christian Citizen | Historian Sean Wilentz's misguided attack on Justice Antonin Scalia. (August 5, 2002)
Speak What We Feel | Frederick Buechner's latest book is one of his best. (July 29, 2002)
The Great Inflatable Shark Hunt | A report from the Christian Booksellers Association convention in Anaheim. (July 22, 2002)
Why Evangelicals Can't Opt Out of Political Engagement | Remembering Jeremiah Evarts and Samuel Worcester. (July 19, 2002)
The Pledge Controversy | Asking the wrong questions? (July 8, 2002)
Reading Danny Pearl | How would the murdered journalist want to be remembered? (July 1, 2002)
A Cry for Help | Sudanese Christians gather in Houston and ask for U.S. support. (June 17, 2002)
Agrarians of the World, Unite! | Wendell Berry's vision, and how Christians should respond to it. (June 10, 2002)
Stop, Drop, and Cover … | Then hack your lungs out and die. (June 3, 2002)
Death of an Evolutionist | RIP Stephen Jay Gould. (May 31, 2002)
Article continues below
Closing The X-Files … | … with the sign of the Cross. (May 20, 2002)
And the Next Thing Is … | Marxism (or not). (May 13, 2002)
God Bless the Eliminator | Mother Jones magazine makes known a shocking discovery: evangelicals are sending missionaries to Muslim countries! (May 6, 2002)
'A Peculiar People' | The uniqueness of the Jews. (April 29, 2002)
'Nebuchadnezzar My Slave' | Was the Holocaust God's will? (April 15, 2002)
'In the Beginning Was the Holocaust'? | Blasphemy, rage, memory, and meaning of the Shoah. (April 8, 2002)
The Gospel According to Biff | A conversation with novelist Christopher Moore. (April 1, 2002)
Baseball 2002 Preview | Part 2: Saving the game? (March 25, 2002)
The State of the Game | After one of the best World Series ever, baseball faces a crisis. (March 18, 2002)
America's Homegrown Islam—and Its Prophet | The strange story of Elijah Muhammad, leader of the Nation of Islam and onetime mentor of Malcolm X. (Mar. 11, 2002)
'Must Be Superstition' | Rediscovering spiritual reality. (Mar. 4, 2002)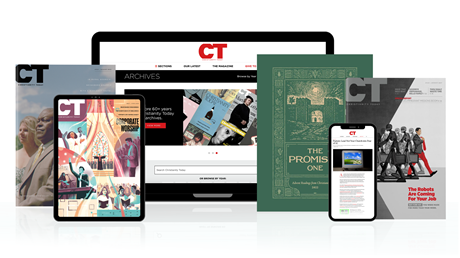 Annual & Monthly subscriptions available.
Print & Digital Issues of CT magazine
Complete access to every article on ChristianityToday.com
Unlimited access to 65+ years of CT's online archives
Member-only special issues
Subscribe
The New York Times Discovers Religion (Again)
The New York Times Discovers Religion (Again)