true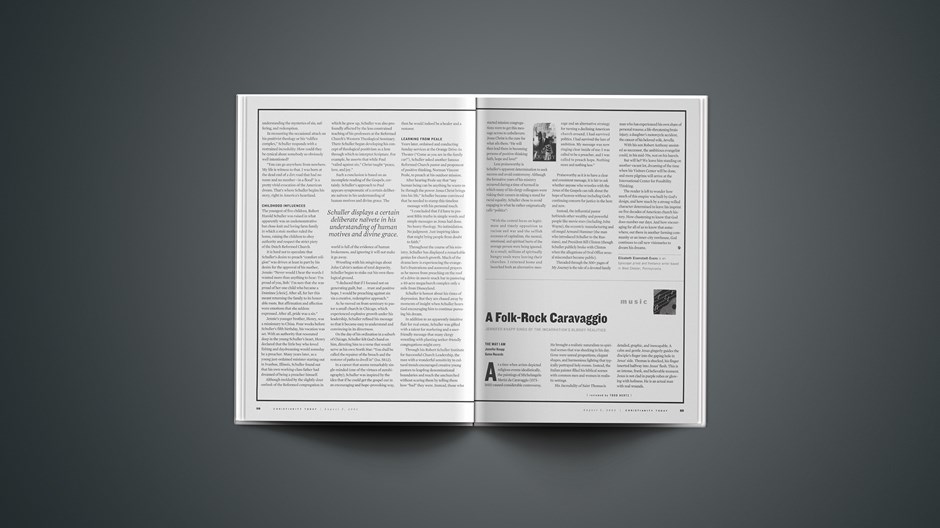 THE WAY I AM
Jennifer Knapp
Gotee Records
At a time when artists depicted religious events idealistically, the paintings of Michelangelo Merisi da Caravaggio (1573- 1610) caused considerable controversy. He brought a realistic naturalism to spiritual scenes that was shocking in his day. Gone were unreal proportions, elegant shapes, and harmonious lighting that typically portrayed holy events. Instead, the Italian painter filled his biblical scenes with common men and women in realistic settings.
His Incredulity of Saint Thomas is detailed, graphic, and inescapable. A calm and gentle Jesus gingerly guides the disciple's finger into the gaping hole in Jesus' side. Thomas is shocked, his finger inserted halfway into Jesus' flesh. This is an intense, frank, and believable moment. Jesus is not clad in purple robes or glowing with holiness. He is an actual man with real wounds.
Thinking of Jesus Christ living as we live, or as a body beaten and bloody, intrigues singer/songwriter Jennifer Knapp. Learning to accept the reality of Jesus' crucifixion is the intimate journey that Knapp chronicles on her third album, The Way I Am (2001).
"We all know he lived and was crucified, but I found myself compelled to make that tangible in my life," Knapp told Christianity Today. "I was practically obsessed with that process. I was reading the Gospel of John and just found myself attracted by the idea that he literally walked about and ate and drank. He had a mother and brothers he had to socially get along with. He was cut and he bled."
Knapp refers to her folk-inspired rock record as her "novel"; the 12 songs vary in mood and subject but build to a single theme. Perhaps it's more accurate to call the album a diary. At times raw and vulnerable, the album conveys Knapp's thought process as she is drawn to the reality of the crucifixion and learns that it is okay for her to want to concentrate on such an unsettling image. She is riveted by the thought of a God who took human form and then let it be destroyed.
Flashbacks of Grace
To Knapp, God's grace has greater value when one accepts the brutal and uncomfortable truth of how it was bestowed: by an actual man with real wounds. She does not think of the crucifixion in safe or idealized terms. Instead, she attempts to identify Christ incarnated in a human body that she "could reach out and touch and realize."
By concentrating on the humanity of Christ and exploring the horror of his death, Knapp finds that she can better understand the price he paid for her sins. And in that process is power and freedom.
"I wanted to see what everyone else saw before they were convinced," Knapp said. "When that hit me, I understood the humility of God. I saw that picture freshly for the first time and tumbled down the hill, past other things in my life that it has affected."
The top of the hill for Knapp would be "Breathe on Me," the second song on The Way I Am. Like a key scene in a movie, Knapp says, it provides the album's answers. "You start with a pivotal moment and then you work back with flashbacks as to why it was so important," she says. While the first song is a call for grace, a need to start over with the morning light, "Breathe on Me" explains why the sun comes out:
"Crack your back on a slab of wood / Come freedom, nail it down / Come trickle down and save the world / Two hands that I can't see / Come breathe on me / Split-rib water, blood and bone / Come Now, Come Calvary."
The rest of the album is a series of vignettes of personal struggle and searches for hope. Knapp explores falling short of God, having incurable human vices, and needing reassurance. In answer to these needs and struggles, the lyrics often return to the imagery of "nailing a hand," a "watershed side," or investigating the hole in Jesus' side to "give an eye to how the blood it drips."
"In writing the record, I kept coming back to one point," Knapp says. "I literally had to fight to not put more images of the crucifixion in."
That The Way I Am emerged from self-exploration gives the album depth. Knapp's previous albums, Kansas (1997) and Lay it Down (2000), are likewise intelligent and poetic, but the honesty and compelling theme of her third are unmatched.
In the end, The Way I Am is not only a diary of Knapp's faith journey but also becomes the journey itself as she works out her questions and struggles.
Todd Hertz is CT's online assistant editor.
Related Elsewhere
The Way I Am is available at Musicforce.com, which also offers song clips from the album.
The Christianity TodayMusic Channel's Jennifer Knapp artist page provides a biography, interviews of Knapp, and the Music Channel review of The Way I Am.
For more music articles, see the Christianity Todaymusic archives.
Have something to add about this? See something we missed? Share your feedback here.
Browse All Music Reviews By: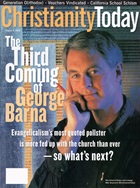 This article is from the August 5 2002 issue.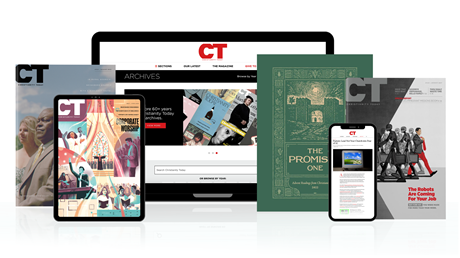 Annual & Monthly subscriptions available.
Print & Digital Issues of CT magazine
Complete access to every article on ChristianityToday.com
Unlimited access to 65+ years of CT's online archives
Member-only special issues
Subscribe
A Folk-Rock Caravaggio
A Folk-Rock Caravaggio