Afghanistan Christian prisoners will face Islamic law
The BBC is reporting that Western diplomats and the United Nations are still working to obtain access to the eight foreign workers arrested for teaching Christianity in Afghanistan. Authorities say they will face trial for their crimes. The Taliban says they are investigating the case and a decision based on Shari'ah law will be made soon. This could mean the death penalty.
The Taliban arrested 24 workers of the Kabul office of an aid group called Shelter Now International based in Germany. No one has been allowed to visit the prisoners but fears are mounting because the Taliban said last year anyone converting an Afghan to any religion could face execution.
The BBC is reporting that a Taliban senior official saying that the prisoners had "'confessed to the crime' and would be tried soon under Islamic law." Of the workers, 16 are from Afganistan, four are German, two are Australian, and two are American.
Contrary to reports yesterday, the workers arrested were not connected with the US-based organization, Shelter Now International. Instead, a separate organization based in Germany had oversight of the office and personnel in Kabul.
The Sydney Morning Herald reported on Shelter Now, saying it "has crossed the line between aid work and evangelising before … In the early 1990s the group, then based in the United States, [Shelter Now]was forced to pull out of Pakistan after its activities among Afghan refugees there provoked unrest.
"After the group pulled out of Pakistan its name and work in Afghanistan were taken over by a German-based Christian aid group, Vision For Asia."
Team prepares to implant clones, will announce details today
While debates continue on cloning technology and the ethics confronted with such science, a team of researchers is going ahead and doing it. Involved in the team are Dr. Panos Zavos, a retired University of Kentucky professor and fertility specialist, and Italian doctor Severino Antinori.
The team is expected to announce its plans today. But Antinori, already being threatened with loss of his license, has previously planned to clone a human embryo by the end of the year. Now, it seems that he and Zavos are preparing to implant up to 200 clones in infertile volunteers from around the world this year.
The Associated Press reports that Antinori has 1,300 couples in America, mostly in Kentucky, and 200 in Italy as candidates for his research and that he plans to start cloning embryos in November. But despite the doctors' rushing ahead, the ethical debate around cloning has not ended. According to CNN:
"Since the House of Representatives has voted to ban all human cloning and the Senate likely to follow suit, Zavos said the attempt would be made outside the United States in one of two countries that have not moved against human cloning research. He did not disclose where the attempt would be made."
The plans of the team will be discussed today at a National Academy of Sciences international panel brought together in Washington D.C. to discuss the technology and where it may be heading. The discussion on human cloning will be broadcast on the Web just about all day. The Web cast is available at the National Academies Web site.
Antinori will deliver a 45-minute presentation this afternoon with other team representatives followed by a half-hour discussion. Weblog will cover the announcement and media reaction tomorrow.
In unrelated news, Lucasfilm has announced yesterday the title of the new Star Wars movie due next summer. It will be Episode II: Attack of the Clones.
Cincinnati looks to other cities (and Eugene Rivers) for answers
Following April's rioting along racial fault lines in Cincinnati's Over-the-Rhine neighborhood, the city is looking for remedies to the underlying tensions. Currently, a team of experts is on tour to various cities evaluating programs, community policing and other efforts put into effect.
The first stop for the group was Boston where the church community has played a major, active role in improving a once-volatile environment similar to Cincinnati's. Since a public gang-related execution in a church, religious leaders joined to fix their city.
The outspoken Eugene Rivers, founder of the Azusa Christian Community and the Ten-Point Coalition, has been one minister at the forefront of those changes. NPR reported that he was among the Boston leaders who met with Cincinnati officials this week. Christianity Today profiled Rivers and his efforts in a 1996 cover story, Separate and Equal. The New Republic recently profiled Rivers saying that at a time when America is "open to ideological alternatives. … Rivers's are the most compelling around."
Was an earlier prototype the Pinto of Communion machines?
A retired engineer parishioner at the Southeast Christian Church in Louisville, Kentucky, has made a better mousetrap, or at least a machine to speed up Communion cup preparation. Religion News Service reported that after seeing how long it took church workers to fill Communion cups for the church, Wil Greenlee spent three years and several prototypes developing the Greenlee Communion Dispensing System.
"I call this the Rolls Royce of Communion prep machines," Greenlee says proudly, standing in one of three designated Communion prep rooms at Southeast Christian Church, where he is a member.
For Southeast Christian — a church so large it has 400 toilets and its own newspaper — Greenlee's machine is something of a godsend. Before his invention, crews would start on Thursday night siphoning 39 gallons of grape juice into 20,000 tiny cups for three weekend services.
Now, that preparation is reduced to just a few hours — down from five minutes to just two seconds for each 40-cup tray.
Sexuality:
Church and state:
Related Elsewhere
See our past Weblog updates:
August 6 | 3 | 2 | 1 July 31 | 30

July 27 | 25 | 24 | 23

July 20 | 19 | 18 | 17 | 16

July 13 | 12 | 11 | 10 | 9

July 6 | 5 | 3 | 2

June 29 | 28 | 27 | 26 | 25

June 22 | 20 | 19 | 18

June 15 | 14 | 13 | 12 | 11

June 8 | 7 | 6 | 5 | 4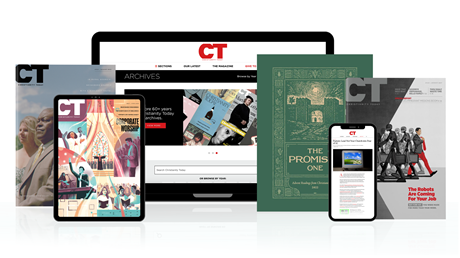 Annual & Monthly subscriptions available.
Print & Digital Issues of CT magazine
Complete access to every article on ChristianityToday.com
Unlimited access to 65+ years of CT's online archives
Member-only special issues
Subscribe
Shari'ah Law to Decide Fates in Afghanistan
Shari'ah Law to Decide Fates in Afghanistan