Ten years after the coup attempt that triggered the end of Soviet communism, Russia's president has said that his country needs to seek inspiration from its Christian roots.
"Without Christianity, without the Orthodox faith and culture which sprang from it, Russia would have hardly existed as a state," Vladimir Putin said during a visit to the Solovetsky monastery, on the Solovki Islands, part of Russia's northern White Sea archipelago.
Patriarch Alexei II, leader of the Russian Orthodox Church, accompanied Putin to the monastery.
In what observers have described as a carefully timed vacation, the president has visited Orthodox churches and monasteries in northern Russia as his country marks the 10th anniversary of the attempted coup, which was launched in August 1991 against Mikhail Gorbachev.
The coup attempt—although unsuccessful—started a chain of events that led to Gorbachev's downfall, the break-up of the Soviet Union, and the rise of Boris Yeltsin as president of an independent Russian Federation.
The wisdom of the coup is now the subject of heated debate in Moscow. Many of those directly involved— including Gorbachev, democracy campaigners, and those who plotted the coup—have made statements in recent days about the events.
Moscow commentators have criticized the failure of Putin to make any direct comment about the anniversary. However, his visit to the Solovetsky is seen as highly significant.
The first Soviet labor camp was founded there in 1923 after the monastery was closed at the time of the Russian revolution. During Stalin's rule, many thousands of people, including many clergy, were shot or died at the camp. The monastery was re-opened in 1991.
Georgy Satarov, who heads the "INDEM" political think-tank, said Putin's visit to the Solovki Islands was intended to send a "coded message."
"The interpretation of the coup is still something that divides the Russian people, and Putin strongly dislikes publicizing his views on such divisive matters. He has given himself the task of unifying Russians, not dividing them," said Satarov, a former Yeltsin aide. "It is not accidental that he went to the Solovki Islands on Monday nor that he went with the patriarch."
Prominent historian Dmitri Furman wrote in Rodina magazine that "Putin is gradually distancing himself from the revolutionary past while establishing [himself] as a 'normal,' traditional Russian power."
From this perspective, Putin's Solovki visit served this purpose by simultaneously commemorating the victims of the Soviet regime while stressing the continuity of Russian history.
In his remarks at the monastery, Putin also appeared to distance himself from the "exclusivist" interpretation of Orthodox Christianity often propagated by Russian nationalists.
"If God saved all nations, that means that all are equal before God," he said, referring to a famous statement by Metropolitan Hilarion, a famous 11th-century bishop of Kiev.
This "simple truth," Putin continued, became the basis of Russian statehood "making it possible to build a strong and centralized multi-ethnic state" and a "unique Eurasian civilization."
"Besides glorifying the Russian people, besides cultivating the national dignity and national pride, our spiritual teachers … taught us to respect other nations," he said. He stressed that ancient Orthodox teaching was free of chauvinism or any ideology of nations chosen by God.
"It would not hurt to remember this today. These are exactly the moral values which should form the backbone of domestic and foreign policy," he said.
Vsevolod Chaplin, a senior Moscow Patriarchate official in charge of relations with political and government organizations, said he welcomed the president's statement on the need to respect other nations, particularly at the present time when Russia itself was torn by ethnic tensions.
"These are very good words," Chaplin said. "Although the president cannot be considered a professional theologian, he correctly understands the essence of our teaching, which combines profound faith in our own tradition, understanding of its uniqueness and value, with openness to other people, other traditions and other nations."
Asked about the significance of the fact that Putin visited Solovki at the time of the anniversary of the coup, Chaplin said, "I am not a clairvoyant and cannot fathom what is going on in another person's soul. But the very fact that during these days he prayed and venerated the holy sites of our church and our country speaks for itself."
Related Elsewhere
Russia.Net has a great summary of the failed coup of 1991.
Media coverage of the failed coup's tenth anniversary include: Reuters, CNN, and the Associated Press.
Previous Christianity Today stories about Russia include:
Church Leader Says Russia Needs To Adopt German-Style Church Tax | Russian Orthodox Church facing financial difficulties, but suggestion is seen only as publicity ploy. (Mar. 27, 2001)

Federal Ruling May Mean Salvation Army's Moscow Problems Are Over | Church able to register as "centralized" religious organization, but leaders say Moscow decision must still be overturned. (Mar. 6, 2001)

Russia Recognizes Salvation Army as a Religious Organization | Officials say that doesn't restore status to the Army's Moscow branch. (Feb. 28, 2001)

Most Religious Groups Achieve Reregistration | Russia registers more than 9,000 religious organizations, but number is only 60 percent of religious groups in 1990s. (Feb. 6, 2001)

Russian Intellectuals Try to Revive Atheism | The Moscow Society of Atheists says its ideology has fallen out of fashion. (Jan. 24, 2001)

Russia's Last Czar to be Sainted for 'Humility' of his Death, but not for his Life | Nicholas II and family part of 1,100 canonized for martyrdom by communists. (Aug. 18, 2000)

Will Putin Protect Religious Liberty? | Freedoms may be in danger in the new Russia. (July 26, 2000)

A Precarious Step Forward | Loosened rules in Russia may mean better times for religious freedom. (Feb. 3, 2000)

A Russians Prepare to Elect New President, Putin Shows Interest in Religion | Russian Orthodox Church sees news church-state relationship. (Jan. 11, 2000)

Russia's minority churches welcome liberal ruling on religion law | 1997 ruling against 'sects' upheld, but religious groups claim victory. (Dec. 30, 1999)

Moscow Meeting Eases Russia's Interchurch Tensions | First major interchurch meeting since 1997 religion law called 'highly important'. (Dec. 6, 1999)

Baroness Caroline Cox: Rescuing Russia's Orphans | Hundreds of thousands of children consigned to Russian orphanages for oligophrenics need aid. (Aug. 8, 1999)

Jehovah's Witness Verdict Stalled | Civil case attracts attention as the first test for Russia's controversial 1997 religion law. (April 26, 1999)

Learning to Speak Russian | When the Communists fell, we discovered that we did not speak the same language as secular Russians. (Nov. 16, 1998)

Stepping Back from Freedom | (Nov. 17, 1997)

New Religion Law Fraught with Potential for Abuses | (Nov. 17, 1997)
Article continues below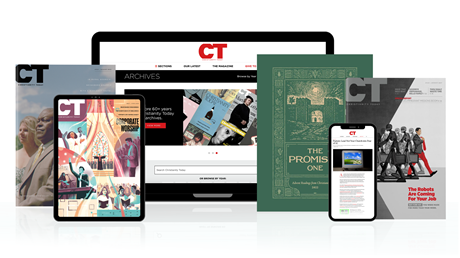 Annual & Monthly subscriptions available.
Print & Digital Issues of CT magazine
Complete access to every article on ChristianityToday.com
Unlimited access to 65+ years of CT's online archives
Member-only special issues
Subscribe
"Ten Years After Coup, Putin Seeks Inspiration From Russia's Christian Roots"
"Ten Years After Coup, Putin Seeks Inspiration ...