You've probably read or heard recently about the case of Napoleon Beazley, who was scheduled to be executed in Texas on August 15 for a murder he committed on the night of April 19, 1994. On August 13, the U.S. Supreme Court deadlocked 3-3 on Beazley's request for a stay of execution (three of the justices, who had some connection with the murder victim's son, a federal appeals court judge in Virginia, recused themselves). But just a few hours before the scheduled execution, the Texas state court of appeals granted a stay.
Coverage of Beazley's case has focused above all on the fact that he was "only 17 at the time of the slaying," as the New York Times put it. Beazley's lawyers have also alleged that the victim's son exercised undue influence on the prosecutors' decision to ask for the death penalty, that the jury was racially biased, and that the lawyer who argued Beazley's original appeal was incompetent. And his two codefendants recanted part of their testimony, in which they said that before the crime Beazley had said he wanted "to see what it feels like to see somebody die." Prosecutors used this testimony to support their argument for the death penalty.
Beazley had no prior criminal record; his small-time crack dealing had gone undetected before the murder. The son of the first black city council member in Grapeland, Texas, he was a star football player and president of the senior class at the local high school. Still, no one openly disputes that he committed the murder, shooting John Luttig twice in the head, though some of his anti-death penalty supporters (about whom more below) manage to hint that there is some uncertainty about who actually pulled the trigger.
Luttig, 63 when he was killed, is invariably described in newspaper stories as a "civic leader." He had pulled his 1989 Mercedes into the driveway, having brought his wife home from a Bible study, when he was surprised by Beazley and his friends. "It was supposed be a carjacking," Jim Yardley wrote in a August 10 story in the Times, "and whether Mr. Beazley fired out of rage or in a fit of panic, John Luttig was killed as his terrified wife crawled under the car to survive."
There's a bit of psychologizing and special pleading in that account. Rage or a "fit of panic" aren't the only alternatives if one wants to speculate on what was going through Beazley's mind as put a gun next to a stranger's head and pulled the trigger. Maybe he did it because he could, because he was the one holding the gun and Luttig was helpless. Maybe he did it without thinking at all—the awful but logical conclusion of a series of small choices, one leading to the next.
And what is Beazley's own version? Well, Yardley reports, "he does not say he is innocent, but he will not explain exactly what happened that night." To his credit, Beazley doesn't offer any excuses to Yardley, though his refusal to clarify what happened seems odd.
A visit to the Web makes an unclear picture even murkier. Type in "Napoleon Beazley" and you are immediately directed to an impressive site maintained by the Canadian Coalition Against the Death Penalty. Here you will find a summary of Beazley's case, including a line listing his occupation as "Artist, poet, philosopher; Brother, friend." There are links to "Webpages of Napoleon's International Supporters," "Napoleon's Italian Website ," "Project Napoleon," and much more, including, of course, a great deal about international indignation over the barbarity of the United States.
One example of the latter is a statement from Amnesty International, prefaced by a quote from Beazley's mother, Rena:
People change. You know, to take somebody's life at 17—you can't hold a 17-year-old by the same standards as you do me or you. … I've made some poor decisions, everybody does. But experience—you know, life—life is a teacher, and I know even today Napoleon is much better now than he was then
Also on the site are links to an interview with Beazley and a brief essay by him, entitled "Caged Animals." The title of the interview suggests an unearned intimacy: "Interview with Napoleon." We're on a first-name basis, Napoleon and I—and the others who have adopted him as the latest death row cause. Of course Beazley isn't responsible for the attitudes struck by his supporters, any more than he is responsible for the fawning tone of the interviewer, who says at one point "Young man, it's a waste having you in here."
But Beazley's own words, in the interview and the essay, are troubling, too. You might think to find here some reflection on the "poor decision" he made when he killed John Luttig. No. Beazley tells the interviewer that when he got on death row, he said to himself: "Perhaps you could have prevented it. Perhaps you couldn't, who can say? You are where you are and how you came here is of no consequence except in so far as you learn from it." Who can say?
The interviewer says of Beazley: "We found him to be polite, intelligent, amiable, witty, and spirited." Some of those qualities come through in the printed text, along with others not mentioned by the interviewer: anger, intense anger; moral and intellectual confusion; genuine spiritual yearning and rank self-justification.
Perhaps the most telling remark in the entire interview is this: "In essence, no one has the proper inclination or justification for punishing someone else." It's not just the death penalty but incarceration, indeed punishment itself that's fundamentally unjust. The prisoners are victims, like the zoo animals Beazley movingly describes in his essay.
Very likely we'll never know "exactly what happened" on the night that John Luttig was murdered. But one detail from that August 10 Times story haunts me. While Beazley refuses to offer justifications for what he did, Yardley reports, "He said that as a light-skinned black teenager with lots of white friends he felt that stepping into the drug world helped him fit in with some black teenagers in town."
"When I started selling crack," Beazley says, "it was like 'I'm cool, I can fit in.' I didn't want to be shunned by the black community, I guess you could say. That's a sad thing to say."
In all the talk about the death penalty and the racially biased jury and the awfulness of Texas, that "sad thing" hasn't been much noticed. It doesn't make good copy for Jesse Jackson and Al Sharpton and Bob Herbert and their ilk. Where are the leaders in "the black community" who will tell it like it is?
John Wilson is editor of Books & Culture and editor-at-large for Christianity Today.
Related Elsewhere
Visit Books & Culture online at BooksandCulture.com or subscribe here.
Yahoo's full coverage area on Texas executions offers links to many resources and news stories about the Beazley case, including:
Beazley case included unusual twists — Associated Press (Aug 16, 2001)

Attorney for Beazley vows to pursue commutation request — CNN (Aug 16, 2001)

Texas inmate gets 11th-hour reprieve — USA Today (Aug 16, 2001)

Stay for Beazley reignites debate over U.S. capital punishment — AFP (Aug 16, 2001)

Court stays execution of young Texan — Los Angeles Times (Aug 16, 2001)

Tex. court grants stay of execution to juvenile killer — The Washington Post (Aug 16, 2001)

Texas execution is halted by state Court of Appeals — The New York Times (Aug 16, 2001)

Texas teenage killer wins reprieve — BBC (Aug 16, 2001)

Teen killer wins rare stay of execution in Texas — Reuters (Aug 15, 2001)

Texas appeals court stays execution — The New York Times (Aug 15, 2001)

Texas execution stayed in world-renowned case — CNN (Aug 15, 2001)

Beazley lawyer admits botching initial appeal — Houston Chronicle (Aug 15, 2001)
Article continues below
More news stories and opinion pieces on the Beazley case are available here.
The Texas Department of Criminal Justice has a page listing Beazley's crimes, and lists Beazley's race as white.
Books & Culture Corner appears Mondays at ChristianityToday.com. Earlier Books & Culture Corners include:
Apocalyptic City | The dream and the nightmare of megalopolis (Aug. 20, 2001)

Megalopolis Forty Years On | The ambiguous face of the city. (Aug. 13, 2001)

The Future Is Now | You want the news? Read science fiction. (Aug. 6, 2001)

Memorable Memoirs | Whether telling us about the Spirit in the South or the crumbling atheism of a Chinese immigrant, these books provide windos into others' lives. (July 30, 2001)

The Distorted Story of Memoir Inc. | There are many good autobiographies out there, but do those who write about them have to pretend they're the only books worth reading? (July 23, 2001)

Looking for the Soul of CBA | Nearly anything that can be said about Christian publishing is true to some extent, thanks to the industry's ever-enlarging territory. (July 16, 2001)

Give Me Your Muslims, Your Hindus, Your Eastern Orthodox, Yearning to Breathe Free | Immigration's long-ignored effect on American religion is garnering much attention from scholars (July 9, 2001)

Shrekked | Why are readers responding passionately about a simple film review? (July 2, 2001)

Debutante Fiction | The New Yorker should have paid less attention to the novelty of its writers and more attention to their writing. (June 18, 2001)

Saint Teddy? | Yes, Roosevelt paid the usual presidential respects to Christianity, but didn't show much explicit personal devotion to it. (June 11, 2001)

History Bully | Christian scholars speak not-so-softly over a big sticking point: Theodore Roosevelt's faith. (June 4, 2001)

'Taken Up in Glory' | The Ascension has been forgotten in many Protestant churches, jettisoning an essential part of the Christian story. (May 21, 2001)

Who Won? Who Cares? | Skip the latest ballot reviews and read Italo Calvino's brilliant election novella "The Watcher." (May 14, 2001)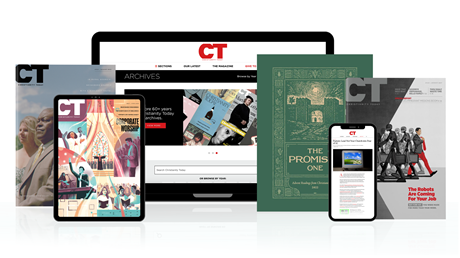 Annual & Monthly subscriptions available.
Print & Digital Issues of CT magazine
Complete access to every article on ChristianityToday.com
Unlimited access to 65+ years of CT's online archives
Member-only special issues
Subscribe
The Strange Case of Napoleon Beazley
The Strange Case of Napoleon Beazley