The Greek Orthodox Church has elected Irineos I as the new patriarch of Jerusalem, overcoming strong Israeli efforts to block his candidacy.
The bishop has now become one of the most powerful Christian leaders in Israel—head of the church that is guardian of most of the holy sites.
The Greek Orthodox Church is also the biggest landowner in the Holy Land, with holdings stretching from Jerusalem to the West Bank and Gaza Strip.
Irineos, 62, born on the Greek island of Samos, was elected on August 13 in two rounds of voting, eight months after the death of the previous patriarch, Diodoros I. In the first round, 50 priests chose three candidates from a list of 15. Then 17 bishops voted in the second round to elect the patriarch.
For four months, Israel tried to block Irineos and four other candidates from the ballot.
Members of the 100,000-strong Greek Orthodox community of Arabs in the Holy Land believe Israel's efforts were an intervention to prevent a pro-Palestinian patriarch from being elected.
The election result was a great disappointment for the Israeli government, said Jerusalem based Rabbi David Rosen, a leading Israeli inter-faith activist.
"Irineos is seen as less amenable and less willing [than other nominees] to kow-tow to Israeli interests. This result proves the real futility of the effort [to block his election] and [the] assumption you can draw the map to suit your own political interests."
Rosen said that by trying to intervene in the process, Israel had probably ensured that Irineos would be less sympathetic towards the Jewish State.
"If someone had tried to keep me out of the position, I'm not sure I would have a great love for Israel either," Rosen said.
Under a law dating back to the sixth century emperor Justinian, the government of the Holy Land has the right to approve or disqualify candidates for the office of the patriarch.
The list of candidates was submitted to the governments of Israel and Jordan, as well as to the Palestinian Authority. While Jordan and the Palestinian Authority approved all nominees, Israel rejected five. Their objection was overturned by the Supreme Court of Israel.
In an official statement, the Greek Orthodox Church said it would ask Jordan and the Palestinian Authority for the approval of their new patriarch but did not mention Israel.
Under the previous patriarch, Israel bought and leased significant areas of land from the Greek Orthodox Church, including affluent neighborhoods of the city and the land which the official residences of the Israeli President and Prime Minister stand on.
Israel was apparently wary of the Church coming under the rule of a pro-Palestinian patriarch; for fear that this could result in land disputes when long-term leases begin to expire. But the chairman of the Greek Orthodox Church's lay committee in Jerusalem, Mr Yosef Dik, attempted to allay such fears.
He said that the election of the new patriarch raised the hope of opening a "new chapter in [the church's] relations with the community in Israel."
Irineos has a long association with the Holy Land, having arrived in Jerusalem in 1953 and graduating from the church's theological seminary in 1963. He was also the Jerusalem Patriarchate's representative in Greece for many years.
Related Elsewhere

Coverage of Irineos's contested election include: Kathimerini, Reuters, and Associated Press.
In July, Kathimerinireported on the attempts to find a patriarch and the alleged corruption of Diodoros I.
Previous Christianity Todayarticles on Diodoros I include:
Briefs: Diodoros I died December 20 (Feb. 5, 2001)

Jerusalem's Church Leaders Tell Summit Not to Separate City's Christians | Christians worried about dividing Old City between Palestinian and Israeli control. (July 7, 2000)

Orthodox Leaders Closer to Unity | Event marks unprecedented display of unity among some of the world's oldest church bodies (Feb. 7, 2000)

Orthodox Land Use Angers Laity (Jan. 11, 1999)
For articles on the Palestinian and Israeli conflict, see Yahoo's full coveragearea.
Previous Christianity Todayarticles on the Palestinian-Israeli conflict:
Strengthen Christian Presence In The Holy Land, Carey Pleads | Middle-East leaders asked to help tone down violence that has killed 650 in 10 months. (August 2, 2001)

Greek Orthodox Priest Falls Victim to Middle East Conflict | Monks worry they may appear as threats to each warring side. (June 21, 2001)

Violence Puts Archaeologists Between Rocks, Hard Places | About half of the planned excavations in the Holy Land this summer have been canceled. (June 27, 2001)

Pilgrimages Drop and Workers Lose Jobs as Middle East Violence Continues | Silence fills places normally crowded with pilgrims, reports British group. (April 11, 2001)

Holy Land Roadblocks | Christian pilgrims learn about Palestinians' everyday indignities. (Apr. 9, 2001)

Christian Zionists Rally for Jewish State | More than 600 Christians from around the world flock to Jerusalem to show solidarity with Israel as peace process collapses. (Apr. 9, 2001)

Between a Rock and a Holy Site | Muslims have stepped up their efforts to take control of places revered by Jews and Christians. (Feb. 13, 2001)

The Peace Regress | What's behind the current outbreak of hostilities in the Holy Land? (Jan. 11, 2001)

Conflict in the Holy Land | A timeline of trials for the most contested piece of real estate in the world.

Christmas in Palestine: Hunger and War | Starvation threatens Palestinian villages if U.N. aid continues to be delayed, Vatican official warns. (Dec. 13, 2000)

Between the Temple Mount and a Hard Place | Palestinian Christians want both peace in their villages and justice for their Muslim brothers. (Dec. 5, 2000)

Christmas Plans for Bethlehem Scrapped | Escalating violence cancels millennial celebration in town of Christ's birth. (Dec. 1, 2000)

Lutheran Bishop's Appeal from Jerusalem | Religious leader's letter requests prayer for Christians, Jews, and Palestinians in troubled region. (Nov. 10, 2000)

Latin Patriarch tells Israel to Surrender Lands to Palestinians | Catholic leader says Israel will never have peace unless it "converts all of its neighbors to friends." (Nov. 1, 2000)

Fighting Engulfs a Christian Hospital in Jerusalem | Lutherans call conflict on their hospital grounds "an affront" to humanitarian purposes. (Oct. 16, 2000)

Israelis and Palestinians Pay Tribute to Pope's Pilgrimage to Holy Land | Though some at grassroots remain unappeased, leaders of both groups are full of praise. (March 29, 2000)

Prepared for Pilgrims? | As Christian tourism surges, Holy Land believers brave troubled future. (Feb. 10, 2000)

Apology Crusaders to Enter Israel (April 15, 1999)

West Bank Squeezed by Warring Majorities | (Nov. 16, 1998)

Squeezed by Warring Majorities (November 6, 1998)

How Evangelicals Became Israel's Best Friend (Oct. 5, 1998)

Jerusalem as Jesus Views It (Oct. 5, 1998)

Temple Mount on Shaky Ground? | (April 6, 1998)
Article continues below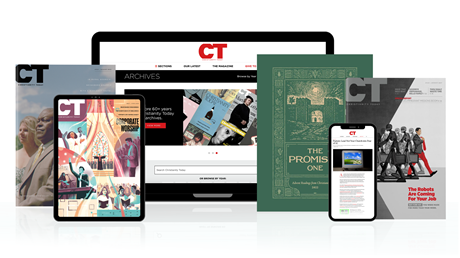 Annual & Monthly subscriptions available.
Print & Digital Issues of CT magazine
Complete access to every article on ChristianityToday.com
Unlimited access to 65+ years of CT's online archives
Member-only special issues
Subscribe
"Despite Israeli Objections, Irineos Is New Greek Orthodox Patriarch"
"Despite Israeli Objections, Irineos Is New Greek ...