Churches in Jerusalem have embarked on a week of prayers dedicated to ending the Israeli-Palestinian conflict that some observers fear may escalate into a new Middle East war.
Warning that "hatred and a desire for revenge is rampant on both sides, Israeli and Palestinian," the church leaders issued an appeal to "all our people, throughout this land, to join us in intensifying our prayers for peace, with justice, and reconciliation."
The week of prayer was launched as Israeli military planners began predicting that the current conflict with the Palestinians might last for years and could escalate into a Middle East war.
Nearly 700 people have been killed since the outbreak of the current violence last September.
"We are greatly concerned at the deteriorating situation in the Occupied Territories of the Holy Land," the appeal said. "Many families have been made homeless; [road] closures have turned towns and cities into detention camps; the number of unemployed has risen dramatically resulting in tens of thousands hungry for the daily bread; whilst our children are confronted daily with a picture of bloodshed, violence, assassinations and murder."
The church services are running from August 15 to 28. Each evening, a service dedicated to prayers for peace is being held in a different church.
Church of Scotland minister Clarens Musgrave, of St Andrews Church in Jerusalem, said the rationale for the week of prayers was clear.
"Christians need to be involved and one of the things they can be doing is praying about the current situation," he said.
Not only those present are encouraged to pray. Church leaders appealed to "brothers and sisters around the world, many of whom have already offered generous support, to link their prayers with ours at this special time."
Anglican Dean Michael Sellors of St George's Cathedral in Jerusalem attended the peace services in the city and called them a great success.
Describing an August 16 service, he said: "The Syrian Orthodox Church [inside the old City] was absolutely full and [with] an atmosphere of peace and prayer."
In his sermon, Syrian Orthodox Archbishop Mar Swerios Malki Murad stressed the important role that church leaders and their congregations play in helping to mediate an end to the conflict, when the parties themselves seemed incapable of ending the bloodshed.
Asked what support the churches were receiving from overseas, Sellors said that the Christian community in the Holy Land had been inundated with telephone calls, faxes and emails containing messages of solidarity.
"For many of us, the knowledge that the people have been praying for us around the world has been most heartening," he said. "We get anonymous cards, say from Australia, saying we are remembering you and the people of the land in our prayers, 'may God grant you peace.'"
Related Elsewhere
On Jan. 12, the U.S. Department of State warned against travel to Israel, the West Bank and Gaza.
For articles on the Palestinian and Israeli conflict, see Yahoo's full coveragearea.
Previous Christianity Todayarticles on violence in the Holy Land:
Strengthen Christian Presence In The Holy Land, Carey Pleads | Middle-East leaders asked to help tone down violence that has killed 650 in 10 months. (August 2, 2001)

Greek Orthodox Priest Falls Victim to Middle East Conflict | Monks worry they may appear as threats to each warring side. (June 21, 2001)

Violence Puts Archaeologists Between Rocks, Hard Places | About half of the planned excavations in the Holy Land this summer have been canceled. (June 27, 2001)

Pilgrimages Drop and Workers Lose Jobs as Middle East Violence Continues | Silence fills places normally crowded with pilgrims, reports British group. (April 11, 2001)

Holy Land Roadblocks | Christian pilgrims learn about Palestinians' everyday indignities. (Apr. 9, 2001)

Christian Zionists Rally for Jewish State | More than 600 Christians from around the world flock to Jerusalem to show solidarity with Israel as peace process collapses. (Apr. 9, 2001)

Between a Rock and a Holy Site | Muslims have stepped up their efforts to take control of places revered by Jews and Christians. (Feb. 13, 2001)

The Peace Regress | What's behind the current outbreak of hostilities in the Holy Land? (Jan. 11, 2001)

Conflict in the Holy Land | A timeline of trials for the most contested piece of real estate in the world.

Christmas in Palestine: Hunger and War | Starvation threatens Palestinian villages if U.N. aid continues to be delayed, Vatican official warns. (Dec. 13, 2000)

Between the Temple Mount and a Hard Place | Palestinian Christians want both peace in their villages and justice for their Muslim brothers. (Dec. 5, 2000)

Christmas Plans for Bethlehem Scrapped | Escalating violence cancels millennial celebration in town of Christ's birth. (Dec. 1, 2000)

Lutheran Bishop's Appeal from Jerusalem | Religious leader's letter requests prayer for Christians, Jews, and Palestinians in troubled region. (Nov. 10, 2000)

Latin Patriarch tells Israel to Surrender Lands to Palestinians | Catholic leader says Israel will never have peace unless it "converts all of its neighbors to friends." (Nov. 1, 2000)

Fighting Engulfs a Christian Hospital in Jerusalem | Lutherans call conflict on their hospital grounds "an affront" to humanitarian purposes. (Oct. 16, 2000)

Israelis and Palestinians Pay Tribute to Pope's Pilgrimage to Holy Land | Though some at grassroots remain unappeased, leaders of both groups are full of praise. (March 29, 2000)

Prepared for Pilgrims? | As Christian tourism surges, Holy Land believers brave troubled future. (Feb. 10, 2000)

Apology Crusaders to Enter Israel (April 15, 1999)

West Bank Squeezed by Warring Majorities | (Nov. 16, 1998)

Squeezed by Warring Majorities (November 6, 1998)

How Evangelicals Became Israel's Best Friend (Oct. 5, 1998)

Jerusalem as Jesus Views It (Oct. 5, 1998)

Temple Mount on Shaky Ground? | (April 6, 1998)
Article continues below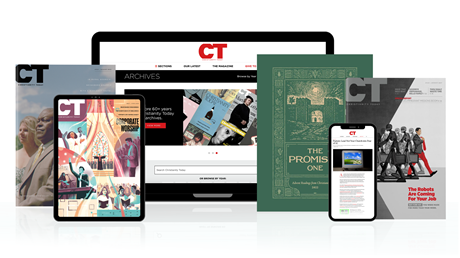 Annual & Monthly subscriptions available.
Print & Digital Issues of CT magazine
Complete access to every article on ChristianityToday.com
Unlimited access to 65+ years of CT's online archives
Member-only special issues
Subscribe
"Amid Fears for Future, Jerusalem's Churches Embark On Prayers for Peace"
"Amid Fears for Future, Jerusalem's Churches ...