Moore doesn't hang the commandments—he hauls them in
The former Alabama circuit judge famous for posting the Ten Commandments in his courtroom has kept his campaign promise. Roy Moore said that if he were elected chief justice of the Alabama Supreme Court, he would make room for the Decalogue there. And he has—lots of room.
One night recently, Moore and some helpers hauled a 5,280-pound, 4-foot-tall granite monument into the state Judicial Building's lobby when no one else was around.
According to the Chicago Tribune, the monument was commissioned by Moore and financed with private donations. Its square base is carved with Founding Father quotations beneath two tablets inscribed with the 10 Commandments.
While Gov. Don Siegelman has given his support to Moore and the display, the monument is attracting controversy. Opponents and other justices worry about the message the monument may send to non-Christians about the court's fairness.
Report-card day comes for Mother Teresa
A Diocesan Commission set up in 1999 has completed the initial phase of the papal inquiry into Mother Teresa's elevation to sainthood. The Nobel Prize laureate died in 1997 at the age of 87.
The two-year inquiry produced a report of Mother Teresa's life and evidence of miracles. It weighed in at 35,000 pages long. Father Brian Kolediejchuk will now take the report in six sealed boxes from Calcutta to the Vatican.
This report is the beginning of the beatification process for Catholic saints. The Roman Congregation for Causes of Saints will review the report once it arrives at the Vatican. A comprehensive biography will be prepared and then examined by nine theologians.
Their findings will be passed on to the Assembly of Cardinals and Bishops and ultimately to the pope. He has the final decision on her beatification, but only if at least two-thirds of the theologians, Cardinals, and Bishops vote in favor of it. A process of canonization follows beatification.
For a detailed account of how the Catholic Church first beatifies and then canonizes saints, see Kenneth Woodward's excellent Making Saints: How the Catholic Church Determines Who Becomes a Saint, Who Doesn't, and Why.
A week later, the stem-cell debate remains hot in the media
Discussion and media fallout continue a week after President Bush's stem-cell decision, proving that, as The New York Times wrote in an editorial yesterday, "the controversy over stem cells was not ended by George W. Bush's much-publicized address to the nation. Actually, we have only just begun to argue."
The arguing so far hasn't really been about Bush's approval itself but about how far the decision went or should have gone. According to a CNN-USA Today-Gallup poll, 60 percent of the American people are happy with the stem-cell plan but "a third would have preferred broader federal funding, a third favored Bush's limited funding, and about a fourth would have preferred no federal funding."
This week's press has been busy assessing public reaction, forecasting future bioethics decisions, and determining the next steps by lawmakers. Meanwhile, Time magazine's new edition steps back to look at the months of debate that led to Bush's decision. A New York Times article yesterday looked at an old question being given new importance: When does life begin?
The anti-abortion movement "has tried to draw a clear and bright line at fertilization," said Dr. Thomas Murray, director of the Hastings Institute in Garrison, N.Y. "Until now, they have been able to avoid having the question called. Embryonic stem cell research has called the question for them. And what we are seeing is that some politicians who have strongly supported the pro-life position now acknowledge they do not accept fertilization as the clear and bright line."
Opinion pages have had ready-made fodder this week. A few of the editorials on Bush's decision include those by: the Chicago Tribune, New York Daily News, Orlando Sentinel, The Christian Science Monitor, San Diego Union-Tribune, USA Today, Milwaukee Journal Sentinel and The Washington Post.
Other editorials are debating the prospect of Dr. Leon Kass as the leader of the president's stem-cell ethics panel. While The Wall Street Journal says Kass brings "moral seriousness" to his craft, USA Today argues that "His written record … provides a more radical picture of a man at war with the accepted state of medicine and research."
Meanwhile, Reuters reported yesterday that researchers have found some adult stem cells in the scalp are displaying "impressive versatility, highlighting the promise for therapeutic applications involving stem cells, aside from those harvested from live human embryos."
Scientists examine the role of prayer in medical recovery
Earlier this week, a study revealed that spiritual anguish could have negative side effects on the ill. At the same time, a global scientific experiment is testing whether prayer can heal. A cardiologist at Duke University Medical Center is leading the study that will be completed this year.
Over 191 studies have been already been done on "spirtual healing." One prayer experiment was conducted at the Mid America Heart Institute in Kansas City, Mo., on heart patients. ABCNews reports:
For an entire year, about 1,000 heart patients admitted [in the] critical care unit were secretly divided into two groups. Half were prayed for by a group of volunteers and the hospital's chaplain; the other half were not … The results: The patients who were prayed for had 11 percent fewer heart attacks, strokes and life-threatening complications.

"This study offers an interesting insight into the possibility that maybe God is influencing our lives on Earth," says [cardiologist Dr. James] O'Keefe. "As a scientist, it's very counterintuitive because I don't have a way to explain it."
Archbishop Milingo:
Crime and litigation:
Persecution:
Homosexuality:
Other stories of interest:
Related Elsewhere
See our past Weblog updates:
August 15 | 14 |13

August 10 | 9 | 8 | 7 | 6

August 3 | 2 | 1 July 31 | 30

July 27 | 25 | 24 | 23

July 20 | 19 | 18 | 17 | 16

July 13 | 12 | 11 | 10 | 9

July 6 | 5 | 3 | 2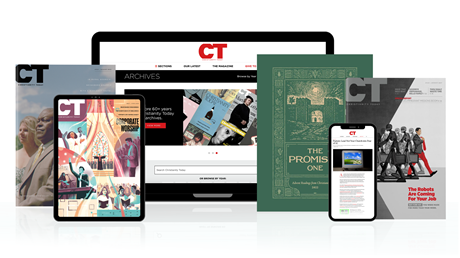 Annual & Monthly subscriptions available.
Print & Digital Issues of CT magazine
Complete access to every article on ChristianityToday.com
Unlimited access to 65+ years of CT's online archives
Member-only special issues
Subscribe
"Alabama Justice Unveils 5,280 Pounds of Godliness"
"Alabama Justice Unveils 5,280 Pounds of Godliness"