One week after Afghanistan's Taliban authorities began arresting expatriate humanitarian aid workers in Kabul for allegedly "trying to convert Afghan Muslims to Christianity," the strict Islamist regime is still refusing access to the jailed Christians by their governments, colleagues or the International Committee of the Red Cross.
The eight foreign Christians, six of them women, were identified as citizens of Germany, the United States and Australia. All were serving on the staff of the German-based Shelter Now International (SNI) organization. Another 16 Afghan staff employed by SNI in its relief work in Kabul were also arrested and apparently jailed separately from the foreigners.
On August 13, the Associated Press reported that although long awaited visas were approved for Australian, German and American diplomats, the Afghan Foreign Minister Wakil Ahmed Muttawakil has said diplomats will not be allowed access to the imprisoned aid workers. They will instead only meet with officials in Kabul.
Reportedly three of the detained women were sighted August 8, outside their homes in the capital. According to an Associated Press report filed August 9 from Kabul, the three women shrouded in black chadors were under escort by armed Taliban guards and were later seen carrying away suitcases from their homes.
Taliban officials identified by name all eight foreigners, which included SNI's German director Georg Taubmann. But at least one of the Americans was misidentified, since one woman named had left the country before the arrests occurred and is currently in the United States.
The Taliban's so-called religious police arrested two young women on August 3, reportedly "caught red-handed" after showing a film about Christianity to an Afghan family, the Taliban said. Two days later, Taliban guards raided the SNI office in Kabul's Wazir Akbar Khan locality, arresting the six foreign staff present as well as 16 local staff.
According to Pakistan's English daily The News, another 60 or more Afghan children and youth who allegedly were "taught Christianity" by the SNI staff were also detained and sent to Darul Tadeeb, a detention center for minors, to be "re-educated in accordance with the teachings of Islam." Sixty-five young boys were released on August 11, reported Reuters, and their fathers were arrested instead for failing to supervise their children.
On August 6, Taliban spokesman Mohammad Salim Haqqani, deputy minister of the Ministry for the Promotion of Virtue and Prevention of Vice, claimed that the arrested aid workers had "confessed to their crime," and that large amounts of Christian literature and audio cassettes in the Dari and Pashto languages had been confiscated. Musical instruments, which are banned by the Islamist regime, were also seized in the raid, he said.
Taliban Deputy Foreign Minister Abdul Rehman Zahid has repeated claims that the regime had "received solid evidence" that SNI was "engaged in propagating Christianity in Afghanistan."
However, SNI spokesman Estefano Witzemann told Reuters that the Taliban claims to have seized "thousands" of copies of videos, audio cassettes and Bibles in the local Pashto and Dari languages were untrue. A fellow SNI colleague called the Taliban figures exaggerated and "highly doubtful."
"We are just not that stupid," the source declared, noting that as an openly Christian NGO, SNI has been actively ministering in the sensitive region of northwest Pakistan since 1983. Although the group was accused and attacked by extremist elements for alleged evangelism activities in Peshawar in the spring of 1990, Pakistan government authorities later refuted the charges.
As rulers of 95 percent of Afghanistan, the Taliban have previously accused various international aid organizations of using humanitarian work as a cover for spreading Christianity among the Afghans. The United Nations has, in turn, accused the Taliban of harassing foreign and local aid workers, a charge that the Taliban deny.
"Obviously this is a major concern for us that humanitarian workers are being arrested," the U.N.'s Afghanistan coordinator's office spokesperson Letizia Rossan told The News on August 7. "There is a pattern that has clearly been coming out in the past few months of increasing difficulties for foreign aid workers."
All of SNI's operations in Afghanistan, which included soup kitchens, bakeries and the manufacture of roofing beams and mud houses, were reported to be sealed and closed down as of August 9.
Seven months ago, Taliban leader Mullah Mohammed Omar declared over Radio Shariat that the death penalty would be imposed on any Afghan who converted to Christianity or Judaism, and that "any non-Muslim found trying to win converts will also be killed." A senior spokesman for the regime elaborated on the January 8 edict, alleging that "certain foreigners" in the country were trying secretly to convert Afghans to Christianity.
But according to U.S. State Department officials, this week Washington has "discussed" with Taliban representatives Omar's later Decree No. 14, issued in June, which orders that foreigners caught preaching other religions to Afghan Muslims be deported after three to 10 days in jail.
NGO workers who have left Afghanistan in the past week confirmed to Compass that a July 12 decree from Omar was directed specifically to expatriates residing in Afghanistan. The list of a dozen or more points included religious as well as cultural and social prohibitions, with prescribed punishments ranging from jailing to expulsion from the country.
Meanwhile, with last week's arrests still unresolved, foreign NGOs working in Afghanistan have begun to send dependents of their expatriate staff and others in support-staff roles out of the country.
"Prayer is really needed for the local staff of SNI," a representative from a sister aid organization said, "Just because of their association with SNI, these Afghans will probably be treated much worse than the foreigners."
Related Elsewhere
Read more about Taliban's repression of religious freedom in Afghanistan in the U.S. State Department's Annual Report on International Religious Freedom.
Previous Christianity Today stories about Afghanistan include:
Weblog: New Rules Surface in Afghanistan | Plus: Bush delivers a big announcement tonight and mass-arrests in Lebanon lead to unrest. (Aug. 9, 2001)

Weblog: Antinori Team Says, 'Send In the Clones' | Plus: Taliban officials display evidence and the Roman Catholic Church endorses a controversial molestation bill. (Aug. 8, 2001)

Weblog: Shari'ah Law to Decide Fates in Afghanistan | Plus: Attack of the 200 clones, and Eugene Rivers's model could help Cincinnati's racial tensions. (Aug. 7, 2001)

Weblog: Doors Shut on Afghanistan Christian Organization | Plus: Philippine Muslim rebels strike again, and carnival workers need religion, too. (Aug. 6, 2001)

Taliban Threatens Death to Converts | Afghanistan's Islamic army also says it will kill any non-Muslim seeking converts. (Feb. 15, 2001)

Religious Freedom Report Rebukes China, Others | State Department finds many nations' religious freedoms deteriorating, but some are improved. (Sept. 7, 2000)

Religious Freedom Report Released | Afghanistan, China, Iran, and Iraq listed as some of most repressive countries. (Oct. 25, 1999)

New Unreached Group Targeted (Feb. 8, 1999)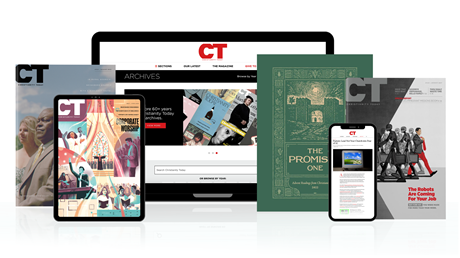 Annual & Monthly subscriptions available.
Print & Digital Issues of CT magazine
Complete access to every article on ChristianityToday.com
Unlimited access to 65+ years of CT's online archives
Member-only special issues
Subscribe
"Diplomats Receive Visas Into Afghanistan, but Will Only Meet with Officials"
"Diplomats Receive Visas Into Afghanistan, but ...