Religious trench warfare has broken out amid charges of anti-Catholic bigotry in choosing a new chaplain for the U.S. House of Representatives. In the past, the dominant party's leader simply made the selection. This time, the majority Republicans convened a search committee with nine Democrats and nine Republicans. That committee recommended three finalists.House Speaker Dennis Hastert (R-Ill.), Majority Leader Dick Armey of Texas and Minority Leader Dick Gephardt of Missouri then chose among the three finalists."At the end of the whole process we all shook hands," says Rep. Joe Pitts (R-Pa.), a member of the committee. "There was a tremendous camaraderie."But the good will did not last long.Hastert announced the choice of Charles Parker Wright, a former pastor of National Presbyterian Church in Washington, D.C., who is associated with the National Prayer Breakfast. Some Democrats believe anti-Catholic bigotry influenced the selection. Rep. John Dingell (D-N.Y.) detected "an odor of anti-Catholicism." Rep. Anna Eshoo (D-Calif.) heard "tones of [bias] involved" in the selection (ct, Feb. 7, 2000, p. 24).The Democrats, the Republicans say, are trying to peel away some of the GOP's Catholic support, which might make a difference in several key House races this fall. Democrats say that Catholic priest Timothy O'Brien had received the most votes, 14, and should have been chosen. Wright received 9.5 votes. Republicans were incensed that the Democrats released the vote tallies. They claimed that the votes were never meant to be made public and made little sense as a final criterion. Each representative had checked off three candidates, and no final runoff vote occurred."We talked about whether to make it public," Pitts recalls. "But we all decided not to. In fact, the vote talliers didn't tell us who got the most check marks. I didn't know."The Democrats also say they were disturbed by anti-Catholic remarks during the interviews. O'Brien says Rep. Richard Shimkus (R-Ill.) asked if O'Brien could counsel families since he was single, and if he was of good moral character. Shimkus' aides vehemently deny O'Brien's account.Democrats also criticize Rep. Steve Largent (R-Okla.) for asking if O'Brien's clerical collar might be a barrier for some representatives.Although most Republican representatives do not dispute that their colleagues asked the questions, they say the remarks were honest and friendly, if a bit naïve.Further, they claim that Democrats actually did not want O'Brien at first but "were behind a liberal Lutheran policy-wonk type," according to one source. When the Democrats' first choice did not make the cut, they fell behind O'Brien. A few Republicans say they voted for O'Brien—an action they now regret.Billy Graham, whose wife is a close friend of Wright's wife, called Hastert to express concern that the selection was bogged down in partisanship. "The House Chaplain serves all the members of the House of Representatives," Graham said, "regardless of political party."
Tony Carnes is Senior News Writer for Christianity Today.
Related Elsewhere
See our earlier coverage of this story, " Capitol Hill Embroiled in Controversy After Catholic is Rejected as Chaplain | Priest would have been first non-Protestant in House post" (Dec. 16, 1999)The official House documents (58 pages of them) relating to the selection of a chaplain are available on House Majority Leader Dick Armey's site. You'll need the Adobe Acrobat Reader to view them.News articles on the chaplaincy controversy have appeared this week in The Baltimore Sun (which reports that Dennis Hastert is losing sleep over it and that his candidate for the post is likely doomed), Time Magazine (which ties the issue to George Bush's appearance at Bob Jones University), The Washington Post (which notes recent meetings between Catholic Republicans and House leadership), and the Associated Press (which reports that the controversy was made worse by John McCain's recent campaign comments about religion).Chicago Tribune columnist Steve Chapman devoted his March 5 column to calling for an end to the chaplaincy.Christianity Today sister publication Leadership published an interview with the last chaplain of the House of Representatives, James David Ford, in its Fall 1996 issue.National Public Radio's "All Things Considered" has aired at least two stories on the controversy, one on December 7 and another February 3.C-SPAN looks at the history and role of congressional chaplains in the "Capitol Questions" area of its Web site.House Speaker Dennis Hastert's letter to his Republican colleagues about his selection is on his official site.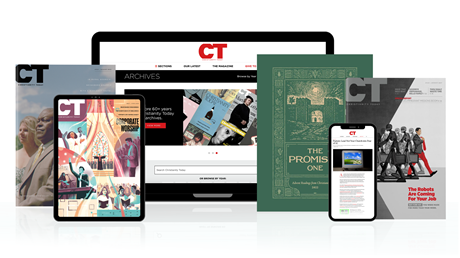 Annual & Monthly subscriptions available.
Print & Digital Issues of CT magazine
Complete access to every article on ChristianityToday.com
Unlimited access to 65+ years of CT's online archives
Member-only special issues
Subscribe
Bigotry Alleged in Chaplaincy Choice
Bigotry Alleged in Chaplaincy Choice