American Beauty and The Cider House Rules, both winners at Sunday night's Oscar ceremony, performed well at the box office this weekend as audiences checked out the contenders. More moviegoers, however, were checking out Julia Roberts' lead performance in Erin Brockovich, which many Christian critics are predicting will figure prominently in next year's Oscar race.
Erin Brockovich ($18.5 million)
Christian reviewers were highly pleased with this film, which is based on a true story. The film portrays a down-on-her-luck single mom who helps the cancer-stricken residents of Hinkley, California, form a legal case against the power company that poisoned their groundwater. Roberts' performance earned unanimous praise; The Phantom Tollbooth's J. Robert Parks even forecasts that "Julia can start making plans for the 2001 Oscars. … Here's a meaty role with a lot to do, and Roberts nails every scene." Reviewers had even higher praise for the woman Roberts portrays. Paul Bicking of Preview says "there's much to admire in Erin's character. She respects people and approaches them honestly and sometimes bluntly. When others would give up, she hangs on and fights for those she thinks need her help." Focus on the Family's Steven Isaac echoes those praises: "Erin's compassion and love for people always outshines her drive to win the case. … Erin is callused and hardened by her lot in life and her two derelict ex-husbands, but she never completely closes herself off." Both Bicking and Isaac refrained from recommending the film, however, due to Brockovich's foul language and revealing attire. This was not the case for other critics, who felt these elements were essential to the film. "[The movie] is about Erin's fight for respect and acceptance from a world which tends to judge from appearance only," argues Movie Parables. Holly McClure of Crosswalk.com also took Brockovich's flaws in stride. "The language and revealing cleavage is … more funny than offensive because it's part of her character." Any attacks against Brockovich's character have so far come from mainstream sources. Donna Laframboise of the Canadian Civil Liberties Association writes in National Post that Brockovich is "so profoundly self-centred that feeding her kids is less important to her than wearing … micro miniskirts at the office," for which she risks losing her job. "Narcissism and feminism aren't the same thing." StudentMinistry.net, however, believes Erin is anything but narcissistic—she's one of those people who "pour their hearts into the things in their lives." The movie testifies to "what gets done when you love something."
Romeo Must Die ($18 million)
This martial-arts thriller, which loosely adapts the Romeo and Juliet story and places the conflict within rival gangs on the Oakland waterfront, enjoyed a robust debut despite mostly negative reviews from mainstream and Christian critics. Shakespearean themes didn't rescue the script, which was called "very predictable" by The Movie Reporter, "superficial" by Preview's Paul Bicking, and "a convoluted plot marred by skimpy character development" by the U.S. Catholic Conference. Even the elaborate fight scenes disappointed many, including Movie Parables: "[The director] doesn't entirely trust his star and stunt men to effectively 'wow' the audience with their natural skills. Instead we are subjected to computer assisted feats which idiotically defy the laws of physics, and simulated x-ray photography." But Crosswalk.com's Holly McClure was as captivated as the moviegoing public to the unorthodox approach of the fight sequences. "The impressive Western and Asian stunts are a visual ballet that deliver beautiful and unusual feats while creating stop-action sequences that have never been seen before. … I applaud the creative way this story was visually told."
Final Destination ($7.2 million)
In this film, a group of teenagers exit a doomed airliner just before takeoff, escaping death, but soon discover that death is coming for them anyway when freak accidents start claiming their pals. Carole Stewart McDonnell, guest reviewer at Christian Spotlight, says the plot is relevant to "spiritual matters such as fate, premonition and death," but is disappointed that it provides no spiritual answers. The main character "is left alone to figure out the spiritual world all by himself," she says, without "a helpful parent or knowing clergy in sight." But for Holly McClure of Crosswalk.com, the helpful parent turned out to be herself: "My older teens saw this movie and said it terrified them. … [It] gave me a chance to reaffirm with my children what our religious beliefs are about death." She called the movie effective because "it delivers fear and panic wrapped in 'fate,' which keeps it spooky without using a fellow teenager to do the slashing and killing." Other reviewers were not so impressed, saying it "quickly loses momentum with regular, run of the mill horror movie action" (John Adair, Preview) and "vainly seeks to entertain with pointless dialogue and horrific violence" (Jonathan Bartha, Focus on the Family).
Mission to Mars ($5.7 million)
After a lucrative liftoff, this space odyssey has plummeted severely at the box office. Christian reviewers have been largely critical of the film, which features astronauts discovering life on Mars, for ignoring God's role in the creation of life. ("That's not to say that God's name isn't mentioned," quips Bob Smithouser of Focus on the Family, referring to the film's profanity.) But this week several reviewers have spoken out in favor of the film's entertainment value. Movie Parables says "we can just go along for the ride and enjoy the old fashioned Saturday matinee feel of the film" rather than "groan and roll our eyes at the increasingly impossible situations our heroes overcome." Crosswalk.com's Holly McClure calls the film a "fascinating, thrilling story that completely captured my imagination" that "both dazzles with special effects and entertains with a unique concept." The U.S. Catholic Conference says it's "intriguing [and] visually alluring, if quite fanciful." Still, the majority remains critical of its theology, storyline, and entertainment value. World magazine calls Mission to Mars "a celebration of crank mysticism and checkout-counter UFOology"; PlanetWisdom says "the plot provided more holes than a paper punch"; WindWords' Gene Breitenbach notes that "the special effects work … looks much like what anyone can do on an Apple G3 computer."
Here on Earth ($4.5 million)
Christian critics were split on this new teenage romance, although audiences united in staying away this weekend. Preview's Mary Draughon found much to like about the film, predicting that "teenagers and parents will find this touching love story worth the admission price. … It is heart-warming to see a family reflect a deep faith in God as they face a loved one's eminent death." Other reviewers saw no such value. The U.S. Catholic Conference says the "manipulative plot is filled with contrived dialogue and few surprises in serving up a sentimental look at first love." Bob Smithouser of Focus on the Family also discourages viewership—probably foremost by revealing the ending three times in his review—but also by calling it a "a painfully desperate heart-tugger loaded with insufferable symbolism, empty emoting, [and] saccharine sentimentality."
Rounding Out the Top Ten
A second teen romance, Whatever It Takes, debuted to similarly uninterested audiences in sixth place. The film adapts the Cyrano de Bergerac formula to a high-school setting, but is not particularly successful at it. "Poor Cyrano," says Steven Isaac of Focus on the Family. Preview's Paul Bicking objected to the "frequent underage drinking … at unchaperoned teen parties," and Holly McClure of Crosswalk.com objected to the dialogue, "saturated with little more than sex." Movieguide sums it up as "primarily sophomoric, often juvenile, [and] occasionally tasteless."
American Beauty placed seventh, jumping 27 percent in ticket sales as audiences anticipated its Oscar wins. The movie took home five trophies in all, for Best Picture, Best Actor (Kevin Spacey), Best Director (Sam Mendes), Best Original Screenplay (Alan Ball), and Best Cinematography (Conrad Hall).
The Cider House Rules, which finished ninth this week, was awarded two Academy Awards for Best Supporting Actor (Michael Caine) and Best Adapted Screenplay (John Irving). The American Life League sent out a press release chiding the Academy for rewarding Caine's character, an abortionist, and Irving, who thanked Planned Parenthood in his acceptance speech. However, two new reviews of the film disagree with the League's reduction of The Cider House Rules to prochoice propaganda. Holly McClure of Crosswalk.com named the film her favorite of the Oscar contenders. "This is one of those stories that has many facets to it and is neither black or white in its many messages," she writes. "I found it to be honest and fair in showing there are repercussions for every decision the characters make." Hollywood Jesus' recent review of the film recommends it as prime discussion fodder: "Thank you, John Irving, for giving the world so much food for thought. You have given every university class on Ethics, Law, Religion, and Civics a noteworthy story to discuss and ponder." For earlier coverage of this film's Christian reviews, which were less embracing, click here.
For previous coverage of American Beauty, which likewise split critics, click here. StudentMinistry.net recently called Beauty its favorite of the year, stating that "this movie wasn't made for some cheap entertainment value; this movie wants to show you the beauty in your life that you don't even see anymore."The hit family film My Dog Skip continues to hang around the top ten, finishing eighth this week. Christian critics have been largely supportive of the nostalgic tale of a boy and his dog; see our earlier coverage from February 2 and March 15. In tenth place was the hitman comedy The Whole Nine Yards, which many Christian reviewers found funny but even more found distasteful; read previous coverage from February 25 and March 15.Steve Lansingh is editor ofthefilmforum.com, a weekly Internet magazine devoted to Christianity and the cinema.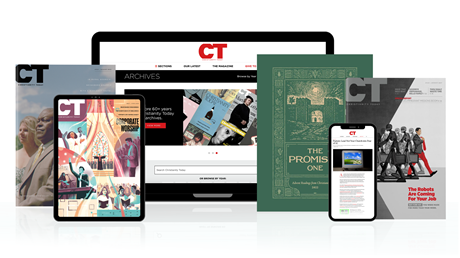 Annual & Monthly subscriptions available.
Print & Digital Issues of CT magazine
Complete access to every article on ChristianityToday.com
Unlimited access to 65+ years of CT's online archives
Member-only special issues
Subscribe
Despite the Cleavage Christian Film Critics Like Erin Brockovich
Despite the Cleavage Christian Film Critics Like Erin Brockovich