With the 72nd annual Academy Awards a mere four days away, Christian movie sites are busy sizing up Oscar's picks for 1999's best, and offering a few suggestions of their own. Opinions vary widely as to the cream of the crop, but most critics agree that last year brought an encouragingly large number of spiritually themed films to the big screen.

"I can't remember a year when God figured so prominently in the [Oscars]," writes Charles Henderson, executive director for the Association of Religion and Intellectual Life ( ARIL) and host of christianity.about.com. In addition to Best Picture nominee American Beauty, which Henderson says "conveys a sense of the ultimate worth of life itself, and the mystery that lies behind it," he praises the strong spiritual elements present in nominees The End of the Affair, Magnolia, The Matrix, Dogma, and The Hurricane. "Spirituality is big in our culture these days, so it's not surprising that this theme is reflected in our best movies."
Preview also noted the trend. "In a somewhat surprising revelation, three of the five [Best Picture nominees] feature some sort of spiritual theme"—The Sixth Sense, American Beauty, and The Green Mile, which "features a professing Christian as the main character and a theme that closely parallels the life of Christ."Spiritual themes don't necessarily translate into spiritual depth, however; those nominees were among this year's most hotly debated films in Christian circles. (Peter T. Chattaway writes in Christianweek, for instance, that The Green Mile's so-called Christ figure has "no real purpose or redemption in his death that I can discern," and chides the Academy for a lack of risk-taking in its nominations.) For more complete coverage of Christian critics' debates over the Best Picture nominees, read earlier editions of Film Forum for American Beauty,The Cider House Rules,, The Green Mile,, The Insider,, and The Sixth Sense. Most critics preferred to look beyond the scope of Oscar to choose this year's best, and in many cases circumvented the narrow Academy Award categories to reward many different types of films. For instance, Jeffrey Overstreet of Green Lake Reflections divides Best Picture honors into four different awards. The Relevance Award, "for the things it challenges us to consider, discuss, and learn from," was given to The Insider, "a powerful morality play." The Creativity Award, for imagination and innovation, was a tie between Star Wars: Episode I—The Phantom Menace and Toy Story 2. The Excellence Award, for excellent craftsmanship, went to both Toy Story 2 and The Iron Giant in another tie. The Family Award, for movies that can be enjoyed by all ages, was also split between Toy Story 2 and The Iron Giant. (Overstreet's personal favorite was The Iron Giant, a little-seen animated film about a young boy who becomes friends with a giant robot. It contains great messages for audiences, he says, yet by staying "focused on a relationship, [it] never gets reduced to a Message movie.") Movieguide, which likewise offers a variety of awards, handed out physical trophies to go with them on March 15 in Hollywood. (The ceremony will be broadcast by PAX-TV on April 9.) The Winslow Boy won Movieguide's Epiphany Prize for Film, an award given for movies that "acknowledge God, His love, His mercy and His grace." Based on the true story of a British boy whose family hires a lawyer to defend him against a petty charge, this David Mamet film "brings up provocative issues about the cost of justice." The Straight Story won Movieguide's prize for best film for mature audiences—another true story directed by a maverick filmmaker, David Lynch. The movie follows an elderly man's 360-mile trip on a riding lawnmower to reconcile with his estranged brother. The award for best family film went to Toy Story 2, the animated sequel about a group of toys who work together as a community to rescue one of their own.Not every critic decided to honor such G-rated fare, however. Matthew Prins of The Film Forum named Magnolia his favorite, due in large part to its audacious nature. "Think about the Philip Seymour Hoffman character buying porn for an admirable and—dare I say—Christian purpose [to find another character's estranged son, who advertises in Hustler]. … That, folks, is my kind of audacity." The Phantom Tollbooth's J. Robert Parks likewise honored a film mixing equal parts darkness and redemption, American Beauty. Oscar front-runners are often ignored by critics who pride themselves on free thought, but Parks says is this is one "picture that lives up to its critical hype … a profound examination of the nature of beauty and our ability or inability to find it." Another R-rated winner came from Peter T. Chattaway, writing for ChristianityToday.com; his favorite was the French drama The Dreamlife of Angels, which "articulates the differences between the other-centered life and the self-centered life."The most unusual choice for Best Movie came from Ncubator's Evan Dickens. While all the films mentioned so far were included on several Christian reviewers' top ten lists, Dickens's declaration of teen comedy 10 Things I Hate About You as his favorite movie seemed to come from nowhere. Yet the selection illustrates well Insider director Michael Mann's frustration with the awards process, which asks voters to judge vastly different genres head-to-head. "This is kind of like a competition between a pineapple and a lawn chair," he said in Entertainment Weekly. Dickens said he was "as surprised by the selection as you probably are," but just "fell madly in love with this movie and the fresh faces it introduced."Those eager to cast their own vote for the year's best should head to Preview, where polls are still open for its awards. In the Adults category, the nominees are An Ideal Husband, Autumn Tale, Felicia's Journey, Jakob the Liar, and The Straight Story. For Teens and Older, the nominees are Anna and the King, Music of the Heart, October Sky, Runaway Bride, and The Winslow Boy. Nominees for Younger Audiences include The Adventures of Elmo in Grouchland, A Dog of Flanders, Stuart Little, Tarzan, and Toy Story 2.Finally, it's worth noting that several critics said they had a difficult time ranking their favorite film this year. Choosing between a "pineapple and lawn chair" proved too hard in many cases. So those eager to rent this year's most acclaimed movies might want to follow the links in this article to read critics' full top ten lists or additional awards; in a year with so many spiritually themed films, those judged most outstanding are not the only outstanding ones.Steve Lansingh is editor ofthefilmforum.com, a weekly Internet magazine devoted to Christianity and the cinema. His list of "Ten Films that Made my Year" was published on ChristianityToday.com in January.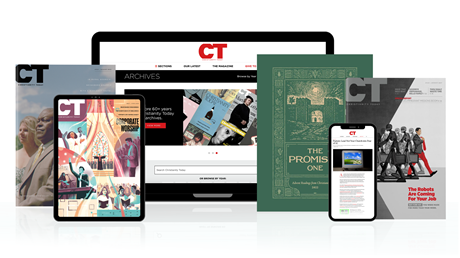 Annual & Monthly subscriptions available.
Print & Digital Issues of CT magazine
Complete access to every article on ChristianityToday.com
Unlimited access to 65+ years of CT's online archives
Member-only special issues
Subscribe
Oscar Grouches and Glories
Oscar Grouches and Glories