Christian reviews were split this week over the spiritual content in a pair of sci-fi actioners. Some critics said box-office champ Mission to Mars and the sleeper hit Pitch Black displayed God's providence, while others found only anti-Christian sentiments.

Mission to Mars ($22.9 million)
While this film is ostensibly centered on the first Martian landing in 2020 and a subsequent rescue mission to bring back a vanished crew, its marketing campaign lured moviegoers by boldly promising to reveal life's origins. And while no one suggests the movie's conjectures are correct, several Christian critics felt its speculation was antagonistic to Christianity. "Without giving away the end of the film," says Michael Elliott of Movie Parables, "let me just say that according to the filmmakers, God was not involved in the process." Movieguide is even more pointed: "The New Age premise is an attack on the essential Jewish and Christian teaching that God created life on earth." But Hollywood Jesus finds room for God in Mission to Mars. "The story overflows with the idea that the universe happened by design, and not chance. … The film is in a sense a celebration of life in the universe and its kinship." For others, these theological questions were hard to take seriously in such a lackluster production. "The most interesting question about Mission to Mars is why anyone—director, actors, producers—got involved in the first place," writes J. Robert Parks of The Phantom Tollbooth. Christian Spotlight guest reviewer Brian Wolters elaborates: "From opening to ending, it is filled with plot holes, bad acting, even worse dialogue and illogical direction." But these detractions were overlooked by those who were happy to see a tame, PG space adventure. "It is not a film about gruesome, unfriendly aliens chewing up unsuspecting space travelers," writes The Movie Reporter. "Indeed, there are no hostile beings in this film." John Evans of Preview praises it for being "more character-oriented than most sci-fi adventures," and for portraying crew members "concerned about the personal well-being of others."
The Ninth Gate ($6.6 million)
In this supernatural thriller, Johnny Depp plays a rare-book dealer assigned by a wealthy client to verify the authenticity of an ancient satanic text, which draws the unbelieving bookhound face to face with the supernatural realm. Reviews varied only between mild reproach and begrudging approval. Preview's John Evans says it truthfully depicts "the occult … as real and evil" rather than enticing, and "those who practice it [as] fraudulent or misguided." Hollywood Jesus finds another small truth in the movie: "Satan brought death to several people in the film. He does indeed have the power of death." But the lack of any positive role models to latch onto troubled several reviewers. The U.S. Catholic Conference said the "callous characters intent on summoning the devil to their midst" only made the film dull. The Movie Reporter adds that "the 'hero' is an unscrupulous fornicating nonbeliever. … What is the draw of this film?" Even on a purely aesthetic level, says Movie Parables, there's little appeal: "The unevenness must be laid at the feet of director Roman Polanski, who has chosen some questionable 'artistic' camera movements which are at once obvious, cheesy, and at times laughable."
My Dog Skip ($6.0 million)
Two new reviews of My Dog Skip saw the strong bond between young Willie and his dog as a metaphor for God's relationship with his children. "It is this unconditional love that reminds us of God's love for us," writes Movie Parables. Peter Chattaway of BC Christian News takes it a step further and posits Skip as "a sort of Christ-figure. Skip is an agent of grace in Willie's life, and there is a not very subtle death-and-resurrection motif." My Dog Skip has been popular among Christian reviewers, who have earlier praised it for strong values and feel-good nostalgia. This week found a dissenting opinion on that count, however: Childcare Action says it contains far too many objectionable elements, such as "foul language … marital friction … bully tactics, moonshining, and criminal activities including child abduction."
The Whole Nine Yards ($5.5 million)
While opening-week reaction to this moderate hit was divided, subsequent Christian reviews have settled decidedly on the negative. This black comedy, about a straight-laced dentist (Matthew Perry) who tries to squeal on a mobster-in-hiding (Bruce Willis), makes for "a dark comedy that's not funny and a love story that's not touching," according to The Phantom Tollbooth's J. Robert Parks. Christian Spotlight guest reviewer Doug Phillips was also unimpressed, calling it "another violent action film that uses impossible plot twists and bad taste jokes to cover up for a lack of creative writing." Steven Isaac of Focus on the Family found that even seemingly positive elements were undermined by a weak moral compass. The dentist "steadfastly resists his new associates' passion and lust for murder and mayhem," Isaac writes, but "more because it makes him queasy than for any moral uprightness."
American Beauty ($3.7 million)
Besides collecting another chunk of change at the box office this week, American Beauty also grabbed awards for Best Director (Sam Mendes) from The Directors Guild of America, Best Screenplay (Alan Ball) from the Writers Guild of America, and Best Actress (Annette Bening), Best Actor (Kevin Spacey), and Best Cast from the Screen Actors Guild. This Oscar contender has polarized Christian critics. For J. Robert Parks of The Phantom Tollbooth, "It showed me that if I pay attention I can catch the rhymes of God throughout his world, even in places that seem ugly and degraded." But Steven Isaac of Focus on the Family wrote that "just about everything in American Beauty—from drugs and sex to hatred and death—is sick, ugly and repulsive." Read more of our earlier coverage here.
Rounding Out the Top Ten
In sixth place was another Oscar nominee, The Cider House Rules, which has more than doubled its box-office total since the Academy Award nominations were announced. It also picked up an award this week—a Best Supporting Actor award for Michael Caine from the Screen Actors Guild. His role as an ether-sniffing, abortion-performing doctor has drawn criticism from most Christian reviewers, like Movieguide, which called it a "two-hour valentine to abortion advocates." Movie Parables, on the other hand, felt the story was more powerful than a single character: "It is hard to imagine that a movie which includes abortion and incest as prominent plot devices could be so sensitive, so delicate, so insightful and yes, even so enjoyable." To read more complete coverage, click here.
Landing in seventh place is the dark comedy about white trash, Drowning Mona. Bette Midler plays the title character, a hateful woman who drowns under suspicious circumstances, putting most everyone she knew under investigation for her murder. Most Christian reviewers were not pleased with such despicable characters and such mean-spirited humor. "Drowning Mona left me aghast," writes The Movie Reporter. "What laughs there were depended on crudity, spousal abuse, and gruesome sight gags, including dismemberment." Movieguide concurs: "This spoof of a trashy town only highlights the crude joking and harsh belittling." Preview's Paul Bicking adds that "the story is filled with poor role models." The movie did tickle some people's funny bones more than others, though. "Although mean-spirited in tone, the movie humorously captures the essence of a motley crew of crass hicks," writes the U.S. Catholic Conference. Christian Spotlight guest reviewer Gabe Rodriguez agrees, calling it "funny and entertaining (albeit rather offbeat and twisted)." But no one had much praise for the film's detective angle: Movie Parables notes that "as a mystery, Drowning Mona disappoints on many levels."
Criticisms were even more harsh for eighth-place finisher The Next Best Thing, which sees a gay man (Rupert Everett) accidentally impregnate his straight best friend (Madonna) and then raise the child with her. Steven Isaac of Focus on the Family writes that "the entire point of The Next Best Thing is to expose the general public to the ideas and passions of the gay community. And it shamefully uses a child as its lynchpin." Preview's Mary Draughon, however, says the film is so full of wayward characters that everyone looks bad. "If the film's goal is promoting homosexuals as strong parent role models, it fails miserably. … Although professing love for him, three adults subject a child to immeasurable suffering in a bitter court battle." The U.S. Catholic Conference agrees, saying the "earnest portrayal of a loving if unconventional family is flawed by … plot contrivances." The Movie Reporter also finds offensive its "anti-Christian comments, with several put-downs to organized religion."
No new reviews were available for Snow Day, which took ninth place this weekend. Previous reviews, which can be found here, said the movie was only mildly entertaining and presented some bad role models for children.
The spiritual content of Pitch Black, the sci-fi thriller that finished in tenth place this week, occupied most of its new reviews. Movieguide praised the film's "references to God, a Muslim who talks about the importance of praying to God, a character who sacrifices [his] life to save others, redemptive dialogue, and a symbolic resurrection. [It] has a strong redemptive motif and some moral elements to temper its R-rating." Focus on the Family's Tom Neven reins in the enthusiasm a bit, saying "a movie is ultimately the sum of its parts. … Unnecessary foul language and violence taints what could have been a great movie with a truly moral message." Still, Neven notes, characters do exhibit self-sacrifice and courage, and that even when ridiculed, the Muslim "never loses his faith." Taking the opposing view is Childcare Action, which felt the movie sided more with the ridiculer than the holy man: "There was a distinct and inescapable presence of programming to form the viewer's grasp of faith and God." Childcare Action was also critical of the movie's artistic qualities, calling it "a so-so sci-fi flick with so-so acting and so-so script." Gabe Rodriguez, guest reviewer for Christian Spotlight, agrees: "The performances are mostly not much more than cardboard. … The script is only mediocre, and its dialogue is classic of B-movies."
Beyond the Top Ten
Reindeer Games has come and gone from the top ten list since our last Film Forum—and it's not hard to see why from reading the Christian reviews, which find the movie lacking in moral worth, artistic sensibility, and entertainment value. The thriller, about a reformed ex-con (Ben Affleck) forced to plan a casino robbery, is overly dependent on its plot twists, says Bob Smithouser of Focus on the Family: "The characters' motivations end up serving the demands of the contrived script rather than rational human behavior." Movie Parables agrees, saying that "the implausibility of the plot and the gaping holes in the logic win out. … It is not a movie that gets better upon contemplation." For others, the violence was more disturbing. "This is a gruesome movie," writes The Movie Reporter. "Not only is it filled with violent and often gory images, but also unsavory people, continuous filthy language, and a malevolent atmosphere." Even the main character succumbs to the seediness: "We must endure two hours of mindless violence with only half of a hero to cheer for," says Doug Phillips, guest reviewer for Christian Spotlight. Movieguide says it expected better of famed action director John Frankenheimer, who "has traded in the real deal for a cartoon copy of a thriller."
Reviewers were more fond of Wonder Boys, another film that's dropped out of the top ten since our last article. While no one raved about the film, many praised the movie's odd sense of humor and Michael Douglas's performance as a weary, weed-addicted college professor whose professional life, love life, and inner life come to a crossroad in one weekend. "Douglas gives one of the best performances of his career," says The Phantom Tollbooth's J. Robert Parks. "His weary, stubble-faced professor, dressed in an old robe and worn coat, is pitch-perfect as a man faced with both opportunities and setbacks." Movie Parables says director Curtis Hanson is also pitch-perfect: "Giving credit to [Hanson] and his talented cast, this frenetic, somewhat scattered story line is cogently told with no small amount of humor." But for others, like Christian Spotlight guest reviewer Halyna Barannik, the tone isn't enough to hold the film together. "Despite the funny moments, this is a movie that is ultimately empty and disappointing. … [It] borders on forgettable." Movieguide concurs, saying that "despite the movie's few laughs, the absence of morals leaves one wondering what the point is." Steven Isaac of Focus on the Family dislikes the way the movie "meanders haplessly, bumping against the furniture of senselessness." He says all we're left with is a "despairing, brooding and melancholy look [at] a stoned man leading his students down the path of destruction on an intellectual leash." But Jeffrey Overstreet of GreenLake Reflections urges moviegoers to look deeper than the surface characteristics. "Movies like this can teach us to … see charming and likable people instead of walking moral insults. … It reminded me of my college experience, my damaged friends and damaged professors alike, who learned to love me in spite of my own reckless and foolish choices."Our last film never made the top ten, but Christian critics chose to write about it anyway.
What Planet Are You From? is a relationship comedy written by and starring Gary Shandling, who plays an alien sent to earth to impregnate a human female. No one was very fond of the movie, especially considering that it wasted quite a bit of potential. "This salacious material," says Movie Parables, "which presumably is designed to poke fun at the difference between the sexes, is so heavy-handed in its approach as to be insulting to both men and women." Movieguide agrees, calling it "a crude comedy that wastes its talented cast on one puerile sex joke after another." Even when the movie could eke out a compliment, it was immediately followed by a balancing criticism: "The movie was actually quite funny," writes The Movie Reporter, but "the language and adult situations make it inappropriate." "The film seems to promote marriage before having children," says Preview's Paul Bicking, but "a married co-worker … finds adulterous sex more stimulating." "Not that Planet is a terrible movie," offers J. Robert Parks of The Phantom Tollbooth, "but it's not a successful one." The U.S. Catholic Conference simply left it at "laughless and tasteless."
Steve Lansingh is editor of thefilmforum.com, a weekly Internet magazine devoted to Christianity and the cinema.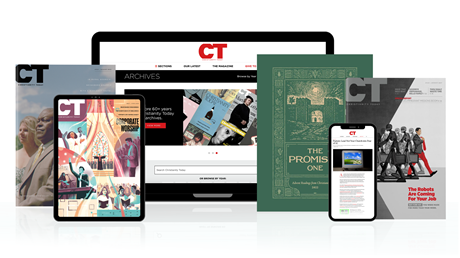 Annual & Monthly subscriptions available.
Print & Digital Issues of CT magazine
Complete access to every article on ChristianityToday.com
Unlimited access to 65+ years of CT's online archives
Member-only special issues
Subscribe
Mission to Mars Explodes on Launchpad
Mission to Mars Explodes on Launchpad