Two Turkish Christians arrested March 1 while selling and distributing Christian literature near the southern port city of Izmir were refused bail, pending a court hearing scheduled for March 30. Ercan Sengul, 38, and Necati Aydin, 28, were taken into custody late on the afternoon of March 1 by gendarme officers in Kemalpasa, a town on the eastern edge of Izmir. Both men are employees of the Kaya Publishing Company, registered in Turkey as an official book distribution company since January 1996. Charges pressed against the two men by state prosecutor Mustafa Caymaz accused them of forcing people to accept Bibles and of insulting Islam. Based on identical complaints made by three local residents of Kemalpasa, the allegations were said to have violated articles 64 and 175 of the Turkish Penal Code forbidding derogatory statements against another religion.Both Sengul and Aydin are baptized Turkish converts to Christianity who had changed their religious identity from Muslim to Christian on their permanent identity papers.According to Istanbul attorney Suleyman Dirin, lawyer for Kaya Publishing, the refusal by Judge Levent Akcali to release his clients on bail was "a very prejudiced decision.""Unfortunately," Dirin told Compass, "in Turkey some people are mixing politics and religion."In a report submitted to the prosecutor's office March 7, local Muslim Mufti Omer Solgu declared that he had been requested to examine the books, tapes and videos confiscated from the two prisoners.Although the Islamic cleric admitted he found nothing objectionable against Islam in the materials, Solgu devoted five paragraphs to an analysis of some sermon notes jotted in Aydin's personal notebook regarding the meaning of "Allah," "Jehovah," and other names for God.The mufti concluded that Aydin's notes, which were dated last May, constituted "the essence of falsehood and slander against religion."Dirin was granted permission to visit the two men, who had only been allowed half-hour visits last Friday with their wives. The attorney said the men were in better spirits and condition than he had expected, after being incarcerated for a week. They have been separated, although both are being held in group cells with some 30 other prisoners.The two arrested Christians are members of the Izmir Fellowship of Jesus Christ, which was subjected to a harsh police raid last September. Some 40 of its members were arrested and the church building sealed for more than three months. The congregation resumed public worship in late December, although court cases are still pending to clarify its legal zoning status."These are mature believers who would never be forceful," protested Pastor Zekai Tanyar after he learned of the arrests. "They know very well not to insult other people, let alone their beliefs.""We can understand the authorities investigating a complaint or even opening a court case if they so choose," Tanyar told Compass. "But to keep these men in prison for a month on such a charge is ridiculous. They are not some violent criminals who need to be kept behind bars."The two Christians' arrests came the day after a nationwide investigative TV show devoted its full 90-minute program to a report on "Christian missionary sects." Screened February 29 on Channel D, Ugur Dundar's "Arena" show featured brief clips of Turkish Protestant believers filmed with hidden cameras.Muslim theological faculty member Professor Yasar Nur Ozturk gave guest commentary in the show, labeling the secretly filmed comments from Protestant believers as "crazy nonsense" and describing the underlying dangers and threats of such "sects.""Presenting Christianity in the 'Arena' program in this manner as a threat has caused a sorrowful reaction among all the Christians living in Turkey," commented the Armenian weekly Agos on March 3.One employee of the Turkish Bible Society who appeared in the "Arena" report was taken into custody from his place of work in Istanbul the following day. He was released after being held overnight for questioning by police authorities.Two other Turkish Christians featured in the "Arena" report have since received a number of threatening telephone calls from unknown individuals. One believer told Compass that his callers insulted and cursed him, vowing to kill him unless he paid them huge bribes. Some of the Christians identified in the show have temporarily left their homes to avoid harassment or possible police detention.Copyright © 2000 Compass Direct. Used with permission.
Related Elsewhere
See our earlier coverage of religious persecution in Turkey, " 70 Christians Arrested While at Church" (Nov. 15, 1999)The U.S. Department of State's Annual Report on International Religious Freedom for 1999 gives more background on religious freedom in Turkey.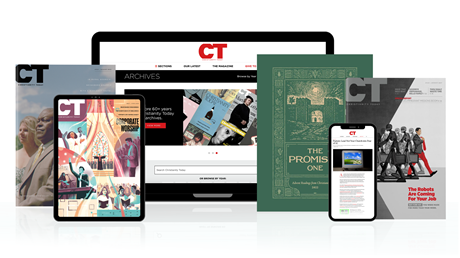 Annual & Monthly subscriptions available.
Print & Digital Issues of CT magazine
Complete access to every article on ChristianityToday.com
Unlimited access to 65+ years of CT's online archives
Member-only special issues
Subscribe
Two Turkish Christians Jailed
Two Turkish Christians Jailed