for a growing number of Christians, a night out at the movies is more than mere entertainment—it's an avenue toward ministry. Past Christianity Today articles have highlighted David Bruce's outreach to seekers at Hollywood Jesus and Doug Cumming's mission to ministers at Movies and Ministry. This week in Film Forum we're forgoing our usual summary of Christian film reviews to focus on another critic using movies to minister: Christian artist Jeffrey Overstreet, whose GreenLake Reflections reviews help serve other artists.Overstreet feels a burden for Christian artists who have not been accepted by the church. "Artists have unique visions and voices, but the church often tells them that their art is only valuable if it serves some practical purpose for the church or if it blatantly advertises Jesus." Instead, he believes, artists must be true to their own experiences of the world. "An artist's focus should not be on the audience, but on encountering and manifesting the subject of his or her attention as fully as possible." If artists do their job well, he says, an art work then "invites others to explore and to find the same insights—sometimes to discover greater or altogether different insights."Overstreet uses his role as a critic to give the church an example of how to be a responsive audience of art. He places a large importance on the artistic excellence of a film, even assigning a separate letter grade to each movie for craft. "In the film Chariots of Fire," says Overstreet, "Eric Liddell's father tells him 'You can praise God by peeling a potato if you peel it to perfection.' … It's our job as Christian thinkers to test [art], lift up what is excellent, and give glory to the Creator."Excellent art, he says, will reveal meaningful insights for Christians regardless of the artist's intended meaning. "Good stories are never about one simple moral—they're full of insights to discover. … We are drawn to stories from Cinderella to Star Wars because there are fundamental principles illustrated there that ring true with our experience. … The more carefully I watch [films], the more I find meaning and affirmations of God's truth in them, even in those not made by Christians." Such truths might take a while to discern, he says, but that's part of an artistic encounter. "An excellent movie takes a long time to digest. So I often label my movie reviews as first, second, or third draft. I may change my reviews over time. It's only honest and fair to the artists that made the movies." Hollywood's offerings also offer Overstreet a chance to teach the church how to recognize and reject bad art. "Sentimentalism and emotional manipulation … dominate most American movies," he says. "A lot of movies offer easy answers to tough questions, and they don't challenge us or help us understand our world any better."Overstreet's online film criticism is only one facet of his commitment to help Christian artists. He's involved with Green Lake Presbyterian of Seattle, which hosts his Web site and includes the arts as a valid form of worship. The church has started "hosting art events called 'Gallery Nights,' during which they turn the sanctuary into an art gallery. Visitors who might not otherwise come to church walk through and find reminders of God in works of beauty." Later this month, Overstreet will host his first movie-discussion night at the church to encourage dialogue about art. The church's Web page says such dialogue is a necessary ministry in a city defined by creative art. "We want to enjoy and be a part of affirming and redeeming the human capacity to create. We seek to bring this city's passion for music and art and theater and our community of faith together like friends."The planned film night is cosponsored by another ministry Overstreet works with: Promontory Artists. The group started in the early '90s when he was a student at Seattle Pacific University, as "a sort of support group for sci-fi writers. Out of that grew another group with a larger vision for supporting all kinds of artists." The growth of the Internet has allowed artists around the country to feel less alone in their struggles. "Because artists often work in creative isolation," the Web site says, "Promontory strives to provide that sense of connection and encouragement … [and] have a forum for ongoing dialogue." Overstreet explains that Promontory's ultimate goal "is to have a facility of our own—a retreat and convention center for education, artmaking, and, frankly, escape." But for now, Promontory is starting small. "We're offering counsel and direction to artists through e-mail; they can write to us with questions and for networking assistance. … We also host all kinds of activities in Seattle: film discussion nights, special speaker events, artist getaways."Promontory Artists also offers free subscriptions to its magazine, The Crossing, which Overstreet writes for and edits. "Hopefully an issue of The Crossing will encourage artists and others to learn from other artists' experiences in their work." Each issue includes an artist's forum, asking artists of all disciplines a question about their work, such as "How do you handle criticism?" or "Why do you feel the need to create?" Overstreet contributes essays about his own struggles and victories in his work as a fantasy novelist. The magazine also includes a "signposts" section, directing Christian artists to "rewarding resources and exemplary artwork." Like Overstreet's film reviews, the magazine seeks to "cultivate excellence in the arts, reminding ourselves that Christians are responsible to the highest standards of excellence in any discipline, as exemplars of God's perfection."
Steve Lansingh is editor of thefilmforum.com, a weekly Internet magazine devoted to Christianity and the cinema.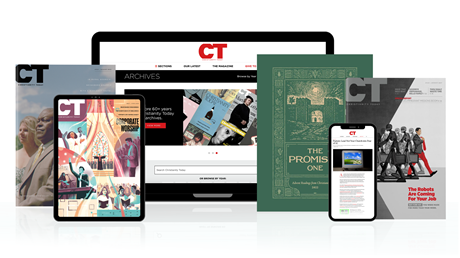 Annual & Monthly subscriptions available.
Print & Digital Issues of CT magazine
Complete access to every article on ChristianityToday.com
Unlimited access to 65+ years of CT's online archives
Member-only special issues
Subscribe
Recognizing Art as Worship
Recognizing Art as Worship