A week ago today, the lead stories in the Chicago Tribune included President Clinton's visit to India and the demonstrations in Taiwan by supporters of the Nationalist Party, defeated the day before at the polls. These and dozens of others stories, international and local, tragic and ridiculous, made up the usual crazy quilt of The News. Some days, though, in this seeming hodgepodge, there is a hidden plot of sorts: a network of connections that constitutes a story nowhere explicitly told.

On the front page of the
Tribune
for March 20, below the political news, a headline read: "Darwin reaches final frontier." (Connoisseurs of Darwinism in the news will note the recourse to personification, with its burden of purpose and intent, so hard for humans making sense of things to avoid, even when describing a process that is supposed to be directionless, purposeless.) "Molecular evolution revealing its secrets," the subhead proclaimed, next to a photo of Chung-I Wu, chairman of the University of Chicago's department of ecology and evolution, standing in front of a board scribbled with graphs and equations and scratching his head thoughtfully.The article that follows, by
Tribune
staff writer Jeremy Manier, provides the necessary context, describing "evolution on the molecular level" as "an astoundingly complex drama that has only recently begun to reveal its deepest secrets to biologists armed with gene sequencers and supercomputers." They are reading the history that is "burned directly into the human genome." And Manier explains how scientists hope to use this new knowledge as a weapon against disease—AIDS, for example.Next to the Business.Technology section, where the front page for March 20 featured a story of Stephen Wolfram, whose Mathematica software has been used for an enormous range of applications. "Turning science on its ear," the headline reads: "The vast complexity that can be generated from repeatedly following simple instructions fascinates Stephen Wolfram. So taken with this phenomenon is Wolfram that he's worked for nine years on computer experiments and is using his findings to rewrite the way fundamental science is done."To understand how Wolfram hopes to accomplish that, you must read the story, by
Tribune
staffer Jon Van. What's interesting for our purposes is the connection between the two stories, between research into molecular evolution and Wolfram's "cellular automata," computer simulations intended to "mirror the way the laws of nature work," and "founded on the theory that the complex and seemingly random elements in our world are created by a small set of relatively simple rules."And finally to the back pages of section 1, where a Reuters story, "Microchip implant lets paraplegic walk in France," tells how a 39-year-old Frenchman, paralyzed in a car accident, has had nerve functions restored by a microchip implant, which when activated by buttons on a walking frame sends impulses that stimulate his leg muscles.Taken together—and read in full, not merely in summary—these three stories suggest a larger story, the outlines of which go something like this: The coming years will bring new knowledge about the continuity of human beings with other living things, on the one hand, and with machines, on the other. Neither of these themes is new of course—not at all. But the depth and intricacy of the knowledge, and the range of its practical applications, will be startling.And some will use this knowledge—indeed, already
are
using it—to argue that the traditional Western understanding of the human person, which is largely the Christian understanding, must be consigned to the scrapheap. No challenge will be more significant for the church in the next decades.
John Wilson is Editor of Books & Culture: A Christian Review.
Related Elsewhere
Visit Books & Culture online at BooksandCulture.com or subscribe here.The articles " Darwin Reaches Final Frontier," " Turning Science on its Ear," and " Microchip Implant Lets Paraplegic In France Walk" are still available at the Chicago Tribune site.Books & Culture Corner appears Mondays at ChristianityToday.com. Earlier Books & Culture Corners include:Peace Be With You | Looking beyond naivete and cynicism about peacemaking at Wheaton's Christianity and Violence conference (Mar. 20, 2000) Putting the Poor on the National Agenda | Ron Sider's timely proposals. By Amy L. Sherman (Mar. 13, 2000) "To Know the Universe" | Well, sort of. By John Wilson (Mar. 2, 2000) Guelzo's Lincoln Book a Winner | Established by Richard Gilder and Lewis Lehrman to honor the best historical work each year on Lincoln and the Civil War era, the prize is now in its tenth year. By Allen C. Guelzo (Feb. 21, 2000) Nancy Drew and the Wine-Dark Sea | The importance of good literature—and how to get young people to read it. By Sarah Cowie (Feb. 14, 2000) Spring in Purgatory: Dante, Botticelli, C. S. Lewis, and a Lost Masterpiece | The most popular illustration of Dante's "Divine Comedy" has remained effectively "lost" for 500 years—although millions have seen it and admired it. By Kathryn Lindskoog (Feb. 7, 2000) Playwright, Dissident, Czech President … Who Is This Man? | A new biography of Václav Havel fills in important blanks, but omits his theology. By Jim Sire (Jan. 31, 2000)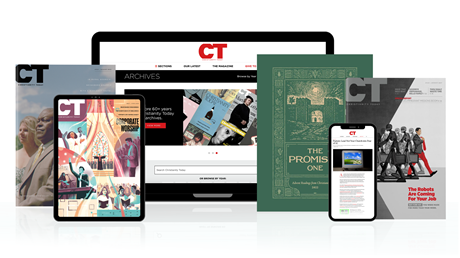 Annual & Monthly subscriptions available.
Print & Digital Issues of CT magazine
Complete access to every article on ChristianityToday.com
Unlimited access to 65+ years of CT's online archives
Member-only special issues
Subscribe
I Read the News Today
I Read the News Today