When Christians gather to talk about war and peace, the ensuing discussion tends to veer either toward naïve pieties about Christians as peacemakers or toward cynical worldliness and accommodation. Last week, March 15-17, Wheaton College's Center for Applied Christian Ethics (CACE), with support from the Pew Younger Scholars Society of Wheaton College, held a conference on "Christianity and Violence" that sought to go beyond these superficial alternatives. While liberation from the old formulas was not complete, the conference succeeded to a remarkable degree in achieving that goal.

Ken Chase, director of CACE, assembled a stellar roster of participants, including, among others, Glen Stassen (peace activist and editor of
Just Peacemaking: Ten Practices for Abolishing War
), Regina Schwartz (author of
The Curse of Cain: The Violent Legacy of Monotheism
), Richard Mouw (president of Fuller Theological Seminary, who gave a superb paper on violence and the atonement), historian Mark Noll, and theologians Miroslav Volf, Stanley Hauerwas, and John Milbank.Hauerwas did not disappoint those who came prepared to relish his provocations. But his most useful intervention, made in a dialogue with Milbank following their lectures, was a gesture of reconciliation. He said Christian pacifists need to learn how to respect and honor their fellow believers who
conscientiously
dissent from pacifism (while stressing that in his judgment, such conscientious dissent is not the rule). The same, of course, goes for the other direction. This may seem a rather small matter, but in fact such mutual respect among Christians who disagree about recourse to violence has been sadly lacking—a lack evident even at the conference in the responses of some students, who clearly found it hard to imagine how one might respect a Christian who is not also a pacifist. (In a different setting, not a college campus, the problem could be just the reverse: a crowd of young Christians might jeer at the very idea of pacifism.)The freshest and most striking contribution was Milbank's paper on violence and spectatorship. Milbank observed that by and large in the developed world we experience violence in the form of "recorded violence," whether via the news or the fictional drama of movies and television or even the familiar "nature shows." And while we flatter ourselves that we are enlightened, nonviolent moderns (not like those atavistic folk in the Balkans, with their simmering ancestral hatreds), Milbank suggested that in fact this detached viewing, without any possibility of actual involvement, is of the very essence of violence. To "look on" in this way is to experience a powerful illusion of control which acts on us like a drug.To recognize the violence of spectatorship is to recognize that violence is not limited to the realm of cruise missiles and police brutality. It is far more pervasive than that. But at the same time, as several of the speakers insisted, peace is yet more pervasive than and ontologically prior to violence, so that to "make peace" is the business of every one of us, every day, so long as we seek to follow the will of God for us and all of his creation.
Related Elsewhere
Visit Books & Culture online at BooksandCulture.com or subscribe here. The Center for Applied Christian Ethics's Web page on Christianity and Violence includes speaker bios, a conference schedule, and other information. Tapes of the conference are likely to be available soon.Rodney Clapp interviewed Stanley Hauerwas for the November/December 1998 issue of Books & Culture.Books & Culture Corner appears Mondays at ChristianityToday.com. Earlier Books & Culture Corners include:Putting the Poor on the National Agenda | Ron Sider's timely proposals. By Amy L. Sherman (Mar. 13, 2000) "To Know the Universe" | Well, sort of. By John Wilson (Mar. 2, 2000) Guelzo's Lincoln Book a Winner | Established by Richard Gilder and Lewis Lehrman to honor the best historical work each year on Lincoln and the Civil War era, the prize is now in its tenth year. By Allen C. Guelzo (Feb. 21, 2000) Nancy Drew and the Wine-Dark Sea | The importance of good literature—and how to get young people to read it. By Sarah Cowie (Feb. 14, 2000) Spring in Purgatory: Dante, Botticelli, C. S. Lewis, and a Lost Masterpiece | The most popular illustration of Dante's "Divine Comedy" has remained effectively "lost" for 500 years—although millions have seen it and admired it. By Kathryn Lindskoog (Feb. 7, 2000) Playwright, Dissident, Czech President … Who Is This Man? | A new biography of Václav Havel fills in important blanks, but omits his theology. By Jim Sire (Jan. 31, 2000) An Open Letter to the U. S. Black Religious, Intellectual, and Political Leadership Regarding AIDS and the Sexual Holocaust in Africa (Jan. 24, 2000) Tony Blair's Devolution Revolution | Paving the way for peace in the United Kingdom. By Michael LeRoy (Jan. 17, 2000) Loving the Alien, in Sickness and in Health | Too many recipients of health care today feel neither tolerated nor entitled, let alone loved. By Diane Komp (Jan. 10, 2000)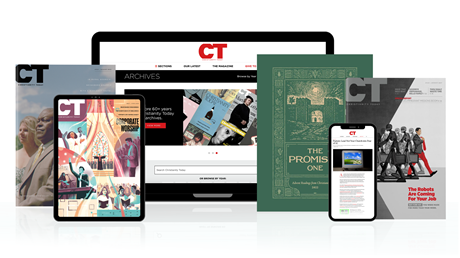 Annual & Monthly subscriptions available.
Print & Digital Issues of CT magazine
Complete access to every article on ChristianityToday.com
Unlimited access to 65+ years of CT's online archives
Member-only special issues
Subscribe
Peace Be With You
Peace Be With You