This week's new films, Scary Movie and The Kid, each reflected a prominent trend in Hollywood. The horror spoof Scary Movie joined the wave of raunchy comedies like American Pie and There's Something About Mary—and likely extended the trend for several years by posting the biggest R-rated opening ever. Meanwhile, The Kid's promotion of friendship and family over wealth and power reflects an industry-wide transition that Premiere magazine says has "top producers punch[ing] the clock only three days a week in order to have more time at home with their children."
What's Hot
Just weeks after the failure of Me, Myself & Irene made it seem audiences were no longer interested in gross-out humor, Scary Movie proved otherwise, collecting a massive $42.3 million. But the Dove Foundation's Phil Boatwright agrees you'll get your money's worth only if you "enjoy mean-spirited, crude humor," calling the film "perhaps the grossest I have ever seen. In my opinion, this film is nothing more than verbal and visual sludge." Its skills in lampooning the horror genre also fell under attack. "As a spoof, [it] fails miserably," writes Michael Elliott of Crosswalk.com. It makes only the "obvious references to the Scream series, I Know What You Did Last Summer, The Sixth Sense, and The Matrix, [without] offering an intelligent satire." The U.S. Catholic Conference likewise calls it "a poor pastiche of several horror films," and Childcare Action says the scattershot approach of its film references left it with "no plot, no theme, and no sense." A couple reviewers admit to laughing; John Adair of Preview disapproves of the film but found it often "funny and clever" as it "piles joke upon joke for 90 minutes straight." HollywoodJesus' David Bruce calls it "a fun way to laugh at our own fears." Fear, he notes, is an increasing problem in America. "Consider television and newspaper accounts of isolated murder. With crime so low such events receive enormous coverage which keeps the fear of crime high. … Too many of us fear strangers, and we lock our selves away in the isolation of our homes." Such anxiety means we are trusting in ourselves rather than in God, Bruce says, who "has not given us a spirit of fear, but [of] peace."
Following that train of thought, Childcare Action criticized The Perfect Storm for capitalizing on our anxieties. This true story of a fishing boat caught in a horrible storm features "long sequences of rescue perils and mortal dangers [that] might plant undue fears." HollywoodJesus, though, describes the film as a good example of how to live without fear, as the crew does. "Captain Billy Tyne is at peace, relaxing optimistically. … We all know his tomorrow will be chaos under stormy skies in a tempest ocean. [But] better to enjoy today and not worry about tomorrow, Jesus once said." Not everyone agreed that the captain was admirable, though; Greenlake Reflections' Jeffrey Overstreet says Tyne's rash entrance into the storm reveals the "arrogance of men who can't listen to reason," and mainstream commentator Charles Fleming of Mr. Showbiz calls him "a perfect jerk with a moral compass bearing only the twin poles of greed and ego." Such unsympathetic characters led Christian Spotlight guest reviewer Thomas Quinlen to quip, "As the title suggests, the only interesting character is the storm."
What's New
The Kid is a comic fantasy about a middle-aged image consultant, Russ Duritz (Bruce Willis), who meets himself as an 8 year old (Spencer Breslin). His younger self can't believe the kind of shallow person he turned into, while the elder version is pained to remember the troubled childhood he spent a lifetime outgrowing. Crosswalk.com's Holly McClure calls it "a wonderful story full of human emotions and scenes that are entertaining, original and truthful," and Preview's Mary Draughon says it's a "thought-provoking story [with] uplifting messages." The Dove Foundation adds "clever, charming and funny" to the list of accolades, and Movieguide praises it for avoiding a salvation-through-psychology bent, since it "manages to overcome its reliance on psychological solutions to life's problems." Michael Elliott of Crosswalk.com focuses on the film's anti-materialistic subtext: "It is interesting that it takes a child to ignore the physical affluence of Russ's lifestyle and recognize that despite all his expensive adult 'toys,' in his heart, Russ is still unhappy. … We need to be reminded from time to time that money is not the way to happiness." Isn't that message a little hypocritical coming from Willis, who pocketed $20 million for chance to say money doesn't matter? Not according to the director, Jon Turteltaub, who states in Premiere that The Kid really shows money to be less important than other things. "If the movie said that money didn't matter at all, that would be hypocritical," Turteltaub says. "It would also be hypocritical if the people making the movie weren't asking themselves the question the characters are asking, Which is simply, 'What's the meaning of life? … Is this what I want? Am I doing anything valuable with my life?'" Turteltaub's comments are included in an article that reports the movie industry's growing emphasis on humanity over profit-making. "No one is contemplating trading in their BMW 750 for a Tercel," writes senior editor John Horn, "yet rather than whip out a picture of their ski-in, ski-out Park City home, today's movie executive is more likely to show off a snapshot of little Anthony or Natalie." Unfortunately, say a few Christian critics, Hollywood still needs practice communicating these sentiments without schmaltz. The U.S. Catholic Conference calls The Kid downright "sappy," and Bob Smithouser of Focus on the Family says it's "sweet, upbeat and benign, yet curiously unsatisfying. It's an after-school special posing as $8 entertainment."
Set during the Spanish Civil War in 1936, the Spanish-language drama Butterfly focuses on a young boy who befriends his teacher, but is pressured by his parents to turn against him after politics land the educator in trouble with authorities. Christian reviews disagreed about the motivation behind the characters' betrayal. Movieguide complains that "religious Christians are the villains in this movie," since the Roman Catholic mother "eggs on her husband and her children" to turn against their friend. "Butterfly is a well-made piece of secular humanist propaganda that obviously displays a hatred toward the Roman Catholic church." Preview' s John Adair, however, was happy with the film, calling it "a treat for audiences" that provides a "thought-provoking story." He attributes the boy's about-face to the father, who acts as he does because "his responsibility lies in protecting his family. Survival with differing political views creates a unique strain and forces choices that are often tragic."
What's Noteworthy
The Five Senses, which won the Best Canadian Feature Film award at the last year's Toronto International Film Festival, is starting its American run in New York and Los Angeles. It focuses on five people (each infatuated with one of the five senses) whose stories are intertwined by the disappearance of a young child in the building where they all live or work. Movieguide calls it "an intricately plotted, engrossing story of friends, lovers and families [who] search for more meaningful relationships." Even the film's homosexual, bisexual, and cross-dressing elements don't dampen Movieguide's enthusiasm for the film's expression of hope. "The movie leaves the audience with a sense of faith in people and even a generic faith in God. In fact, God answers an important prayer from the mother of the missing child. Thus, The Five Senses is a movie about trusting in God as well as trusting in life and love." Mainstream reviewers have also noted the film's transcendent quality. Dan Jardine of Apollo Guide says "out of the material we spy the spiritual, as each character's obsessions reveal intimate secrets about their essence." Jardine uses the movie to ask, "If you could retain but one sense, which would it be? Your choice would reveal the seat of your passions and ultimately more than a little bit about your soul."
Steve Lansingh is editor ofthefilmforum.com, a weekly Internet magazine devoted to Christianity and the cinema.
See earlier Film Forum postings for these other movies in the box-office top ten: The Patriot, Chicken Run, Me, Myself & Irene, Shaft, Big Momma's House, The Adventures of Rocky and Bullwinkle, and Gone in 60 Seconds.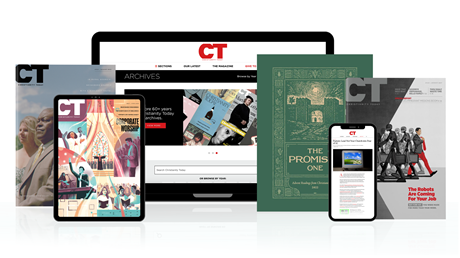 Subscribe to Christianity Today and get access to this article plus 65+ years of archives.
Home delivery of CT magazine
Complete access to articles on ChristianityToday.com
Over 120 years of magazine archives plus full access to all of CT's online archives
Subscribe Now
Are Hollywood Execs Focusing on their Families?
Are Hollywood Execs Focusing on their Families?