The following remarks were prepared for Clayton Bell's memorial service yesterday at Highland Park Presbyterian Church.Clayton Bell has been our beloved leader at Christianity Today. For 25 years I've experienced his faithfulness, wisdom, commitment—and marvelous sense of humor. A month ago Paul Robbins and I flew to Dallas to confer with Clayton on major CTi changes. As usual he gave wise counsel, lots of encouragement and some great stories. Often we've sat in Clayton's office during crisis or opportunity, strategizing and seeking God's will. I was always impressed by the books on his shelves, hundreds of them, not just on theology but many disciplines. Books deep, informed and hopeful. Like Clayton.We could always count on Clayton to do whatever it took. A few weeks ago, because of a change of plans, Clayton volunteered to fly standby to our Chicago board meetings. He ended up sitting here at the airport for hours, but no complaints. When he finally arrived at our meetings, despite fatigue, his huge smile was intact.Many of you know that Billy Graham and Clayton's father, L. Nelson Bell, together founded Christianity Today. In its nearly fifty years of distinguished history, only three men have been chairman: the renowned Harold Ockenga, Billy Graham, and Clayton Bell. Clayton gave us vital leadership during years of steady growth as we added many magazines and developed a major Internet site. Clayton has truly honored his father's legacy!Many of us remember Clayton's joyous retirement dinner just this past January. I was privileged to sit with the family, and I thought, how remarkable! What a heritage this family has! And what a remarkable church he and Peggy have led. Such joy and blessings come only from long-time faithfulness. He and Peggy have modeled the life of faith extraordinarily well.When we heard of Clayton's death, my wife Jeanette grieved especially for Peggy, whom she loves, and she said how much she would miss Clayton. "He always listened to me, always showed a deep, genuine, personal interest."Many of you who sit here this afternoon would say exactly the same. He modeled his Lord's command to "love one another." And, of course, that included his family. At the recent board meeting, he readily shared those photos of his beautiful, new grandbaby.Clayton's many honors have been richly deserved and his leadership in the Presbyterian renewal movement has borne important fruit. Yet it was costly. When he was going through deep pastoral waters here in Dallas, I remember his saying how traumatic the adversity was—yet he also felt a renewed power in his preaching. He remained faithful whatever the circumstances, abounding with confidence in God's grace.Some years ago, when a Christian leader with large national responsibility fell into sin and had to resign his position, Clayton got on a plane here in Dallas, flew across the country, rented a car and drove many miles to minister to this man and his wife. After that visit, he wrote me a letter, a remarkable window into Clayton the pastor. He listened to this couple in despair and wept and prayed with them. He saw their godly sorrow and repentance, and he outlined much biblical wisdom—for them and for us. His love and care helped this couple return to fruitful ministry.Clayton wrote after that visit: "I left as emotionally drained as I can ever remember being, yet with the deep conviction that our lord was there. I also left with a sense of contentment. … I was exhilarated over the work of God's forgiveness and grace that is greater than all our sins."That was Clayton. Aware of doing the Lord's work, and exhilarated over God's forgiveness and grace. His book Moorings: Anchor for a World Adrift, outlines bedrock beliefs. His emphasis was grace, and a realistic faith that took sin seriously, but God's redemptive power as greater than all our sins. He brought joy and faith to us, and we can all rejoice in the hope he so faithfully proclaimed, and which he is now so vividly experiencing.Harold Myra is Executive Chairman and Chief Executive Officer of Christianity Today International, a nonprofit organization that publishes 12 magazines, including Christianity Today.
See today's related obituary,
" Clayton Bell Dead of a Heart Attack at Age 67 | Long-time Dallas pastor and chairman of Christianity Today International's Board of Directors stricken at Montreat, North Carolina."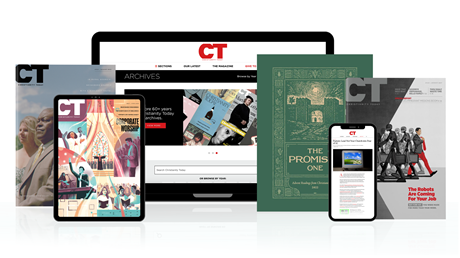 Subscribe to Christianity Today and get access to this article plus 65+ years of archives.
Home delivery of CT magazine
Complete access to articles on ChristianityToday.com
Over 120 years of magazine archives plus full access to all of CT's online archives
Subscribe Now
Remembering Clayton Bell
Remembering Clayton Bell