"Some of us could wish that theology had received a little larger role in the program," said a Christianity Today editorial after the Amsterdam 86 conference of itinerant evangelists. That concern is being answered resoundingly at Amsterdam 2000. Theology and doctrinal training has dominated the first two days of the conference of preaching evangelists (broadened from the itinerant-emphasis conferences in 1983 and 1986 to include church-based evangelists and other missionaries). Though by midday Monday conferees were beginning to hear more practical advice on how to deliver an evangelistic sermon and invitation, almost all of the plenary sessions so far have aimed at making sure the attendees are preaching a biblical theology.Amsterdam 2000 organizers have also formed a theology task group of about 200 attendees. J.I. Packer, Professor of Theology at Regent College and a Christianity Today senior editor, is heading the task group."We must transcend the modern idea of theology as a cluster of separate disciplines to be studied by certain brainy people for educational purposes rather than as a resource for ministry," he told the group.Two other task groups, one for church leaders and another for evangelism strategists, are charged with similar duties for integrating evangelism into areas of congregational life. Representatives of the task groups are working on a statement to issue at the end of the conference. Beeson Divinity School dean Timothy George, a Christianity Today senior editor, is chairing the drafting committee. The statement is not expected to be as significant as other defining evangelical documents (like the Lausanne Covenant at the International Conference on World Evangelism in 1974). At a press conference, Amsterdam 2000 spokesmen seemed not to know one was in process. Drafting committee members were asked not to prepare for the statement beforehand, as Amsterdam 2000 planners want it to uniquely reflect the conference.Meanwhile, theology has dominated the schedule thus far. After introductory messages by Korean Baptist pastor Billy Kim Saturday night and General Secretary of the German National YMCA Ulrich Parzany on the need for evangelism the following morning, Packer took the stage to outline the gospel message."We need to tell the whole truth," said Packer. "Some things we don't take as seriously as we should. … There is a danger of reducing the gospel to the minimum."Packer urged the evangelists to present a comprehensive view of God, humankind, God's kingdom, salvation, fellowship, and heaven. He admitted, however, that "you can't say everything in one sermon." Indeed, Packer, among others, found himself pressed to fit even his message into his allotted 45 minutes. Afterward, most attendees dispersed into smaller seminars on preparing an evangelistic message. Most of these seminars emphasized the priority of having a correct theology and a comprehensive evangelistic message.If the conferences' earlier messages were remedial, assuming that some evangelists could use brushing up of basic evangelical theology, Ravi Zacharias's speech assumed that the evangelists were highly educated. He repeatedly quoted German philosopher Friedrich Nietzsche, attacked postmodernism, lamented the visual culture's overtaking of the literary culture, and generally gave a speech similar to those he gives on college campuses. John Stott, rector emeritus of London's All Souls Church, continued the theological emphasis Monday morning, urging the evangelists to make study of the Bible their first priority."Ignorance of Scripture," he said, quoting early church father Jerome, "is ignorance of Christ." He later lamented to reporters that "there is growth without depth" in many churches. "Superficiality is everywhere," he said. "our sights should be directed beyond the evangelistic moment into maturity in Christ."But Stott went on to implore the attendees to allow for unity in Christ. "We evangelicals tend to be overly dogmatic," he said. "We need more evangelical confidence in the gospel, and more evangelical humility about what God has not fully revealed." Asked in a press conference what kinds of theological issues evangelicals should be more agnostic about, he noted baptism, church governance, some spiritual gifts, and whether damned souls will be punished consciously for all eternity or eventually annihiliated.Anne Graham Lotz, who followed Stott, began moving the conference away from theological education to spiritual response. "God's word and God's truth is in our heads," she said. "We are called to have God's word in our hearts." And, seeming to deconstruct Zacharias's presentation the night before, Lotz asked, "What's the basic problem of our world? Postmodernism? The dominance of the youth culture? … It's none of these things. The basic problem is sin."
Avoiding theological debate
If any of the evangelists had concerns with a woman preaching Scripture, their protests were not visible. (They may have been disarmed by Lotz's opening prayer that God would "break down the barriers of gender," or by her sermon, easily the most dynamic so far.) She is, however, the only woman scheduled to deliver a plenary session.Meanwhile, some were working behind the scenes to defuse potential controversy over the involvement of non-Protestants. While Billy Graham often works with Roman Catholic churches during his crusades, sometimes quite visibly, the few Roman Catholics and Eastern Orthodox Christians at Amsterdam 2000 have been kept out of the public eye. They are attending as "observers," which means though they are welcome to attend any activities they wish, they will not be leading any plenary sessions, workshops, or other official activities.A Roman Catholic did appear before Ravi Zacharias's speech, however, to welcome Amsterdam 2000 participants to the city. (A.H.C. van Eijk, President of the Council of Churches of the Netherlands and Arnold van Heusden of the Evangelical Alliance of the Netherlands delivered welcoming messages as well.) But shortly before Adrianus Johanus, the Roman Catholic Archbishop of Utrecht, appeared on stage, those listening to Spanish translation of the conference over headsets were warned that he would be appearing. His beliefs, the translator assured the Spanish speakers, did not represent those of Billy Graham or the Billy Graham Evangelistic Association. It is unclear if similar statements were given by other translators, but none was given to the general audience. Many Latin American Christians are especially sensitive about cooperation between evangelical Protestants and Roman Catholics.In his greetings, Johanus surprised many evangelists by noting that Pope John Paul II had been consulted in the planning of Amsterdam 2000."To preach the gospel of the Father of great love and mercy in the Redeemer is the joy of all evangelists," the pope wrote to Graham in their correspondence.But by Monday evening, even discussion of cooperation was no longer taboo. "One of the most distinctive things about this conference is that most of us here tonight are willing to recognize Christ in each other," Archbishop of Canterbury George Carey told the evangelists. "And we recognize that all Trinitarian bodies of Christ are legitimate expressions of Christ's body." Evangelicals and Catholics, "have so much in common," he said, calling discussions between the two groups "the most interesting of today's ecumenical movements."
See our earlier coverage of Amsterdam 2000:Billy Graham a No-Show at Amsterdam 2000 | Evangelist, watching from Minnesota, bows out of satellite address, will probably forgo later remarks as well. (July 31, 2000) Billy Graham Too Ill For Amsterdam 2000 | Evangelist will deliver address via satellite. (July 21, 2000)Video feeds of press conferences and plenary sessions, and more information about Amsterdam 2000 is available at Amsterdam2000.orgThe Lausanne Covenant is available here.Other media coverage of Amsterdam 2000 includes:Therapy is replacing religion says Carey -- The Times [London] (Aug. 1, 2000) Three cheers for the archbishop of anti-cant -- The Times [London] (Aug. 1, 2000) Archbishop Endorses Evangelicals -- Associated Press (July 31, 2000) Graham Unveils Evangelism Conference (Nov. 16, 1998)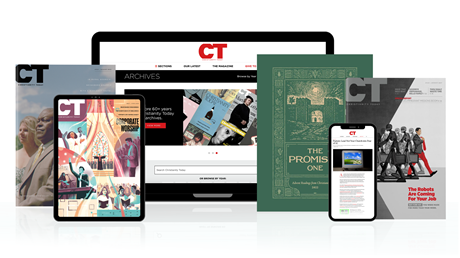 Subscribe to Christianity Today and get access to this article plus 65+ years of archives.
Home delivery of CT magazine
Complete access to articles on ChristianityToday.com
Over 120 years of magazine archives plus full access to all of CT's online archives
Subscribe Now
Drilling the Evangelists on the Evangel
Drilling the Evangelists on the Evangel