Last week in this space I wrote about the euphemism, sentimentalism, and sanctimony that govern so much evangelical discourse. I have received many responses, for which I want to offer a collective "Thank you" from the bottom of my heart. Unfortunately, I have not heard directly from readers who thought I was writing rubbish, though I have had second- and third-hand reports. But in the responses I did receive, via email and in person, many questions were raised that deserve ongoing discussion. Here is a start.Over watermelon on the patio here at the CTI offices, Marshall Shelley (a CTI VP currently presiding over Leadership journal, among other things) asked if I believed that we should maintain a clear distinction between public discourse and private discourse, so that we might disallow, in public, forms of expression that would be perfectly acceptable in private. (And here "disallow" means disallow on moral grounds within a like-minded community; legal matters are not the subject of this discussion.)I said yes, certainly. What came to my mind was a tangle of images from Berkeley in the summer of 1967, where at any moment one might encounter the collapse of the public-private distinction: even, now and then, the unsavory sight of a young man and woman copulating on the lawn. In the cults and communes that flowered in those days, the rejection of the public-private distinction was a first principle—hence the creepy totalitarian "freedom" we know from so many survivors' tales.But granting that this distinction is crucially important, Christians may yet differ greatly in where they draw the line in this or that particular case. Two times earlier this year—first at Calvin College's Festival of Faith & Writing, and then more recently at Wheaton College—I have heard a band called Over the Rhine in concert. The prime movers of Over the Rhine are Karin Bergquist, who does most of the singing and plays guitar, and her husband, Linford Detweiler, master of keyboards. Many of their songs have a passionate intimacy, an explosive mix of sex and love and longing, wit and lyrical abandon (you can hear this, for example, in "Faithfully Dangerous" on the recent CD, Good Dog Bad Dog). When they perform, they are taking the private and making it public in the space created by art. Risks are entailed by such performance—not least to the performers themselves. But we need more such risk-takers in the evangelical world—and more gatekeepers willing to give them the stage.
John Wilson is Editor of Books & Cultureand Editor-at-Large for Christianity Today.
Visit Books & Culture online at BooksandCulture.com or subscribe here. Over the Rhine's Web site has more information about the band, its music, and its touring. There are also several MP3s to download. Books & Culture Corner appears Mondays at ChristianityToday.com. Earlier Books & Culture Corners include:The Culture of Euphemism | A dispatch from the Christian Booksellers Association convention. (July 17, 2000) Get Outta My Face! | The most troublesome word in religion today. By John Wilson (July 10, 2000) It Takes a Village to Raise a Child … | But for an abortion, you only need a doctor and a nurse or two. By John Wilson (July 3, 2000) Mad Scientist Holds World Hostage | Thoughts on the "rough draft of the genome map." By John Wilson (June 27, 2000) History Wars Update | 'Feisty' historians attempt to reconstruct their discipline. By Donald A. Yerxa (June 19, 2000) Semite Sensibility | What makes a movie Jewish? A series of film festivals takes a look. By Camilla Luckey (June 12, 2000) Beneath the Orange and Green | A survey shows Northern Ireland's hope lies in its churchgoers. By Mark Noll (June 5, 2000) Barna & Bailey | The Greatest Research Show on Earth? By John Wilson (May 22, 2000)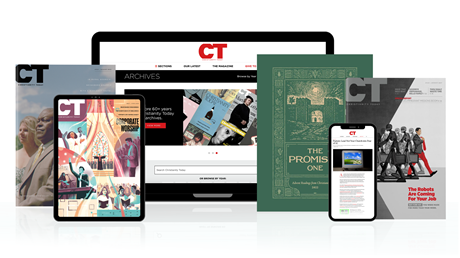 Subscribe to Christianity Today and get access to this article plus 65+ years of archives.
Home delivery of CT magazine
Complete access to articles on ChristianityToday.com
Over 120 years of magazine archives plus full access to all of CT's online archives
Subscribe Now
The Evangelical Culture of Euphemism Part 2
The Evangelical Culture of Euphemism Part 2