The general secretary of Europe's main ecumenical organization has described events in Austria—where the extreme right-wing Freedom Party has joined the government—as a "severe warning" to churches across the continent.
Dr Keith Clements, general secretary of the Conference of European Churches (CEC), told Ecumenical News International (ENI) that the political situation in Austria was a reminder that the "forces of exclusion" were "resurgent in many parts of Europe."
"The danger with the Austrian situation is that they [the forces of exclusion] appear to have been given political legitimacy because their representatives are in government," he said. "That must give cause for reflection."
Dr Clements' comments follow the February 4 formation of a new Austrian coalition government of the conservative People's Party and the extreme right wing Freedom Party, led by Jorg Haider, a controversial politician who in the past has praised Adolf Hitler's "orderly employment policies" and told a meeting of veterans of the Waffen SS—a military branch of the Nazi party during the Second World War—that they were "decent people of good character." He has since apologized for the remarks, but continues to provoke controversy.The formation of the new Austrian government prompted mass demonstrations within Austria and strong protests abroad. The other 14 members of the European Union (EU) have frozen bilateral links with Austria, and Israel and the United States have also protested at the inclusion of the extremist party in the new government.
The Haider affair has provoked bitter argument in government circles and the media across Europe. Many conservatives have defended Austria, pointing out that other countries should not interfere with a legitimate, democratic government, and that Austria's president, Thomas Klestil has put in place safeguards to ensure that there is no resurgence of nazism. (Following the Anschluss [annexation] of 1938 to 1945, Austria was a part of the German Reich until 1945.)
Churches in Austria and beyond have been generally guarded in their comments. Austria's biggest church, the Roman Catholic Church, has called for calm and for Austria not to be excluded from the international community, but has not directly condemned the Freedom Party. This has provoked some criticism, mainly from Western Europe.
Dr Clements said he would soon reply to a statement from the Ecumenical Council of Churches in Austria (ORKO), which had been sent to national councils of churches throughout Europe.In its statement, the Ecumenical Council, which brings together Austria's Roman Catholic, Orthodox and Protestant churches, called on churches in Europe "not to isolate Austria, but to stand alongside Christians of Austria in fraternal attachment." The council said that churches should help "through calm and balanced reporting of the events in Austria and their background to reduce exaggerated fears, to work against sweeping judgments abroad and so strengthen positive forces within Austria." The council pointed out that the churches in Austria had, in recent years, repeatedly spoken out against xenophobia, racism, the exclusion of the weak and discrimination against minorities.
It said that it "understood and shared the concern" that had led to the measures against Austria and was "grateful for the vigilance with which events in our country are followed," but feared that the EU action would aggravate the situation.
Dr Clements told ENI that there was no question of the ecumenical fellowship boycotting Austrian churches. "Far from it. We need to show solidarity to strengthen the witness against all forms of racism, xenophobia and the erosion of human rights."
He added that he was "concerned that we recognize also that racism, xenophobia and threats to human rights are not confined to Austria."
Churches had a "powerful ecumenical role to play," Dr Clements said, in dealing with such issues.
"Churches, because they believe in truth and reconciliation, and because they know the liberating power of confession and repentance, should be able to help societies come to terms with the guilt of the past."Austria, he said, was not the only country where the past had to be accounted for."In Northern Ireland, for example, churches have been able to play a role where responsible church leaders have called on their respective communities to re-examine their own histories."Copyright © 2000 Ecumenical News International. Used with permission.
Related Elsewhere
The cover story of the March/April 1997 issue of Books & Culture [print only] (a Christianity Today sister publication) asked "How German Was the Holocaust?" The article, by Jean Bethke Elshtain, looked at three books, one of them a controversial bestseller, that seek to explain how and why thousands of ordinary Germans participated in the systematic murder of Europe's Jews.
For more coverage of the controversy over the new Austrian government, see Yahoo!'s full coverage area and the BBC's site on the topic.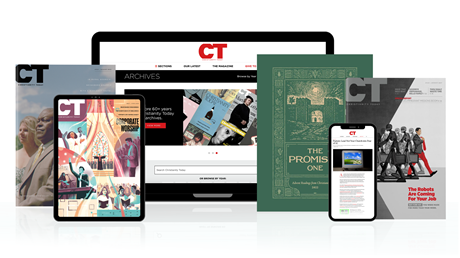 Annual & Monthly subscriptions available.
Print & Digital Issues of CT magazine
Complete access to every article on ChristianityToday.com
Unlimited access to 65+ years of CT's online archives
Member-only special issues
Subscribe
Conference of European Churches Will Boycott Austrian Churches Despite Pleas for Non-Isolation
Conference of European Churches Will Boycott ...