Lawmakers from both parties and African-American church leaders are heralding a new center designed to find faith-based solutions to the nation's social and economic problems.
Supporters say the National Center for Faith Based Initiative will work with churches, Congress, the private sector, government agencies, and communities to help boost local economies and meet the needs of poor residents—specifically African Americans.
"We have to reach into our souls and into our hearts to make this a better country," said Rep. Mark Foley (R-Fla.) at a March press conference on Capitol Hill announcing the initiative.
Pentecostal Bishop Harold Calvin Ray, founder of the center and pastor of the evangelical Redemptive Life Fellowship Church in West Palm Beach, Florida, described the program as an "ecumenical, interdenominational, and crosscultural" effort designed to bring about "economic rejuvenation and holistic transformation."
Spurring Economic Growth
Ray says the national center will operate through a network of partnerships, collaborating with up to 75,000 churches to empower troubled communities.
"The goal is to create systemic wealth among African-American communities," Ray tells CT. "Once this is done as a model, and demonstrated, the idea can broaden."
The nonprofit center will be funded in part by for-profit Web sites and numerous financial services. These services, designed to "spur collective wealth," will redirect profits to the national center to fund its initiatives, Ray says.
Tom McNicholas, a spokesman for the national center, says it is designed to serve as a national clearinghouse, allocating money to its 12 regional offices.
These regional offices or "embassies," headed by African-American bishops of large churches from different Protestant denominations, will work in small groups to develop economic plans for their areas. Ray says examples could include plans for housing, new business districts, and youth programs.
Churches, the private sector, and faith-based organizations will then act to implement the plans. While the center itself may receive federal funds or grants, McNicholas says the bulk of the funding will come from private donations and partnerships with major Fortune 500 firms and individual executives.
'Charitable Choice' Measures
The initiative comes at a time when faith-based approaches to poverty, drug abuse, illiteracy, and crime are receiving heightened national attention, both in the presidential campaign and in "charitable choice" measures introduced on Capitol Hill.
House Speaker J. Dennis Hastert says Congress is likely to act this year on the American Community Renewal Act. The bill (HR 815) would help distressed areas by providing investment incentives for businesses and would allow faith-based groups to take part in community revitalization efforts.
Senator John Ashcroft (R-Mo.) has introduced a bill (S 1113) that would require government entities to consider religious and faith-based organizations when contracting with nongovernmental groups to perform welfare-related services. The measure would remove certain federal restrictions, allowing such groups to contract with the government on programs ranging from housing and drug addiction to programs for children and the elderly.
Sen. Barbara Mikulski (D-Md.) is also sponsoring a measure that would expand government funding for computer and Internet training to community centers and faith-based organizations that work with children.
The Senate passed a bill (S 976) last year, sponsored by Bill Frist (R-Tenn.), that would allow religious and faith-based groups to run federally funded drug abuse and mental health programs. Rep. Thomas J. Bliley Jr. (R-Va.) is expected to introduce a House companion bill this year.
Seducing the Samaritan?
Most of the bills have also been amended to appease critics.
The House Education and the Workforce Committee amended the education and literacy bill (HR 3222) to clarify that religious and faith-based groups sponsoring literacy programs may not preach, recruit, or otherwise attempt to impose their religious beliefs on students.
Still, not all naysayers are satisfied. Barry Lynn, executive director of Americans United for Separation of Church and State, said such partnerships are unconstitutional. "It is not possible for a church to have a counseling program for people with addictions that doesn't involve the communication of religious ideas," Lynn says. His organization is mounting a legal challenge to the 1996 charitable choice law. Lynn and others also argue that faith-based charities unfairly discriminate on the basis on religion when hiring workers.
Even some conservatives are not wholly comfortable with the idea of government funding for church-run charities. Joseph Loconte, a fellow at the conservative Heritage Foundation, said that while he believes "there is no constitutional reason" to exclude faith-based groups when passing out government contracts, he fears that some religious charities can become overly dependent on government funds for their social services.
Loconte's book, Seducing the Samaritan, argues that such dependence can lead to secularization. Loconte supports money flowing indirectly to faith-based groups, such as through vouchers and tax credits, rather than through direct government grants, which can come with unwanted restrictions and regulations. "The more deeply faith-based groups drink at the government well, the more intrusive government is likely to become," Loconte says.
Ray says he plans to protect against government dependency by ensuring that no program connected to the National Center for Faith Based Initiative relies on federal grants. Programs will instead be designed as long term and self-sustaining, he says.
"What we want to do is give birth to a vision of how to spur economic growth ourselves," Ray says. "Our goal is to make a transformational impact in inner-city environments."
Related Elsewhere
The Dallas Morning News covered Ray and the National Center for Faith Based Initiative in January. See also coverage at TCPalm.com
Ray's Redemptive Life Fellowship has a Web site with news and information about the church, Ray, and other topics, but doesn't have anything on the National Center for Faith Based Initiative.
Excerpts from Loconte's Seducing the Samaritan are available at the Heritage Foundation (and its PolicyExperts.org site) and Family Research Council. World magazine and Alternatives in Philanthropy have reviews.
The Web site of Americans United for Separation of Church and State offers more information on the status of "charitable choice" legislation and why the organization thinks it's a bad idea.
Get more information about HR 815, S 1113, S 976, and HR 3222, including the text, sponsorship, and status, at the Library of Congress's Thomas site.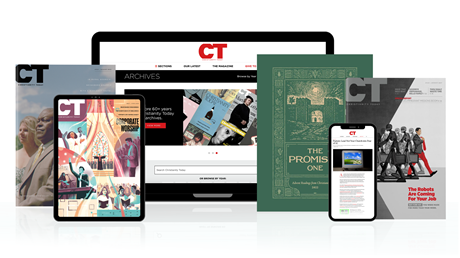 Annual & Monthly subscriptions available.
Print & Digital Issues of CT magazine
Complete access to every article on ChristianityToday.com
Unlimited access to 65+ years of CT's online archives
Member-only special issues
Subscribe
Networking Against Poverty
Networking Against Poverty