7 Ways Pastors Can Avoid Burnout Before It's Too Late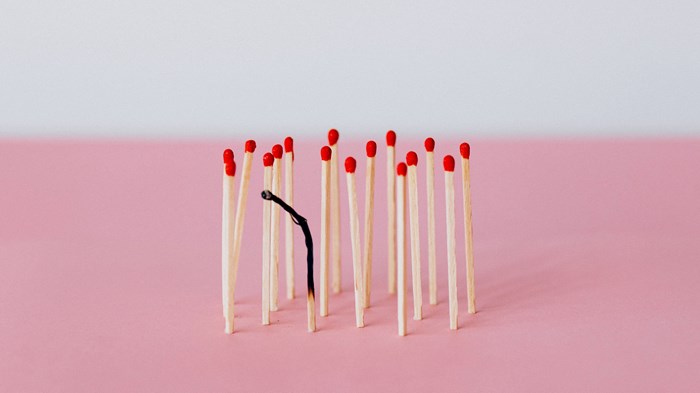 The number one thing I am hearing from people is about how exhausted they are.
It seems like most people are running on fumes, with barely just enough to get through each day. This includes pastors.
I am hearing so much from pastors who are on the brink of burnout or pushing through in the midst of burn out from everything that has been taking place. Everything from the COVID-19 pandemic and all of its entailments, to the deep political polarization that rears its head throughout churches, the pervasiveness of conspiracy theories, issues surrounding racial injustice and sexual abuse and how the church ought to respond, mental health struggles, and economic challenges, have all led to a compounding weight of sheer exhaustion.
As I continued to hear what pastors have been sharing, I found that the primary points of exhaustion had to do with some combination of needing to lead through transition after transition, in addition to already having to do too much and being stretched too thin, with less support and help than ever. Essentially, the uncertainty of the pandemic and multitude of complex overwhelmings are leading to a significant strain on the soul.
As a result, here are a few things I have been encouraging pastors and church leaders to do. Adapt and adopt if it can serve you:
Delegate your worship services.
Have leaders in your church take ownership of planning the worship services outside of the preaching (you and your elders can work through what preaching looks like). Create a calendar for individuals or small teams to work together in planning and executing worship services. Give them guidelines, provide a short training, but for the next six months to a year, let different leaders take a service and run with it. Let them execute everything from order of service (which shouldn't vary too much), call to worship, announcements, and music (in conjunction with worship leaders who should be given freedom to prepare music based on the text and the theme of each Sunday). Let them know where they have freedom to be creative and where they need to find the right song or element to introduce and include.
Diversify the pulpit.
If what I am hearing around the country is correct, longevity needs to be prioritized.
It takes a lot of work to prepare sermons. Prayerfully planning what you are going to preach requires a lot of thought and energy. Figure out what is manageable for you and see if you can scale back some of your preaching load. If what I am hearing around the country is correct, longevity needs to be prioritized. You need to figure out what is manageable – even if it means preaching twice a month instead of three or four times a month. If you have elders who preach, let them take more of the pulpit. But if not, there are plenty of people - including seminarians - who can preach. There are many people who also can fill pulpits who hold seminary degrees and are doing ministry outside of the church whose Sundays are often free. In fact, if the timing works out, I'm happy to fill in for you on a Sunday and know many others who would be willing to do so.
Decentralize community events.
Let the community drive the community. Create the structures that will allow communities to form. This might mean finding ways to empower small groups and small group leaders to take on more of a shepherding role to creating space for people to put on events that can help drive community. More now than ever, as many people have grown accustomed to not being back in person, community will be critical to drawing people back to church.
Disclose the truth.
Be honest with your congregation about your need for help. Many of them are feeling the effects of the pandemic themselves and are tired too, but most people don't know how taxing pastoral ministry can be. They don't often see what they don't see and how relationally, mentally, socially, physically, and even spiritually depleting pastoral ministry can be. In addition to sermon prepping, there is leading an organization, counseling, and dealing with conflict, managing a budget, working with community members and organizations, and making sure that everything is running smoothly. It's a lot and people don't often know how much is being asked of you.
Draw down the work to the essentials.
Pare down to the few key things you need to do. Ministry will always demand more of you than you can give, but in seasons like this, its important to be vigilant about what is required of you. Let ministries that are running "on their own" continue to do so, but for your own sake, don't take on more than what am you absolutely need to. Figure out what will guide your decision making when it comes to what you get involved in.
Dig into disciplines of abstinence.
In the west, we have emphasized disciplines of engagement far more than disciplines of abstinence.
In the west, we have emphasized disciplines of engagement far more than we have disciplines of abstinence. With the ubiquitous proliferation of technology – namely smart phones and the internet – along with the adoption of busyness as a virtue in a society that worships production, it is more important now than ever to practice disciplines of abstinence. Spend more time in silence, slowing, and solitude than you might be used to. Find ways to pray in a manner that restores. Don't do things for the sake of piety as much as you do it for the sake of life giving intimacy with God.
Dive into more rest than you are accustomed to getting.
Trust that God can work without you being "on" all the time.
I have been telling everyone – including my students at Wheaton College – that it is important to get rest that restores. People are getting rest because they need it, but their rest is not actually leading to restoration. They are sleeping, but waking up tired. They are finding ways to pause in the day, but it doesn't seem to be alleviating the weariness they are experiencing. This seems to be true across the board. I think a part of it is a result of feeling like things are "out of control" and there is too much that requires your attention. Trust that God can work without you being "on" all the time. Know your limitations and find a way to take a sabbatical from the pandemic. Work with your elders to see if there is a month, three months, or six months you can take away to revitalize (the same goes for some of your staff members who are bearing the pastoral burdens with you). What you experienced in the last year and a half could easily be the equivalent of ten years of ministry.
I pray that you find ways to be renewed and restored in the midst of all that is going on. Know that your labors are not in vain, that the Lord is the one giving the growth, and that its ok to embrace your limitations – that's a part of being human.
Pastor Raymond Chang is the president of the Asian American Christian Collaborative, a pastor, and a writer. He regularly preaches God's Word and speaks throughout the country on issues pertaining to Christianity and culture, race and faith. He has lived throughout the world (Korea, Guatemala, Panama, Spain, China), traveled to nearly 50 countries, and currently lives in Chicagoland, serving as a campus minister at Wheaton College. Prior to entering vocational ministry, Raymond worked in the for-profit and nonprofit sectors, and served in the Peace Corps in Panama. He is currently pursuing his PhD.
The Better Samaritan is a part of CT's Blog Forum. Support the work of CT. Subscribe and get one year free.
The views of the blogger do not necessarily reflect those of Christianity Today.