What Happens When the Church Looks More Like a CVS in Philadelphia?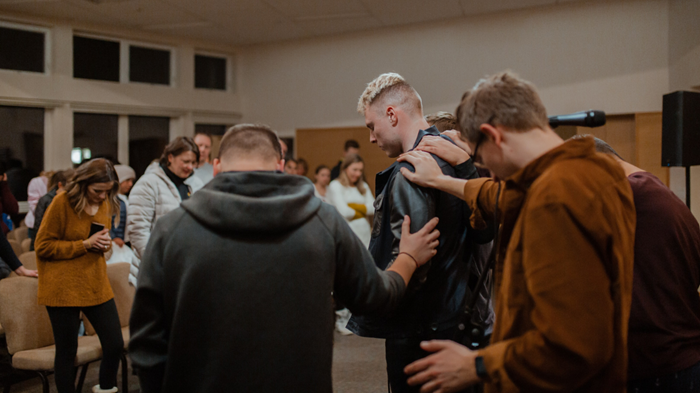 My hometown of Philadelphia has recently seen a new, inspiring trend in helping people overcome the psychological consequences of the COVID-19 pandemic: walk-in mental health counseling services have opened in several CVS MinuteClinics across my beloved city. I am deeply encouraged that CVS, in addition to online resources provided by entities across the nation, is taking a step toward providing mental health care in communities where it hasn't been readily available. This new initiative stands to provide access to diverse communities where this kind of care is desperately needed. While I am excited about this being a valuable clinical tool for helping address the nation's current mental health crisis, it's not enough on its own. People need community around them for holistic healing— and that's where the church can step in.
COVID-19 will continue to impact Americans' mental health long after the immediate pandemic is over. We've seen the beginnings of physical healing. But the lasting mental and psychological effects become clearer every day. In fact, American Bible Society's (ABS) newest State of the Bible report found that every root byproduct of Americans' stress— including feelings of restlessness, fear, anger and hopelessness— has increased since this same time last year.
But there's hope. I've personally seen people find healing through church communities as they've implemented a Bible-based trauma healing ministry. At the heart of this program is a book called Healing the Wounds of Trauma, which encompasses a set of practical lessons that lead people on a journey of healing. The book— which includes 270 Bible references from 217 passages— uses biblical truths that highlight the power of Jesus to heal hurting minds, bodies, and spirits, and provides a strong foundation for restored lives and relationships. More than 1.3 million people around the world have already embarked on a healing journey through this ministry.
Most importantly, the program's train-the-trainer model allows lay church leaders and members to quickly learn how to facilitate it, meaning we could see rapid healing in the lives of millions of hurting people around the globe in the next few years. I hope to see this vision of healing realized in Philadelphia, and I pray its reality comes to your city and neighborhood too.
Healing happens in community
It's also important to note that the very definition of "community" has shifted over the past year and half. The COVID-19 pandemic has caused each of us to consider new ways to stay connected to one another. This new paradigm has led many of us online in search of the authentic community connection we once had in person. I was one of the biggest skeptics that mental and emotional health care can be effective online—until I saw healing happening online with my own eyes. I co-led ABS's Trauma Healing Ministry's first online trauma healing group back in February 2020. That was before we knew that a global pandemic would isolate us and cause us to move our entire lives online. At the first group session of this pilot program, I was blown away at the immediate openness of the participants and their readiness to share their stories of pain. While online tools and resources like this are critical to healing and have already greatly impacted millions of people, there's nothing quite like the power of face-to-face interaction within our communities.
Right now, CVS stepping up to offer resources for walk-in patients is a fantastic program. But we still need more. More people need help than there are mental health professionals, and CVS clinics and online resources aren't substitutes for healing communities. While our State of the Bible 2021 report shows that every root byproduct of stress has increased during COVID-19, it also shows us that more Americans than ever before are turning to the Bible. The church must use this moment to come alongside people and show them the true healing and hope found within the pages of Scripture.
When people hear Scripture, especially within community, they experience the peace of God that passes all understanding from Philippians 4:6. It's comforting to hear passages like Matthew 11:28, which encourages all to "Come to me, all you who are weary and burdened, and I will give you rest." It's reassuring to hear the truth of James 1:3 that "...the testing of your faith produces perseverance." It builds courage to discuss with others passages like Isaiah 41:10 which says, "So do not fear for I am with you; do not be dismayed, for I am your God. I will strengthen you and help you; I will uphold you with my righteous right hand."
I see a huge potential for the church to implement clinically and biblically informed trauma healing groups to convene small groups of people in safe places where they can help each other heal.
This is an opportunity to truly transform our communities—beginning places like right here in Philadelphia with local pharmacies and churches walking hand-in-hand to help hurting people in need.
Marlaina Centeno is a Partnership Associate with American Bible Society's Trauma Healing Institute.
The Better Samaritan is a part of CT's Blog Forum. Support the work of CT. Subscribe and get one year free.
The views of the blogger do not necessarily reflect those of Christianity Today.