Resources for Trauma Healing After Disaster
Interview with Dr. Philip Monroe of the American Bible Society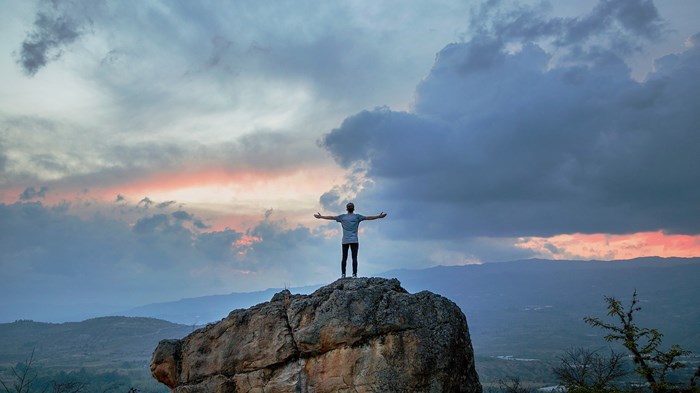 Disasters and pandemics can often cause serious mental health consequences—most notably, trauma. Healing from devastating crisis events can be a long road, but resources like the American Bible Society's Beyond Disaster exist to help support those who are struggling , including during the current pandemic. In this interview, Dr. Philip Monroe explains what this resource is and how it can be used.
Philip G. Monroe, Psy.D., is the Director of the Trauma Healing Institute at American Bible Society, where he leads a materials development team supporting a global community of practice of 16,000 facilitators. He also is the Taylor Visiting Professor of Counseling and Psychology at Missio Seminary and directs their Global Trauma Recovery Institute. Previously, he chaired the seminary's Graduate School of Counseling. In his private practice, he works primarily with ministry leaders addressing trauma, burnout, and addictions. His personal and professional musings may be found at philipmonroe.com.
JA: Why did the American Bible Society set out to write this guide?
PM: Beyond Disaster: A Survivor's Guide for Spiritual First Aid was conceived after Hurricane Harvey struck southern Texas and was completed by trauma healing facilitators at SIL International and American Bible Society's Trauma Healing Institute. Survivors of disasters, whether from hurricanes or virus pandemics, do not need sermons or long explanations for what is happening to them. Rather, they need sources of comfort and practical ways to care for themselves. The booklet provides comfort from the Bible, normalizes their responses, and invites them to share their feelings of confusion, grief, and lament to God and others. In addition, there are simple and practical exercises to care for heart, mind, and body that can be done alone or in a small group. Since the pandemic, we have also created a user guide to help leaders walk small groups through the short chapters.
KA: What is the primary takeaway you hope readers will learn from reading your guide?
PM: Most people find themselves overwhelmed in the immediate aftermath of a disaster. Everything has turned upside down and nothing feels like it should. This is normal and expected. The chaos in their physical lives often leads to spiritual chaos, as well. In light of the emotional, physical, and spiritual trauma, we hope readers of our guide will discover that their feelings are normal, that there are practical and simple things to do to help bring some measure of calm, and that God invites them to express pain to him. The Scriptures throughout the guide are designed to illustrate God's heart for the hurting. The journey to healing and recovery may be long, but it can begin in small ways when we feel free to express our pain, confusion, and lament to God, and we find that God is not distant but near.
JA: What are some insights from your guide that could help readers support a friend or loved one?
PM: The ministry of presence is the primary tool we have at our disposal when we are with someone who is hurting. When you were in a time of crisis in your life, what did others do that helped you most? What did they do that didn't help? When I ask people these questions, they often note that friends showed up. They did simple tasks for them. They sat with them. They listened. Things that didn't help usually include using many words and exhortations. When you do show up for someone else, be prepared that what they do share may be repetitious. This is because people in crisis are trying to make sense of their chaos. If it seems that the person wants to share more of their story, consider using these three questions as a guide:
What happened? (What part of the story would you like to tell?)
How did that make you feel?

What was the hardest part?
These questions help us listeners stay focused on the story and feelings of the one in pain and remind us to not make assumptions or evaluations.
KA: If you could encourage the Church today with a few thoughts, what would they be?
PM: The trauma of a disaster often isolates and disconnects people from their communities, from their previous life, and even from their connection to God. Healing begins when we can share what we are experiencing in a safe community and find that we are not alone. The Church has a long and wonderful history of providing for the needs of those who need food and shelter. However, emotional and spiritual losses experienced also need care. Some of the best care the Church can provide is to create opportunities to express painful questions to God. Lament as an act of true worship is all too uncommon in our worship services. God, through the Scriptures, gives us lament language so that we can find hope in expressing our deep and messy feelings and to know that we are not alone. Try reading Psalm 13, 22, or 88 together, and notice how people of faith draw closer to God while expressing their pain.
JA: What Bible story or passage has been speaking into your life recently?
PM: After Jesus' crucifixion, his followers were experiencing unspeakable trauma. Their friend had been assassinated. Their lives were in danger, their purpose and ministry destroyed. Most likely their entire belief systems were in question. Notice how the resurrected Christ meets them in their pain. He speaks Mary's name to her. He breathes peace on the disciples hidden away in a room. He invites Thomas to address his doubt. He walks along with two who are traveling a distance to another town. Jesus draws near to hurting people and gives them comfort, connection, and grounding in the reality of his presence. He knew they would be soon filled with the Holy Spirit and have a ministry that would begin in Jerusalem and expand quickly to the surrounding region and even to the Gentiles. However, he took this time to meet them in their pain and did not lecture them to not be afraid. For those who have been around children who are afraid of the dark, you know that telling children to not be afraid rarely helps. But presence and connection make all the difference needed. Notice that Jesus breaks bread, eats, speaks peace, and gives tangible touch. Though everything is upended in this pandemic, Jesus is near and speaks a word of peace to us.
KA: What are you currently working on related to COVID-19 that you would like to share about?
PM: Besides the Beyond Disaster booklet, the Trauma Healing Institute has a number of other COVID-19-related materials available for free download. These materials exist in several languages. You will find a guide to lead small groups through the Beyond Disaster booklet. In addition, there are COVID-specific lessons for adults, for families with small children, and for frontline caregivers. Each of these lessons begins with a story, has discussion questions and activities, and provides practical steps for spiritual and emotional care during the pandemic. These materials are easy to use and would be well-suited for online church groups.
This post originally appeared at reopeningthechurch.com.
The Better Samaritan is a part of CT's Blog Forum. Support the work of CT. Subscribe and get one year free.
The views of the blogger do not necessarily reflect those of Christianity Today.