One Year Later: What Are the Humanitarian Needs in Ukraine?
A Q&A with Medical Teams International President and CEO, Martha Newsome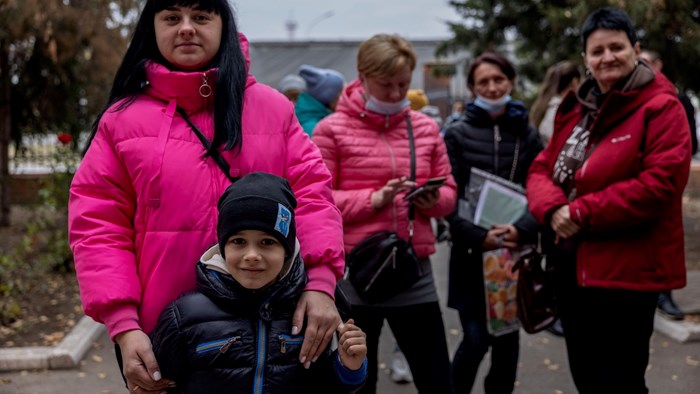 February 24th marked the one-year anniversary of the invasion of Ukraine. In order to understand the current humanitarian needs there, we talked with Martha Holley Newsome, President and CEO of Medical Teams International. MTI is a faith-based health humanitarian agency that has been on the ground since the beginning of the conflict.
How is Medical Teams International involved in the humanitarian response in Ukraine?
As devastating as this conflict has been over the past year, Ukrainians have inspired the world through their strength, unity, and resilience. Medical Teams International has worked alongside Ukrainians and Moldovans to provide life-saving medical care and mental health support to refugees, displaced people, host communities, and first responders. We are doing this by increasing access to health care for conflict-affected local populations and displaced people. We also support a local partner (100% Life Kryvyi Rih) to run mobile medical teams, and work with community-based organizations to run two free pharmacies. A key focus of our work right now is providing mental health and psychosocial support to adults, children, and volunteers affected by the crisis.
How many Ukrainians are displaced, and how many are in need of humanitarian assistance in the country?
The unprecedented impact of this conflict and the resulting displacement are still reverberating throughout the region and beyond. The lives of nearly 44 million people have been impacted, with over 6 million internally displaced. An estimated 7.8 million refugees were forced to flee into neighboring countries. Something I remind people of is how similar the Ukrainian middle-class lifestyle is to our lives in the U.S. It would be like Americans being forced to abandon everything at a moment's notice and leave our lives, homes, and businesses behind—with no promise of return. This war has been utterly devastating for millions of people. The sheer scale and shock of how it happened is hard to comprehend.
Early in the crisis, I was able to visit the border area between Ukraine and Moldova and meet with several refugees who were fleeing into neighboring areas. Shell-shocked was a very appropriate term for how these women, children, and men felt as they were seen by our health workers in refugee centers.
Is mental health a significant issue with both Ukrainians and first responders?
Those impacted by this war have had to deal with significant stressors. Many had to leave their homes and social networks; others directly experienced the war in their towns and lived through incredibly distressing events. Volunteers are experiencing secondary trauma from hearing the stories of others and witnessing the harm that has come to their country. It was all simply unfathomable before the invasion. Almost everyone living in urban areas is experiencing constant air raid alarms and the anxiety of worrying that an explosion may hit in their city at any moment. The Ukrainian people are living in constant fear, grief, and dread, with little hope of a quick end to this war.
What is the nature of the mental health care support you provide?
We provide individual counseling and group therapy for different target groups such as children, adults affected by the conflict, or volunteers. Our team also conducts a variety of social awareness-raising activities to help people understand how their bodies are responding to distressing events and to try to reduce stigma, so that people will be more willing to seek care if they need it.
One of the reasons we are focusing on mental health is because the Ukrainian health system was strong before this crisis, but it didn't have the full capacity to meet the overwhelming mental health needs resulting from the conflict. We have stepped in to help fill that gap and offer support to local health systems and their practitioners, as well as first responders who experience secondary trauma from what they are seeing and hearing.
How difficult is it to provide mobile medical care in this context?
The conflict has caused many health care workers to flee to other locations in Ukraine or to other countries as refugees. We are working with local partners to run mobile medical teams in areas previously taken by the opposing forces. These areas have damaged and destroyed health facilities, leftover unexploded landmines and other explosives that create dangerous transport routes, and not enough health care workers. The people left there are mostly elderly people with chronic medical conditions and mobile teams can only reach so many people in a day. With no operating airports, some of these regions take more than two days to reach by train.
How are Ukrainians coping in the middle of winter with rolling blackouts and destroyed power systems?
The Ukrainian utilities companies have worked hard to try to restore power as much as possible to keep people warm through winter. In more rural areas and where the damage is too great, people have either fled to other locations or are relying on wood stoves or other more traditional heating sources. In response to the damage done by missile strikes on Ukrainian power systems, Medical Teams and our partners have distributed over 100 generators, blankets, and non-food items to health facilities in the two regions where we are working (in Eastern and Southern Ukraine).
How can the public continue to help?
Prayer is so critical. We must keep praying for a cessation of this conflict. Pray for leadership in both countries to make empathetic and wise decisions to reduce suffering. We also ask for ongoing generosity. Costs are very high in a conflict of this size and magnitude. The price of insurance in a war zone and the cost of purchasing and transporting medicines and supplies remains formidably high.
We must also realistically prepare for the long-haul. There is no quick fix or easy ending. In crises like these, and in other hotspots around the world (Syria, Tigray, Colombia), we need patience and continued compassion to care for our brothers and sisters around the globe who are suffering. Those who have been devastated by this conflict and its continued rippled effects need to know we will stand with them indefinitely.
Martha Newsome is the President & CEO of Medical Teams International, a global health and humanitarian organization. She has spent the last 30 years of her life dedicated to serving the health needs of others. In her current role, Martha leads more than 1,500 international staff as they restore health to three million people through medical and dental care, disaster response, humanitarian aid and community health programs. She holds a Bachelor of Arts from Wheaton College and a Master of Public Health from Johns Hopkins University. Martha and her husband live in Portland, Oregon and have two grown children.
The Better Samaritan is a part of CT's Blog Forum. Support the work of CT. Subscribe and get one year free.
The views of the blogger do not necessarily reflect those of Christianity Today.