"You Was a Jerk Mommy?"
What to do when your two-year old convicts you. An excerpt from my new book, Small Talk.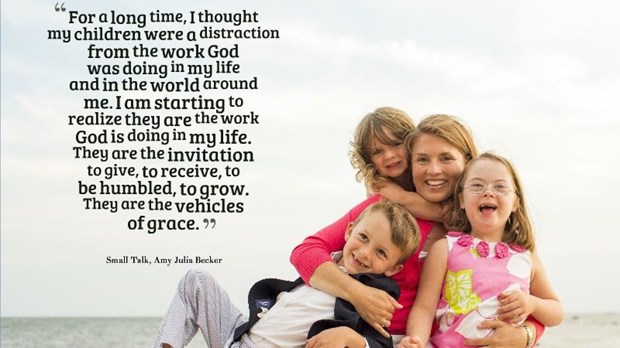 The following excerpt comes from my new book, Small Talk: Learning From My Children About What Matters Most (Zondervan):
It snowed yesterday. The view outside the kitchen window is idyllic—trees hand-painted with delicate white strokes, sunshine glinting off the crystal expanse, a landscape of comforting beauty.
The scene inside my heart isn't nearly as lovely. Our oldest child, Penny, has been home sick from school for two days, and her illness came on the heels of a long weekend. The younger two—William, age five, and Marilee, about to turn three—were sent home from school early yesterday, and today they have a delayed opening because of the snow.
It is too cold to go sledding. I have never been one for arts and crafts. I want to park all three of them in front of three separate screens and pour a cup of tea and count the hours until they return to activities directed by adults other than me.
But at breakfast, Penny says, "Mom, can we do family devotions?" Marilee's eyes get big with anticipation as she claps and agrees. "Famwy bevotions!" William pulls the bin of musical instruments to the center of the playroom floor.
We've been having "family devotions" for a few months now, and the title of this event suggests more piety than the actual experience deserves. Last week, Marilee got out a broken bongo and "played" it with a candle until we realized wax was flying all over the room. William prefers to pick up a recorder and whistle shrilly in my ear. We often have to take away Penny's book as she tries to read on her own instead of paying attention to the one-minute Bible lesson. All three wriggle through the prayer time. They fight over which song comes next.
But we keep trying.
So on this snowy morning, I sit cross-legged on the floor, guitar on my lap, with the kids scattered around the room. I clunk my way through the chords for "Holy, Holy, Holy" and smile at Marilee's three-year-old voice struggling to form the archaic words of the old hymn.
It comes time to pray and Penny says, "Wow God for loving me." William spends most of the time working on a Lego castle until we pray for what we need. "I need Nana Nana and Geeka to feel better," he says. Every time we gather like this, William prays for my aging grandparents, and every time I am struck by how easily I forget others in need, how my own prayers so often neglect the ones I love.
Even without my husband, Peter, who has already left for work, even though I am harried by the snow days and the sick days and the long weekend, it is a sweet time. I am grateful, feeling as though I have received a spiritual booster shot that might just get me through a few days of chores and to-do lists and piano practice and ballet class and trying to keep everyone occupied without immediately resorting to electronic devices.
Then I notice the time. We've had two extra hours to get ready, and we're still going to be late for school. I put the guitar away without letting Marilee perform her customary ritual of latching it in place. I remove the song binder from Penny's hands with more force than necessary. I speak in a stern voice: "Socks. Boots. Backpacks."
They head out the door, and I run back to the kitchen for my phone. I come outside to find Penny, nose running, tears streaming, gazing plaintively at William, who sits inside the minivan, arms crossed over his body, seat belt on.
"Mom!" Penny turns to me. "William won't let me sit in the special seat."
William stares straight ahead. His eyes are as cold as the air outside.
"Pen, you know it's his turn. Go ahead and get in the car." I buckle Marilee and hoist myself into the front seat.
Soon Penny is wailing. "William hit me! He hit me!"
My torso seems to be expanding, as if a flame has just sparked inside and the tinder has begun to crackle. It is probably true that William hit her, though I doubt he inflicted any harm. My anger right now is directed toward Penny, my oldest, the one who should have learned by now to obey me and ignore her little brother's taunts.
"Penny," I say, and then I use a word my children rarely hear me utter. "You can stay home alone or you can get in your seat." It is an empty threat, but she doesn't call my bluff.
She whimpers and takes her place.
I exhale an angry sigh, followed by another expletive, and listen for the click that signals she is secure.
As we back out of the garage, Marilee asks, "You aw done yewwing now?"
Her little voice cuts through my smoldering emotion. I stop the car in the middle of the driveway and say, "Okay everybody, I think it's time for all of us to say sorry for being jerks."
"You was a jerk, Mommy?" Marilee asks.
"Yep. I was a jerk for yelling at Penny and Penny was a jerk for crying about the backseat and William was a jerk for the way he treated Penny."
We pull out into the street and I say, "Do we want to be lovers or jerks?"
"I want to be a lover!" Penny yells.
William is still staring straight ahead, but his face is softer than it was a few minutes before. After a long pause, he says, "Mom, I want to be a lover. But I also want the special seat."
I catch his eye in the rearview mirror. I think he's trying to hold back a smile. "Here's the thing, everybody," I say. "God loves us even when we are jerks. And God forgives us even when we are jerks. And God gives us the power to learn how to love instead of being jerks. That's what I want. I want to love you more and more and be a jerk less and less."
They nod. Penny wipes away her tears. We drive to school. It is the pattern of our life together. In the midst of snow days and sickness, in the midst of yelling and tears, grace enters in.
This book is a series of reflections from my past few years of parenting, beginning when I was pregnant with Marilee and moving in a rough chronological order through my children's young lives. It is not a how-to guide. It is not filled with advice. It is, I hope, a word of encouragement that good things can emerge out of the hard but ordinary everyday moments. It is, I hope, a reminder that on those days when you wonder if there is any meaning in the dishes and disputes and diapers, you are not alone. It is also, I suppose, an exhortation to pay attention-to the words and thoughts and actions of these little ones we so easily overlook.
For a long time, I thought my children were a distraction from the work God was doing in my life and in the world around me. I am starting to realize they are the work God is doing in my life. They are the invitation to give, to receive, to be humbled, to grow. They are the vehicles of grace.
For more information about Small Talk: Learning From My Children About What Matters Most, click here. To pre-order your copy and receive a free subscription to Christianity Today Magazine, click here (email your receipt to smalltalkbook@yahoo.com).
Support our work. Subscribe to CT and get one year free.
To add a comment you need to be a registered user or Christianity Today subscriber.
Recent Posts
"You Was a Jerk Mommy?"