Identical Twin Sisters Growing Up Thousands of Miles Apart
A new PBS film premieres tonight and raises questions about family, fate, and culture.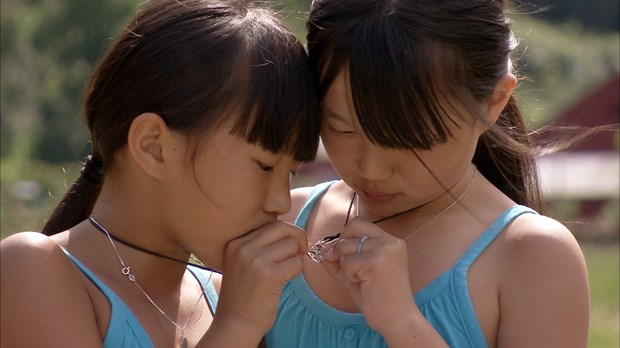 Twin Sisters, a short documentary film about twin sisters raised on different sides of the globe, premiers tonight on PBS at 10:00pm EST. (Click here for a preview.) This film tells a simple story of twin girls abandoned in China and adopted by two very different families—one from Sacramento, California, the other from Fresvik, Norway, a town of 243 people. We learn the history of how the two sets of adoptive parents accidentally met each other in the orphanage with their new babies (I won't give it away, but the way they met is nothing short of miraculous and well worth watching), then how they finally confirmed through DNA testing that they had adopted identical twins. We watch those girls grow up in two very different cultures with very different parents. And then we watch the sisters together, struggling through language and cultural barriers, and yet connected through a deep bond of love.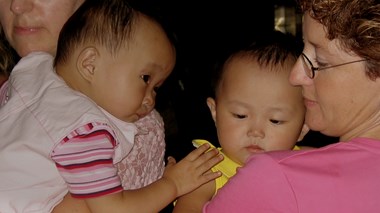 The film raises many questions it doesn't try to answer, beginning with the adoption industry and then with the benefits and limitations of growing up in Norway versus the United States. Alexandra, growing up on a fjord with few shops and little outside entertainment, raises a pet mouse and makes her own fun. Mia, living in suburban America, participates in beauty pageants, plays soccer, and practices her violin. This film not only demonstrates the connection between these two girls but also contrasts their cultures. As a parent with children who could probably relate more to Mia, I was nevertheless drawn to Alexandra's life—the beauty of her surroundings, the simplicity of her activities, the fullness of her days without hustle and bustle and activity all the time.
And then there are the ethical questions—questions about what it means to be a family, what it means for these two girls to be separated by so much and yet connected so deeply. The filmmakers and the parents present this story as a "game of fate." But I peek in upon these lives and see the fingerprints of a God who loves the orphans abandoned in a cardboard box, a God who loves family, a God who loves to connect us to one another against all odds.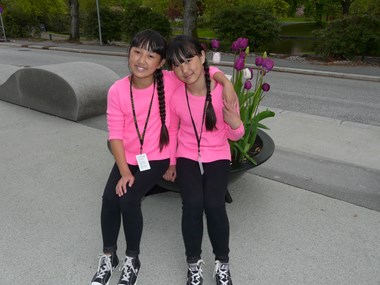 Mia and Alexandra are both products of their particular places and families, and they remain undeniably sisters, connected by a biological bond that runs deeper than entertainment or even language. I recommend watching Twin Sisters tonight. And then I recommend reflecting on the questions it raises about the nature of family, the prospect of fate, and the way culture shapes who we are.
Support our work. Subscribe to CT and get one year free.
To add a comment you need to be a registered user or Christianity Today subscriber.
Recent Posts
Identical Twin Sisters Growing Up Thousands of Miles Apart