How Godparenting Brought Me Into the Family of God
A Small Talk guest post by Katelyn Beaty.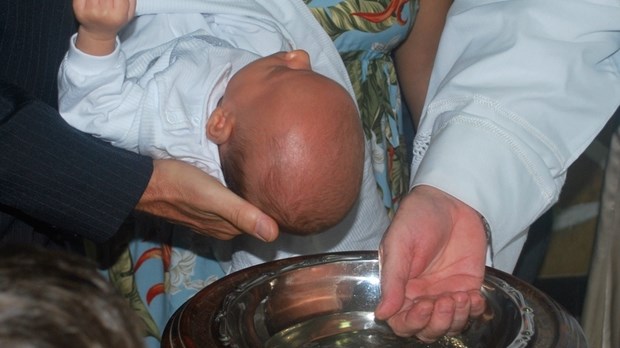 Image: Ceyla de Wilka/wiki commons
This Friday "Small Talk" series is an opportunity to consider the ways God uses children as "vehicles of grace" in the lives of adults. The idea comes from my new book, Small Talk: Learning From My Children About What Matters Most. In the second post of the series, Katelyn Beaty reflects on becoming a godmother:
Sarah and Chris were acting a bit funny, now that I think about it.
The three of us were having dinner one fall day a few years ago with some friends at a local restaurant that serves $2 burgers on Wednesdays. Before dinner, Sarah and Chris—dear friends whom I had gotten to know over the years—insisted on following me to my apartment around the corner.
"We have something to tell you," said Sarah.
"Let me guess. You're pregnant," I said with a whiff of sarcasm as I put away the groceries.
"Actually…" said Chris, ever the understated one of the couple.
I stopped fumbling with the lettuce. "Don't even joke with me about this."
I looked over to the living room to see them both beaming. And before I could even process the gravity of what they were beaming about, I started jumping up and down, yelling, "I'm so happy for you!" As if the jumping around didn't make that clear enough. It was a very happy day indeed.
Many happy days followed after Sarah and Chris's announcement: The day about six months later when I first held Jesse, just three days old, in the hospital; the day Jesse first stammered an iteration of "Kiki" (a nickname); the day this winter when I visited Sarah and Chris in Alabama, to find Jesse was no longer a baby but a boy, with shockingly white hair and a love of trains.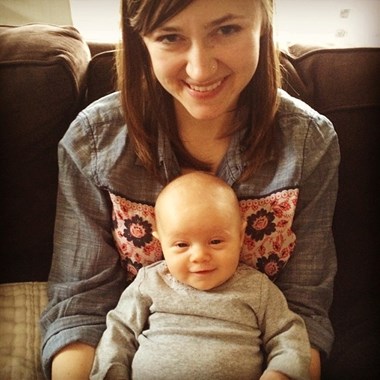 And, finally, the day this spring when Sarah and Chris asked me to be the godmother of Ruthie, Jesse's baby sister. The deeper meaning of this invitation hit me while reading New Testament professor Wesley Hill's recent CT cover story on friendship. At the end of the piece, Hill recounts a phone call from his friend Jono, asking if he would be the godfather of Jono's daughter Callie. Hill writes, "I was instantaneously drawn deeper into the circle of his and his wife Megan's friendship. . . . Becoming a godparent meant that my relationship to two of my good friends, and their children, had been sealed through baptism and witnessed by other believers." Similarly, for me and Sarah and Chris, my becoming Ruthie's godmother means that we have a bond that transcends geography and life stage. Though we are now physically separated by several hundred miles, we have made a serious commitment to stay connected, in part through our shared love of Virginia Ruth.
Being Ruthie's godmother is also a sign that Sarah and Chris have stewarded their marriage well. They have opened it up in spiritual camaraderie to an unmarried person. In many, many ways over the years, Sarah and Chris have welcomed me into their home and their lives, walking with me through heartaches and joys alike. They model well what Amy Julia Becker recently called other married couples to:
I'm suggesting . . . each married couple committing themselves to one or two single parents or single men/women throughout the years, offering an invitation into a spiritual family. . . .

Perhaps if we can wield the power of marriage not to draw a tight boundary around our immediate family but instead to open our family up to others, we will better understand what Jesus meant when he called us brothers and sisters. Perhaps we will better understand, and live into, the family of God.
And now our belonging to the family of God comes full circle. I'm no longer simply a sister in Christ. I get to understand and live into what it means to "parent" Ruthie as she grows up in the faith that Sarah and Chris expressed on the day of her baptism this April.
As Roger E. Olson wrote recently for CT, Christians through the centuries have disagreed on the meaning of baptism. Even the Reformers held disparate views. Martin Luther supported infant baptism, believing the parents' and godparents' faith stood in for the infant's later, more explicit faith. Ulrich Zwingli called infant baptism a mark of the new covenant relationship with God, similar to what circumcision meant under the old covenant. Anabaptists and other "radical reformers" rejected infant baptism, believing conscious faith was required to make such a public commitment. Despite these disparate views, however, all theologians and church leaders have agreed on one thing: Baptism is integral to following Christ.
I admit that what happened to Ruthie the day she was baptized remains a mystery to me. All I know is that I made a vow, according to the baptismal rites of the Anglican Church in North America, to
. . . see that she is taught, as soon as she is able to learn, the meaning of all these vows, and of the faith that she has professed through you. She must learn the Creeds, the Lord's Prayer, the Ten Commandments, and all the other things which a Christian ought to know, believe, and do for the welfare of his soul. When she has learned all these, and made them her own, bring her to the Bishop to be Confirmed, that she may be further strengthened by the Holy Spirit to serve the world in the fellowship of Christ's Church.
As it turns out, being Ruthie's godmother is not ultimately about me, though it brings me great joy. It's all about Ruthie and her relationship with Jesus. Being a godparent, like being a parent, I imagine, is a great privilege and an enormous responsibility. Just as Sarah and Chris have stewarded their marriage so well, may I be given the grace to steward godmothering well, too.
Katelyn Beaty is managing editor of Christianity Today magazine.
Support our work. Subscribe to CT and get one year free.
To add a comment you need to be a registered user or Christianity Today subscriber.
Recent Posts
How Godparenting Brought Me Into the Family of God