Want a Free Copy of Small Talk?
And other book news this week...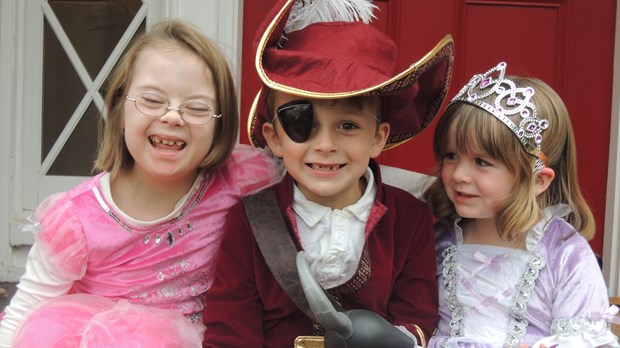 I mentioned the title of my book to an old friend who is in his 60s last night. He said, "Oh. Small Talk. Help for conversations at cocktail parties?" He wasn't kidding. I then told him the subtitle--Learning from my Children about What Matters Most, and I think he got the idea. Yes, the talk in this book often comes from people who are small, quite literally. But the title also holds irony because the talk itself is anything but chit chat. One of the best things that comes from adults taking children's comments and questions seriously is the sincerity and delight they bring to their conversations.
This blog has been inundated with Small Talk related posts of late, and starting next week I will be returning to my more typical blend of posts about faith, family, disability and culture. Meanwhile, some book news: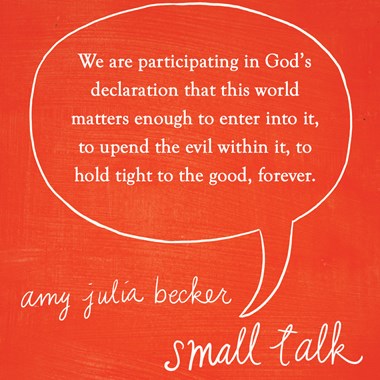 If you would like to receive a free copy of Small Talk, subscribe to Christianity Today between now and November 16th. Click here to learn more.
If you are the parent of a child with special needs, and you would like to participate in an online discussion group about the book, click here to register.
If you have read Small Talk and have something to say about it, please share your thoughts by reviewing the book on Amazon or Barnes and Noble. And let your friends know about it! This is not the type of book that makes headlines, but it is the type of book that can offer comfort and support to other people.
In book news, I had the opportunity to provide an excerpt from the book for Ann Voskamp's blog, A Holy Experience, last week: What Happy Parents Know and Do When It Gets Hard. I also wrote a pair of posts: How Having Kids Helped Me Grow Up for Huffington Post Parents, and its twin Jesus Loves the Little Children (which could have been called How Having Kids Helped Me Become Like a Child) here on my blog. Finally, I have an interview up on Michelle Van Loon's blog today: Q and A with Amy Julia Becker where I get to talk about listening, humility, and letting go of perfection.
Support our work. Subscribe to CT and get one year free.
To add a comment you need to be a registered user or Christianity Today subscriber.
Recent Posts
Want a Free Copy of Small Talk?